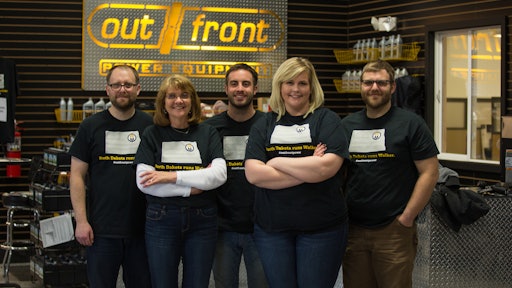 Bartlett Productions, bartlettproductions.com
How many times have you walked into a restaurant, looked at the menu, and felt confused? The confusion comes from two sources: too many choices, and the fact that you know the chef does not have that special touch for everything you see listed.
The same confusion can happen when customers first walk into an outdoor power equipment store. They may see five or six different mower brands on the showroom floor, three or four different makes of handheld equipment, and a mix of attachments and other products. Again, there are too many choices and they intuitively know the dealer cannot provide the same high level of service for each of the product lines.
At Out Front Power Equipment, customers don't come away confused. The store, located in Fargo, ND, has been an exclusive Walker mower dealer since 2004, only recently adding a second line, Ventrac.
"When you look at this industry, game plans for success are far and few between compared to other industries," says store general manager Nick Arndt. "All dealers are different and most lack one important ingredient, focus—a focus on product, service and customers.
"The exception may be a company like John Deere, but even its dealers lack focus," Arndt continues. "They may only sell the long green line, but many try to accommodate farmers, contractors and homeowners all at the same time. Here, we cater primarily to landscape contractors with a product line they depend on and service that accommodates their special needs."
The formula has been working. Arndt reports that sales are strong and continue to grow, noting that revenue has increased by more than 50% over the last two years alone. Some dealers may find that figure especially intriguing since most commercial customers are competitors of store owner Ryan Such, who operates All-Terrain Grounds Maintenance in the city.  
New business model
Such started his landscaping company in early 2000 and needed a dealership to support his Walker Mowers. "Ryan knew there would be challenges selling mowers to competitors," says Arndt. "Right from the start he drew a line between using the mowers in his business and selling them to other contractors. He made sure the two companies were completely separate, operating as two distinct profit centers.  
"In return, Ryan puts his experience to work for customers," Arndt continues. "They not only get a dealer who is very knowledgeable about the equipment he is selling, but one who is also focused on providing the service they not only want, but demand—having the parts they need in stock and providing timely repairs."
The business model, being tightly focused on a product and customer base, intrigued Arndt, who grew up in a family that owned both a landscaping business and an outdoor power equipment dealership.
"When Ryan hired me three years ago, I started telling customers the story, one that inspired me earlier from reading 'The Long Tail' by Chris Anderson," Arndt relates. "The author described how the marketplace is shifting from trying to be everything for everybody to filling a niche.
"My story was that we are the expert in not only selling and servicing the particular brand they were using, but are also focused on their needs," Arndt continues. "That doesn't mean we will always be an exclusive Walker Mower dealer. In fact, we brought on the Ventrac line six months ago because winter is a six-month proposition here and our commercial customers needed another machine option to handle the snow.
"It's not a zero-turn mower like Walker and doesn't compete in that market, but it has been an immediate huge success for us. As we go forward, we may eventually sell a mid-mount and a hydro-walk brand.  In any case, we would be very selective and become an expert in that brand. Just as Walker gave Ryan's dealership an immediate identity, focus and expertise, we would continue with that strategy."
Pros and cons
Arndt admits there are risks when putting all of your proverbial eggs in one basket, but the rewards far outweigh them. "Just for starters, you become expert and well-versed about the product line and knowledgeable about repairing it," he points out. "Because we only service what we sell, Walker and Ventrac, technicians become very efficient at diagnosing and fixing machines.
"There are cost savings, as well. As a dealer, you don't have to send technicians to a half dozen service schools around the country, only one or two. You don't have to stock parts for several brands, nor do you spend as much money on marketing and merchandizing as you would with several brands."
Although a dealer's identity is created by product and service, it doesn't end there, Arndt emphasizes. "Our showroom is well-merchandized. It is also organized and clean, just as our parts room is. The counter isn't cluttered and we wash the showroom floor at least once a week. This is all part of our identity and a way of enhancing the customer experience."
Out Front Power Equipment also embraces technology with a very visual, professionally designed website that tells the company's story. It even has a promotional video that can be seen on YouTube, and is active on Instagram, Facebook and Twitter.
Communicate with customers like they want to be communicated with, Arndt adds. Smartphones, texting and email allow customers to get answers to their questions and get up and running in a hurry, even if they are located several hours from your store.
On point
Are we getting off the topic of focus, here? Not really, since the store's general manager is laying out a template for what he believes the outdoor power equipment dealerships of tomorrow could look like. They would have a strong identity for their store, based on being more of a specialist than a generalist. They would take advantage of all the built-in efficiencies and cost savings associated with the above, and excel in delivering an unbeatable customer experience.
"A dealer is also defined by customers in other ways," adds Arndt. "One of our core values is giving back to the community where we work." Out Front Power Equipment, for example, divides 2% of its annual revenue among its employees who donate their share to a favorite charity. The charities vary, but what doesn't is the message it sends to employees and to the community.
The whole package, having an identity and being professional, can even expand sales opportunities beyond the target market. Approximately 25% of this dealer's Walker mower sales go to homeowners.
So, if Arndt ran a restaurant instead of dealership, the menu would likely be small and the entrees very tasty. His approach would work equally well whether its focus was Italian or Mexican food or Hungarian for that matter.
As he points out, you wouldn't have to sell Walker mowers to be successful with this model. It would work with any quality product. It's about having an identity, a strong focus, and the professional attributes to attract customers and deliver a good experience.