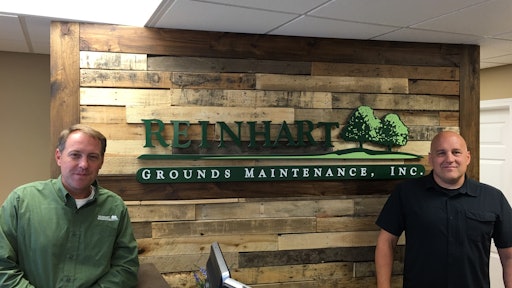 In 2007, 11 years after Todd and Chad Reinhart launched their company, Reinhart Grounds Maintenance was doing approximately $2 million in sales. Fast forward nine years and the brothers have more than tripled that figure—this despite what Todd, company co-owner and vice president, calls suffering through a couple of "hiccup years."
What's changed? Out of a projected $7.5 million in revenue this year, half will be generated from Reinhart Grounds Maintenance operations and the other half from their Weed Man Lawn Care Franchises. Reinhart's now has two locations, the headquarters facility in Bloomington, IL, and a branch in nearby Peoria that opened this spring. Weed Man currently has six branch locations throughout Illinois, Indiana and Tennessee.
Market penetration is not the only change. With it has come some service fine-tuning. The landscape company has more of a laser focus on providing commercial maintenance and enhancements, backing away from the bid-build construction work which has become too competitive in Illinois. Weed Man's systems and expansion model has also created a dramatic uptick in lawn care service sales, something that accounted for less than 30% of annual revenues in 2007.
Branching out
The Weed Man branches and Reinhart's two locations employ over 90 people between them. Creating advancement opportunities for employees has been a key catalyst for company growth. "To hire and retain great people, companies need to provide growth opportunities for them," Todd says. "Our expansion has opened up those doors."
Branching out to Peoria this spring not only created more opportunities, it was also nearly a "no brainer" from ownership's point of view. "When we opened the branch, 50% of our commercial maintenance work was already in Peoria," Todd points out. "Every day of the week, we were sending five trucks on a two-hour round trip to the area.
"The second location essentially added two hours a day of productivity for crews, not to mention saving on fuel costs and the normal wear and tear on vehicles," Todd continues. "It also created an important side benefit. The move opened up another talent pool. Between the Weed Man expansion and our growth since 2013, we had run the gamut in Bloomington."
Not to say the growth hasn't been without its challenges. "I think we've learned from our Weed Man experience that you need to focus on building a great team prior to opening a new location," Todd relates. "We had a team in place and in training a year before opening our branch in Peoria. Yes, that's costly—but it pays big dividends in the long run."
Common cure
An old home remedy (or myth) for stopping hiccups is holding your breath. That's essentially what the Reinhart brothers did during the lean years between 2011 and 2013.
"We sailed right through '08, '09 and '10," Todd says. "I guess we thought we were invincible. Business was good, not great, and we continued to spend money on equipment and opening up Weed Man branches. Then, in 2011, we were blindsided. All it took was losing a couple key people and accounts. Thinking back, we simply took our eye off the ball and didn't pay enough attention to what was going on in the marketplace and with our financials."
The three-year hiccup taught the brothers two important lessons: 1) develop a relationship with a banker and get to know what he or she values in a business, and 2) keep your eye on financials weekly, not twice a year or even once a month.
The lean years forced the Reinharts to become what they should have been all along: not just landscapers, but business men. "You can't run a business out of a checkbook like we had done," Todd emphasizes. "We had to change and adapt. We needed to develop business plans, budgets, P&L statements, cash flow statements and balance sheets—and come to understand them in great detail. This becomes extremely important when dealing with banks. When you get to our size, banks began to look at you in closer detail and you have to understand what they are looking at.
"Our experience has been that bankers have a hard time valuing our business, especially Weed Man," Todd continues. "Banks don't put much value on our customer list even though it represents recurring revenue and is very profitable."
Todd notes that bankers are more cautious today since they also experienced their share of hiccups and are much more regulated since 2008. That doesn't make growing a business any easier.
Todd and Chad keep a much closer eye on their operations these days. Every afternoon they hold an Uber conference call with all of their top people. Every Friday they hold their weekly staff meeting called SOAP (sales, operations, administration, planning). In this meeting they discuss weekly wins and losses, budget to actual for the month, key metrics for each department, a six-week schedule, and any operational stumbling blocks anyone has encountered.
Systems approach
Todd credits Weed Man for much of the company's recent growth. The branches not only account for half of the company's revenue steam, but equally important are the repeatable systems that allow the branches to run separately, yet profitably, across three state lines. A centralized call center that handles more than 10,000 customer calls helps, too, by minimizing overhead.
Todd and Chad recently sold a portion of their Grounds Maintenance company to their general manager, Joe Walters. Joe has been instrumental in replicating a systems approach throughout Reinhart's.
"Joe is a former employee of Caterpillar and well-versed in the Six Sigma and LEAN methodology for improving business processes," Todd points out. "With his help we've really refined our systems and reduced waste at Reinhart's. We're also just now starting The Great Game of Business and learning the nuances of that." (The Great Game of Business is a book and training curriculum for companies seeking an open-book management approach.)
Business stewards
Reinhart Grounds Management is a family business, but it doesn't mean that family members need to continually have their hands at the controls. At least that's what Todd and Chad envision.
"To be good stewards, I believe companies our size shouldn't rely totally on family members to be successful," says Todd. "The people we employ at our companies depend on us for their living. If something were to happen to the ownership, the companies must keep moving forward. It would be a great disservice to our people not to have a contingency plan in place."
That was reason enough to hire a general manager this year, someone who could handle the day-to-day administration duties. It also freed up the brothers to spend more time doing what they enjoying do most, Todd managing sales and Chad managing the operations.
In the meantime, they want to continue to develop their Weed Man territories and potentially add another branch location to their landscaping company. "We may do an acquisition instead of growing a branch organically," Todd notes. "Chad and I don't have a specific market in mind, but it would make sense to go into one of our Weed Man territories where there would be some familiarity with us and where we wouldn't have to pay a different franchisee for lawn care services."
For these owners, Weed Man is one of several partnerships that have proven their worth over the years—and one they will continue to nurture as they grow.