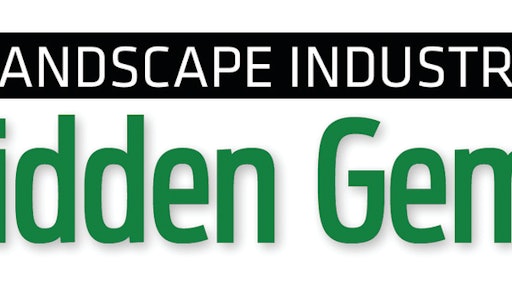 You've heard it a million times: You're only as good as your people. Here's something else you have to keep in mind: Your people will only be as good as you allow them to be.
Several of this year's fast-growing Landscape Industry Hidden Gems largely credit their corporate culture as the reason why they've been able to achieve such impressive success as of late. The important point is that they'd started laying the groundwork while they were growing, as opposed to after they'd already become a large company that was now suffering through a lot of people uncertainty and chaos.
Alpine Gardens in Fort Collins and Greeley, CO. It started like most landscape companies do: as a home business with one guy and a truck. That was 1978. Today Alpine Gardens is a full-service company that employs 85. Sales grew 9% last year and are on pace to finish +20% this year.
The company was founded by Jack and Christine Fetig, who are now joined by their youngest son, Nate, and his wife, Heidi. "We're excited to help keep alive the legacy that was built by the work of my parents," Nate says.
That's a lot of responsibility, but Nate and Heidi are confident they can handle it because of the culture that was put in place many years ago when the company was still "small". Alpine Gardens is highly efficient, comfortably profitable, and blessed with a loyal team of talented employees—many of whom have been with the company for over 20 years.
"There are a lot of little things we do to help maintain a family-like feel," Nate says. "First, we are very involved in the day-to-day operations of the business. Most employees see one of the four of us pretty much on a daily basis whether they're seeking us or not. We also do little things like give all employees a birthday card with handwritten well-wishes from the four of us. It doesn't sound like the most exciting thing in the world, but we hope that it helps employees know that we're thinking about them."
The Fetigs have also strived to maintain unity as the company has grown. "Every couple of months through the season, we bring crews back to the shop early one day to have a barbecue," Nate says. "This helps everyone unwind a bit, and also helps keep us all connected. Our company is big enough that many of the employees never really get a chance to interact with anyone outside of their own crew or department. The barbecues help form some camaraderie."
One other thing Alpine Gardens does is throw an awards banquet at the end of the year. "We show pictures from throughout the year so employees can 'show off' what they've done," Nate says. "We also recognize years of service for each employee, and hand out a few other awards."
Over the years, Alpine Gardens has also hosted weekend potluck picnics for employees and their families. "We want to make sure all employees feel like family and don't feel like our company is just a place to go to work," Nate explains.
Dowco Enterprises in Chesterfield, MO, enjoyed sales growth of 11% last year. This year has been even better for the full-service firm, which has grown another 18%. The company now employs roughly 48 people during peak season and 18 year-round.
Dowco focuses on technology as a way to enhance the customer experience—from electronic proposals and service renewals to online scheduling and payments. Equally important to customer satisfaction and team efficiency is the way the company develops its people.
Dowco launched a new initiative this year, Dowco Academy. The purpose is threefold: 1) offer employees more than just a paycheck, 2) develop life skills beyond what is typically learned in the green industry, 3) help employees become better leaders.
"Each month we hold a one-hour workshop at our headquarters," says Jane Schuth, an administrative manager at Dowco. All employees and their guests are welcome, along with any people in the community who are interested in working at Dowco. Topics, typically presented by guest speakers, include things like buying a home and personal finance.
"We've often found that many employees do not have the life skills or coping mechanisms to move upward," Schuth relates. "We want to give them that opportunity. It has gone very well this first year. Now we're asking employees to suggest topics they'd like to learn about next year."
The other component to Dowco Academy is the Leadership 101 course. It's a prerequisite for any employee who aspires to grow within the company and get promoted. Content focuses on the difference between being a leader and a manager, effective coaching, how to set goals, accountability, etc. The content was developed by Schuth and Kelly Dowell. Dowell serves as business development manager and is the daughter of Maurice and Donna Dowell, the company owners.
"We'd like to make this part of our web portal so everything can be done online," Schuth says. "This year it was mainly facilitated over email. We emailed weekly lessons, and then got together monthly to discuss. We gave everyone notebooks so they could keep notes. We also gave them shirts to add to the camaraderie. The meetings were held after hours and were open to anyone who wanted to come. Those who finished the course received a pay raise."
Some folks dropped out, Schuth adds, which is OK. The course wasn't developed to be a cake walk. It requires commitment and is not for everyone. What it does is help identify those in the company who have what it takes to become leaders—and give them a clear path forward, and upward.
Acme NLS in Swanton, OH, is a Hidden Gem for the third straight year. The full-service company more than doubled sales from 2012-14, and grew another 22% last year. This year has been its best yet—despite some serious setbacks.
"We had some major truck issues this spring, and had quite a bit of equipment stolen from us," says Scott Horoszewski, company owner. "But we pushed through it and continue to produce high-quality work. We've picked up more accounts and are now expanding to a new, bigger building.
"I'm always happy with our employees," Horoszewski continues. "I give them weekly incentives for their hard work. We treat them to lunch once a week and make sure they have cold water and Gatorade in their trucks every morning. They are just really polite, friendly guys. We're all like family and strive to help each other out."
When you have such a cohesive team in the field, the client naturally benefits.
Pristine Properties Landscape & Maintenance in Spring Hill, TN. Mike Nelson has been in the landscaping industry for more than 30 years, but founded his company in 2000. Last year was one of their best ever, growing sales by 36% and peak season staff to 35. Pristine Properties has kept right on rolling this year.
Like most companies, Pristine Properties has found it challenging to staff for growth. Nelson says his "love for people" has given him a bit of an advantage. He has made it a point to employ people who desperately need an opportunity, but can't always find one.
"In my life experience, I've learned that we all make mistakes—some worse than others," Nelson says. "Many of those childish mistakes stick with you a lot longer than you'd like. I endeavor to provide employment to those who may have minor offenses and non-violent crimes in their past. I believe they deserve the chance to make an honest living. I provide the opportunity. It is then up to them to make the most of it."
Peterson's Landscape & Maintenance Services in Haltom City, TX, grew 12% last year, its 27th in business. "We've transitioned to more construction work this year," says owner Joe Peterson. "We're growing as fast as our crews can work."
The company now employs roughly 43 people, a few of which were added to the team this year to facilitate the ongoing growth. Of all the success and accolades Peterson's Landscape & Maintenance Services has garnered over the years, the one thing Peterson is most proud of is the fact that he has never laid off an employee. That is particularly interesting in a market where you cannot rely on significant snow removal activity.
"It can be a challenge, because many consumers have it in their heads that they shouldn't do any landscaping in the winter months," Peterson adds. "It usually works out OK, though. We have enough landscaping projects to keep guys busy. On those days when we don't have anything on the schedule, there is plenty to do around the shop to clean and organize. Sometimes we'll even have employees get out in neighborhoods with door hangers."
Making it through the leaner months with a full staff requires discipline and planning. Maintenance accounts are bill-averaged monthly, which allows for a steady revenue stream through the winter. Peterson then sets goals with respect to cash reserves leading into the slowdown. "We have cash building up from construction projects all spring and summer," he points out. "We're usually in good shape by the time November hits. This year has been great—we were actually four times ahead of our goal by the end of September.
"Everything starts with employees," Peterson adds. "I believe that our company has the best available." To that end, he does whatever he can to hang onto them.
Glasco & Co. Landscaping in Brenham, TX, is about to close the books on its best year ever. Last year was pretty good too when the 80-employee company enjoyed a 7% increase in sales. The year 2014, though, took on a much more somber tone.
Company founder and president, Troy Glasco, died unexpectedly in a tragic electrical accident while working on his home. He left behind his wife, three daughters, several grandchildren, and a company he had built from the ground up starting in 1980 while still in college.
"The Lord has been very present in this difficult time and has sustained us every step of the way," says daughter Paige Glasco Meyer, office administrator. Paige was one of several key employees who were being groomed to take on more of a leadership role in the company. It was part of a five-year plan that suddenly required immediate implementation.
Paige had to step up into the role of corporate treasurer. Her husband, Nathan Meyer, who had been serving as landscape construction manager, stepped into the role of vice president. Both continued to maintain their existing roles as well. Paige's mother and Troy's wife, Tami, resumed a more active role in the company. Family friend, Dusty Robinson, had already been in the position of general manager. He continued to oversee daily operations.
Naturally, the transition has not been without its challenges. But by pulling together and adhering to the values Troy had laid as a foundation, Glasco & Co. Landscaping's best days could very well lie ahead of it.
As Tami had written to customers in a letter shortly following the accident, "Troy was a man of vision and planning. He had been working for the past few years toward retirement where we looked forward to more time with our grandchildren. With that planning, Troy had key people in place in which he poured his time, knowledge and vision for the company. We have an outstanding team in place in which Troy had full confidence. He equipped us well."
Now that team is continuing the legacy Troy started 36 years ago—through faith in the Lord and each other.