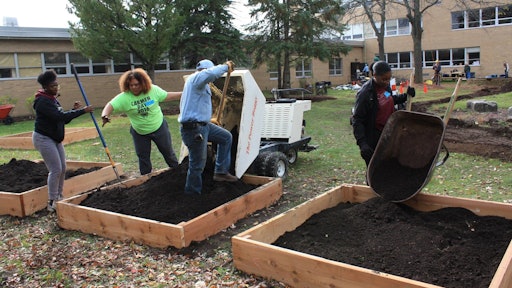 Founded in 1983, Xeriscapes Unlimited in Phoenix, AZ, has been highly active in the communities it serves for the past 20 years. Through self-initiated efforts as well as participation in association-driven outreach, Xeriscapes has helped to design, create and maintain outdoor spaces for a long list of worthy causes, including:
The City of Peoria Neighborhood Pride Program (helping established neighborhoods maintain appearance and value)
Hacienda Children's Hospital (healing garden)
Los Ninos Children's Hospital (outdoor activity center)
Sunshine Acres Children's Home (landscaping improvements).
As you can see, Xeriscapes Unlimited has held a special fondness for children's organizations. One ongoing initiative takes place at the Ronald McDonald House in downtown Phoenix. "We schedule all of the landscaping, painting, asphalt repairs, tree trimming, irrigation repairs and numerous other exterior maintenance tasks," says Rod Pappas, Xeriscapes owner. The Ronald McDonald House provides low-cost, temporary housing for families with children undergoing medical treatment far from home.
Pappas has been the operations director for the past eight years. The job requires one or two site visits a week, along with project/volunteer coordination. "Sometimes I need to be on site to supervise," he says. "I always walk volunteers through the property and show them where the boundary lines are, where the irrigation controllers are, and so on. I also walk them through the work that needs to be done. Some have been volunteering for a period of years and don't need much direction. Some of the newer volunteers, on the other hand, do."
What's more, Pappas sometimes needs to loan equipment. For instance, one of the more recent volunteer groups was a contingent from Behr, the paint company. The project was the installation of 10 tons of granite stone. "The folks from Behr asked, 'What are we going to use, because all we have are paintbrushes?'" Pappas tells with a chuckle. "So I dropped off some wheelbarrows and shovels. They got the job done—and for a bunch of painters, they did a really good job."
Pappas is working with the Ronald McDonald House through the AACM, the Arizona Association of Community Managers, which helps solicit volunteers. In working closely with the AACM, Pappas says he is often asked if it's time to move onto something else. "I don't really think we need to because the Ronald McDonald House is such a worthwhile cause," he says. To that end, he has volunteered to continue serving as operations manager through 2017.
"My involvement with the Ronald McDonald House goes back many years, even preceding my involvement through the AACM," Pappas says. "They initially contacted me through my involvement with the Arizona Landscape Contractors Association. They were putting a new wing on their facility, and much of the existing turf, plants and irrigation line had been damaged by the new construction. I'd pulled a group of landscapers together to go over there and patch things up over a period of about six months.
"They still had my card a few years later, and contacted me again to see if I wanted to bid on some work that needed to be done," Pappas continues. "They'd lost some volunteers and everything was overgrown and not looking good. I thought to bring it to the attention of the AACM, and they brought all of their forces with them. We had about 300 people show up on a Saturday to clean the place up. We had it done in half a day. But we realized we could never let it get to this again. That's why we decided to adopt the Ronald McDonald House and keep up with the property maintenance on a monthly basis." Eight years later, they're still going strong.
Green infrastructure and workforce training
Land Escapes Design in Arlington, MA, has been going strong for the past three years on a couple of initiatives tied to green infrastructure and workforce development. The company developed a stormwater training course it taught in conjunction with two workforce training programs, the Green Roof Bus Shelter Initiative and a Rain Garden Installation & Maintenance program.
Trevor Smith founded the company in 2003 which is now owned by Christina Donovan. "Christina is the business mind whereas I'm more of the lead designer, installer and salesperson," Smith points out. While the two have very distinct roles within the company, they share one common vision. "Our mission and focus is 'For People and Planet,'" Smith says. "We work to undo some of the mistakes man has made and better the planet through thoughtful, responsible design. We also strive to put the human element back into sustainable design through responsible stewardship and education."
Speaking of education, Smith has been giving talks on Green Stormwater Infrastructure (GSI) for the past four years. He recently completed the Landscape for Life instructor training, which is based on the principles of the Sustainable Sites Initiative (kind of like LEED for landscaping). But prior to earning that instructor certification, Smith had already begun laying some serious groundwork in the Boston area. He had reached out to YouthBuild USA to start a dialogue about green infrastructure a few years ago.
"YouthBuild is a great organization that helps low-income, young adults earn a GED and also get some technical training, often in one of the construction fields," Smith explains. "But we think the jobs of the future are in landscaping and green infrastructure. We want to offer young people some experience. At the same time, we're trying to help ensure that new people coming into this profession have the right knowledge and tools. To be a landscape professional today and into the future, you have to know more than simply how to read the back of a bag of fertilizer."
Smith spoke to YouthBuild Boston about ecological landscaping and the Green Roof Bus Shelter project his company was embarking on. Later, YouthBuild students came out to help install and maintain a handful of bus shelter green roofs around the Boston area. Thermal cameras took thermal images of the sidewalks and bus shelters so students could record their findings.
"We then went into communities and high schools and explained how green roofs can be a very beneficial part of the urban landscape," Smith says. "Most green roofs on commercial buildings are out of sight and mind. Bus shelters, on the other hand, are a great way to get a street-level discussion going in the communities. Most people can connect with a bus shelter. It was also a great way to teach the basic principles of green roof construction and maintenance to the YouthBuild students. If you can learn how to manage a bus shelter, those same principles can apply to a larger building."
Land Escapes Design had also spearheaded a similar kind of community project where two rain gardens were installed in Somerville, MA, on the campus of the Mystic River Housing Development in August 2015. Land Escapes Design worked in partnership with the Massachusetts Workforce Alliance, Groundwork Somerville and the City of Somerville. The project included raking, grading and planting the rain gardens.
Both the bus shelter and rain garden projects were funded by EPA grants. "We'd hoped we could keep the bus shelter program going, but nothing moves quickly through government," Smith says. The bus shelter program ended last year. That said, the feedback has been fantastic, Smith points out, and the concept has the full support of the local EPA.
"Government seems to be very interested, but it's taking a little while because it's changing the paradigm," Smith says. "We as landscape designers can't just design for aesthetics anymore. Cities have a real need for green infrastructure. If the landscaping profession can install enough of it, now we have created a strong need for ongoing maintenance of things like green roofs and rain gardens. That's a huge opportunity because not only does a city get some much needed infrastructure, now it's getting more jobs. This is not just a novelty."
Girl scouts and seniors, and walking the talk
JC Grounds Management in Danvers, MA, has been in business since 1996. The company now employs roughly 125 during the season and 25 year-round. Giving back has become a centerpiece of the corporate culture. Employees are encouraged to get involved with causes they are passionate about. Company owner Jonathan Crandall supports this by remaining flexible with hours, giving employees the time off they need to get involved.
JC Grounds Management staff have been especially "involved" as of late. Just last year alone the company helped to lead the way on four key initiatives.
Continuing with the "youth" theme of this article, JC Grounds has played a pivotal role in supporting a project led by the Girl Scouts Troop from Great Oak School in Danvers. The troop is graduating from grammar school this spring and wanted to leave something behind that reflected the positive experience they have had. The school recently had a new sign installed near the front entrance, but the landscaping around the sign was minimal. The troop decided to focus their efforts around the sign.
The group met over the first few weeks of the school year to develop a plan. Brad Chase, general manager of JC Grounds, was asked to serve as a consultant and resource for the project. After a lot of research and the use of JC Grounds' landscape design software, the troop put together an attractive two-phase proposal that was presented to the principal and town officials. The design was approved.
The troop, under Chase's guidance, elicited the help of their little brothers and parents, and JC Grounds' tools and equipment to remove turf, turn over compacted soil, and plant 600 spring blooming bulbs. The first phase of the project was finished off with fresh mulch and an assortment of fall color. Phase 2 is scheduled for this spring.
JC Grounds also put its landscape management expertise to good use when a crew helped clean up a section of the popular Danvers Rail Trail. Complaints from trail users over the mounting volume of illegally dumped debris were pouring into city officials. The JC Grounds crew partnered with volunteers from the Danvers Rail Trail Advisory Committee to haul seven truckloads of yard waste, brush, cement, metal pipes and other debris—all in a single day.
Landscaping services aside, JC Grounds Management supports other important causes in other ways. For example, Brooksby Village is a Continuing Care Retirement Community providing an active lifestyle for over 1,700 seniors. As a sponsor of the Resident Care Fund and the annual Gala that raises money for the Fund, JC Grounds is helping to ensure that the residents of Brooksby Village have peace of mind and an important safety net. The Fund ensures that if a resident abides by their agreement with Brooksby but runs out of money, they will be able to continue living in the community and receive the care and support they need.
Another cause near and dear to the hearts of JC Grounds employees is the American Foundation for Suicide Prevention. The company partnered with the foundation last fall at its Northshore Out of the Darkness Community Walk. JC Grounds put a corporate team together to fundraise and participate in the walk in support of the AFSP to aid in research, advocacy and support for those affected by suicide.
"We decided to get involved in this specific foundation for a couple of reasons," says Lindsay Meagher, marketing associate, who has personally been active in the foundation for the past five years. "First, suicide is a prevailing epidemic in the United States. Second, the foundation hits close to home, because as a company we have been directly affected by suicide. We respect and salute any advocates in the prevention of suicide."
Do you have a community service project or other cause you're especially proud of? Email us at editor@greenindustrypros.com so we can share it with the industry.