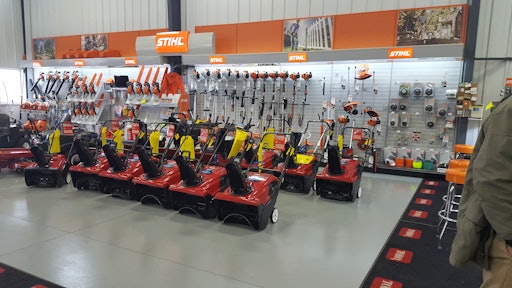 More Farm Store, headquartered in Columbia City, IN, was founded more than a century ago. "My great-grandfather started the business in 1913 as a hardware store selling steel-wheeled tractors," says fourth-generation owner Andy More. "That was a long time ago, and a much different time. It's funny to think that the business's original phone number was 6."
A lot has changed since then—and not just the simplicity of phone numbers or the fact that tractors now have rubber tires. More importantly, a lot has changed with More Farm Store in just the past 10 years since Andy took over the business.
Columbia City has a population under 10,000. It is a great community that has been wonderful to More Farm Store for many years. But as a smaller town, growth opportunity is limited. Andy has seen the level of sophistication and professionalism in the outdoor power equipment industry greatly improve over his lifetime in the business. He doesn't want to hit a ceiling.
"Dealerships like ours didn't have the ability to pay very high wages in the past," Andy says. "When I took over, I said to myself, 'If I'm going to do this, I want to do it the right way. I want to produce enough revenue that we can hire the best people possible and pay them a wage they can support a family on.' That was going to require expansion."
Baby steps lead to big payback
Andy assumed control of the business in 2006. He had grown up in the dealership, which his father and uncle took over from their father around 1970, a few years before Andy was born. "If I didn't have to go to school, I wanted to be working with my dad," Andy shares. "I really liked tinkering in the shop. I wasn't very good at it, but I loved it."
The same couldn't be said for his siblings. Andy's brother and sister both opted to pursue other careers. Ditto his uncle's five children. This left the longtime family business for Andy's taking if he wanted it. He didn't have to be asked twice.
Not long after taking the reins at the dealership at the age of 31, Andy set his sights on expansion. He wanted to do so in a more conservative fashion, "testing the waters" before going all-in with a huge investment in property and facility.
Two nearby cities looked like promising markets. Warsaw was 20 miles to the west. Fort Wayne was 22 miles to the east. Andy came up with the idea to partner with an equipment rental center and a small repair center in each town. "We set it up that we'd pay them 30% of the profit for each piece of our equipment they sold, primarily tractors and mowers," Andy recalls. "The idea was that it would help us get our foot in the door and start building a reputation in those markets—and would be a lot less expensive than doing a bunch of advertising."
For the most part, the strategy worked quite well. In Warsaw, the arrangement lasted nearly four years. But then the rental center got into some financial trouble in 2009. "Rather than let them go bankrupt, it made more sense for me to buy the business, since they owed us a fair amount of money," Andy tells. "I didn't buy the real estate though. We went down the road on a major highway (U.S. 30) and bought a vacant pole barn. That worked well for a while. In 2012 we put up a new building. It was amazing. That store's revenue jumped 500% in one year. I never thought a fancy new building could make such a huge difference."
To the east in Fort Wayne, Andy's partnership with the small repair shop lasted about six years. That began to unravel when the shop started carrying its own lines of mowers, tractors and other products Andy was trying to sell. "We went ahead and opened up our own store in 2013," Andy says. "We found another high-visibility location on I-69 that already had a building. It was nothing fancy, but it worked because we gave it a complete facelift."
Controlled revenue distribution
Several years later now, all three More Farm Store locations are going strong. Controlled revenue distribution has been very important.
"We have been fortunate to enjoy 12-15% annual sales growth each of the past 15 years," Andy says. "It's nice, controlled growth. I'd like to say it is by design, but really it's by the grace of God."
Sales are well-balanced across product categories which range from chainsaws, trimmers and zero-turn mowers to tractors, skid steers and excavators. More Farm Store also gets business from a diverse mix of customer groups including farmers, homeowners, municipalities, construction contractors and landscapers. "It usually works out kind of nice," Andy relates. "When farmers are doing well, construction seems to be down, and vice versa. Everything seems to balance out for us."
More Farm Store sells numerous product lines. Kubota mowers, tractors, skid steers, track loaders and excavators represent nearly 70% of total dealership sales. More Farm Store also sells Toro and Bad Boy mowers, Stihl handheld equipment, Boss snowplows and salt spreaders, Land Pride attachments, and several other shortlines.
Landscape contractors represent a growing segment for the dealership, and they're buying more types of products than ever before. "When I first started at the dealership, I was really focused on landscapers," Andy recalls. "I wanted them to be running our mowing equipment—not only to get their business, but also to inspire the homeowners in the area to also buy their mowers from us. Nowadays, I'm seeing landscapers coming to us for other products besides just mowers and hand tools. Many landscapers today are more sophisticated and diverse. They are looking for productivity-enhancing equipment they'll see a nice ROI on. They need things like track loaders and attachments, and even excavators."
Speaking of construction equipment, Andy sees a tremendous opportunity to grow sales in Northeast Indiana. The challenge, however, is market saturation. "I can count 18 brands of compact construction equipment available from dealers in that market," Andy points out. "You really have to work hard to get your fair share."
As is often the case, that largely comes down to reliable service.
Do 'em right – all the time
"A lot of businesses say things like, 'satisfaction guaranteed,'" Andy muses. "But what does that mean? What are they doing to guarantee it?"
More Farm Store has a simple creed: Do the right thing, every time. For example, if a customer buys a used mower and the transmission fails in a few months, Andy is inclined to have one of his technicians replace the transmission—often at the dealership's expense. It's all in the interest of preserving that relationship with the customer, along with the overall reputation of the dealership.
In addition, More Farm Store personnel are available evenings and Saturday afternoons if customers have a pressing concern. Speaking of that personnel, Andy says he cannot believe there's a dealer anywhere with better employees than he has. More Farm Store now employs 25 across the three locations.
Remember earlier in this story when Andy joked how, as a kid, he loved being in the shop, even though he wasn't very good at it? "My strength really is in sales," he clarifies. "I'm also not the best manager. So it's important for me to bring people in who are better than me in these other areas."
Andy has a CPA serving as his controller. He found his service manager at a powersports dealership he shopped at. His sales manager ran another power equipment dealership in town. His parts manager has a bachelor's degree in business and accounting.
He's always recruiting too. "If I see someone elsewhere who fits our mold of ethics, integrity and attention to detail, I want them on my team," Andy says. "We'll simply make room for them if they're interested."
When new employees are brought on board, they spend six months shadowing Andy. "It's not that I'm the best person in the dealership at everything, it's just that I want them to see what's important to me and how I go about handling different situations," Andy says. "I want to be predictable to my employees, and I want our customer service expectation to also be predictable. Integrity and character are all we really have as a dealer. We have to be 100% consistent across all three stores."
The approach seems to be working. More Farm Store has maintained a 95% customer satisfaction rating based on Kubota's surveying of end-customers. "We're quite proud of that," Andy says. "A 75% rating means customers are satisfied. So to get to 95% means the majority are highly satisfied and you have almost zero unsatisfieds. That's quite a feat I think."
Yes it is—and it's the byproduct of doing the right thing, all of the time. That has been part of the More Farm Store culture for over 100 years.