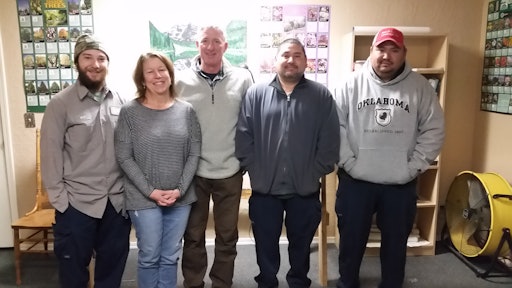 Steve Nessler isn't new to landscaping, and neither is his company. Serving the greater Tulsa market, NewLawn and Landscape in Broken Arrow, OK, has been operating since 2003. The maintenance-driven company has steadily grown over the years, now generating well over half a million dollars in annual revenue.
Last year was its best ever. Maintenance contracts held steady—as they seem to do year after year—and landscaping/enhancement work was up. "We'd picked up a couple of really nice landscaping jobs, and our maintenance customers spent more on flowers and other enhancements," says Lisa Nessler, Steve's wife and business partner.
Nothing like closing the year strong. That's a trend the Nesslers are optimistic will continue throughout 2017. The company has been very careful to avoid chasing too much sales growth in any given year. Rather, they and their team members have focused on quality work, close customer care, renewing contracts, and allowing sales to grow naturally at a controlled pace.
That could change a bit this year. "We are going to do some advertising for the first time," Steve points out. "We'd like to pick up some more high-end residential accounts. We're targeting a specific part of Tulsa. We're looking to do some ads in one of the Tulsa magazines that is widely circulated in that area. We'll see how it works."
Strategically selective
Steve says his three maintenance crews have the capacity to take on a handful of additional accounts—so long as they are the right kind of accounts. Steve has always been a bit selective when it comes to clientele, a philosophy he has developed over his 35-plus years in the business (he'd worked for a couple of other companies before starting his own).
"We're looking for clients who value quality and are seeking a long-term relationship with their contractor," Steve says. NewLawn has several clients that are on two- if not three-year contracts. This is what he prefers because it's hard to transform a property in just a single year. This is also why Steve tends to shy away from apartment buildings. They change ownership frequently, and thus, landscape contractors. There often isn't much of a bond or trust formed, which runs counter to Steve's philosophy.
"We don't have a single apartment building in our portfolio right now," Lisa adds. That could always change if the right opportunity came along. If approached by a prospective client, "The first question I'll ask them is: 'What property management company are you associated with?'" Steve says.
NewLawn's focus has been on quality-conscious commercial clients since day one. The company services everything from HOAs and condominium complexes to banks and small businesses. About 75% of revenue is full-service maintenance, i.e. mowing and pruning, tree trimming and lawn spraying. The other 25% of revenue is landscaping enhancements—largely generated by existing maintenance accounts.
NewLawn's three maintenance crews handle the enhancement work as it arises. Steve likes it this way because his overhead doesn't really change. "When the maintenance work is done for the week, I ask my employees for volunteers to work the weekend or evenings to complete the enhancement requests," Steve says. "I pay them overtime and we get it handled. Our clients don't seem to mind and it works out well."
With commercial being the company's focus, just 10% of NewLawn's revenue comes from residential. "All of our residential accounts thus far have been generated by referral," Lisa says. "And these are really big homes. One of our customers even has their own on-site property manager."
Living it up – senior style
Revenue mix could change as the Nesslers set out to acquire additional residential accounts this year. "I think we already have some name recognition in the part of Tulsa we're targeting," Steve says. "Many of the homeowners have parents who live at one of the three senior living communities we service."
Senior living communities have become an important niche for NewLawn and Landscape. Steve says two things matter a great deal to this customer segment: flexibility and versatility. "These community managers all talk to each other," he points out. "We get accounts by referral from these senior living properties communicating with each other.
"Communication between us and the client is also important," Steve continues. "We keep in close contact with each client week by week throughout the year, listening to their needs and adapting when necessary. For example, one client decided they wanted more attention given to the flower beds. They basically wanted a full-time gardener. So we provided that and added it to the contract."
Steve wears many hats, as most owner/operators do. The most predominant is lead salesperson and main point of contact. "Steve is always accessible by cell phone," Lisa shares. "He also attends a lot of meetings because these retirement communities and condominiums have gardening committees that meet regularly."
There's one other thing Steve and his team do: They regularly check with the senior residents themselves and ask for their feedback. "We want to make sure they are happy with the work we're doing," Lisa says. "After all, they're the ones living there. We want to help them enjoy their time there as much as possible." It's just another example of how NewLawn emphasizes "personal touch" as opposed to just productivity and profits.
Meeting expectation
It's wonderful when you can work for clients who value quality. It's also a challenge to meet the expectation. Quick response time is essential, as are great employees. "Your employees are your core," Steve says. "Without them, you really have nothing."
Fortunately for Steve and Lisa, they have some really good ones—typically seven to 11 full-time employees depending on the time of year. Several have been with them many years. Two in particular, Eleazar "Charlie" Bernal and his brother, Edgar, have been with the company since day one. Steve had worked with Eleazar at another company years ago. Eleazar is one of the company's three crew leaders who also acts as overall operations manager. Edgar runs a crew that services one of the retirement communities four full days a week. Edgar's crew then hits some other accounts on Fridays.
Steve and Lisa's son, Will, left college a couple of years ago to join the family business full-time. The longer-term goal is to eventually take over the business. For now, Will is spending a lot of time shadowing Eleazar working on his crew, learning the in's and out's of delivering high-quality landscape maintenance. Will is also learning from his dad, who in addition to three decades of landscaping experience also happens to have a business management degree. Lisa has a marketing degree and also helps to mentor Will on the business side of things.
On-the-job training from experienced pros like Eleazar and Edgar is the best way to get new employees up to par, Lisa says. "We also look to associations because of the great training they provide," she adds. NewLawn is a member of the Oklahoma Nursery & Landscape Association, the Western Nursery & Landscape Association, as well as the Better Business Bureau (BBB) and local Chamber of Commerce.
"We want to run a reputable company our employees are proud to work for," Lisa shares. In addition to good pay, she and Steve try to be as flexible as possible when an employee needs some time off for personal reasons. They also provide uniforms, cell phones, an annual Christmas bonus, and other bonuses when company financial performance allows.
"The 'personal touch' is really the key for a smaller company like ours when competing in the commercial market," Steve says. "We can be there when the client calls. And we can handle all of their needs—mowing, pruning, tree trimming, enhancements, lawn spraying and irrigation repairs. We even have a couple of Meyer snowplows for those two or three times a year when it snows."
It's all about being prepared, accessible, flexible and versatile.