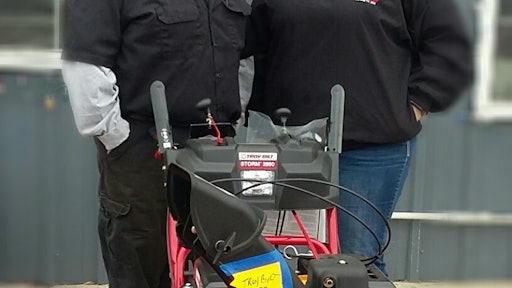 "Everybody thinks that owning your own business is 'living the dream,'" says Minnesota dealer Dave Groen. "Well I'll tell you what, it's a lot of work. But if you don't do it, you don't get anywhere."
Groen has been doing it full-time on his own for 12 years now. "I've been working on lawn and garden equipment for what seems like forever," Groen says with a hint of both pride and pain in his voice. He took his first job as a small engine technician at a dealership in 1985. In 2001 he was working full-time for another dealership when he bought a building and started a repair shop of his own on a part-time basis. He did that for the next several years.
"Finally I realized I needed one job, because I couldn't keep doing 24/7 for much longer," Groen says. In 2005 he quit the dealership and made Groen Small Engine Repair his full-time endeavor. He solely focused on repairs that first year. Then he connected with a big distributor in Minnesota, Central Power Distributors (CPD). That relationship led to Groen earning his Kohler certification (he'd been Briggs-certified for many years), and also getting into the wholegoods business with the Troy-Bilt line.
Today Groen Small Engine Repair also sells Columbia mowers (another MTD brand), Briggs & Stratton pressure washers and generators, and Ohio Steel and Agri-Fab accessories and attachments. In addition to Briggs & Stratton and Kohler engines, Groen is also certified in LCT engines and Hydro-Gear drive systems.
Even though he is down to one job, Groen's typical daily schedule is still quite grueling. "I am in the shop between 5 and 6 a.m.," Groen says. "I make some deliveries if scheduled, usually by 7 or so. I then work at the shop until 5 p.m. Then I head home and have supper and work on bigger repairs, like repowers, in my home shop. I also make deliveries at night if need be. Sometimes I'm still on the road at 10 p.m."
Thankfully Groen has a very understanding and supportive wife, along with an understanding and tremendously reliable daughter.
"When my dad started here full-time in 2005, he'd asked me if I wanted to help here and there," says daughter Kristy Vander Ziel. "So it started out as a part-time thing, but by the next year I was full-time." Kristy has backed off her hours over the past year, but she still plays a very important role in helping her dad keep his head above water. "I do all of the bookwork, run errands, pick up parts and stock parts, and help with customers," Kristy points out. She used to help out with repairs, too, working alongside her dad. That's not the case anymore since she's not working as many hours.
Nitwits, nitpickers and customer loyalty
Given the dealership's sales level, sales mix and overhead structure, Groen definitely could afford to hire another employee. "I just don't know," he says. "It's so hard to find good people that will do things the way I want them to be done, especially in the shop. Kristy says I'm too picky, but that's just the way I am."
What some may interpret as being a bit picky could also be interpreted as being precise. To small-town dealers like Groen, you have to be precise—darn near perfect—because your reputation can become stained in a blink.
Most of Groen's customers live on farms or simply have acreage. He also gets quite a bit of business from municipalities in the way of parts and repairs. "I don't sell too much equipment to them, though, because I don't carry any big commercial-grade machinery," Groen points out.
Revenue is typically split evenly between equipment and parts/service. "For a town of 60 people, that's pretty good," Groen jokes. Truth be told, he's pulling customers from all over the area—sometimes as far as 100 miles away. A good chunk of his customer base is in the 30- to 35-mile range.
So that explains it: Groen Small Engine Repair is the only place to go for miles and miles. No wonder they've been able to do things "their way" and still be successful after all these years. Nope. Groen has plenty of competition. In fact, three dealerships are in a single town about 15 miles away. The fact is, the father-daughter tandem has been successful because they indeed do things "their way", and "their way" is based on total customer satisfaction.
"We have good service; that's why they come to us," Groen says. "I've always looked at it this way: When I fix a piece of equipment, it's like I'm fixing it for my mother so she can get it started and use it with no problems. You can't disappoint a single person in a town this small; word travels too fast. We are fair to everybody, and we don't believe in the concept of selling used equipment as-is. If you bought it from us, you have the right to expect it to work."
When it comes to new equipment sales, Groen offers to do that first five-hour oil change for free. "We tell them to bring the machine back to us or I'll even go pick it up," he tells. "I also spend a lot of time talking about bad gasoline, i.e. ethanol-blended gas, especially when it has been sitting around for a long time. My new favorite saying is, 'Bad gas, spend some cash.' And that's the truth. More than half of our repairs are gasoline-related. The customer is going to spend money at some point. They might as well spend it up front on a good fuel stabilizer because it can help prevent some headaches and more costly repairs later on."
Groen sends a packet of Briggs & Stratton fuel stabilizer with each new equipment sale, enough for 2.5 gallons of gas. "We tell the customer how important it is to use it and then come back to get more down the road," Groen adds.
Some of Groen's customers are farmers with 3,000-gallon fuel tanks on site. He advises them to run to town and get 5 gallons of fresh gas for their mower, but they don't always listen. After all, they already paid for all of this fuel that is just sitting there. As a dealer, Groen says you can try to advise the customer on what they should do, but must also be prepared to help them when they do otherwise. A good fuel stabilizer like Briggs & Stratton offers can help. So can having a robust parts inventory.
A noggin full of part numbers
"My biggest pet peeve is having to wait for parts after I get something torn apart," Groen relates. Plus, since it's just him and his daughter, he doesn't want to spend a minute longer than absolutely necessary placing parts orders. He'd rather keep an ample supply of what he's confident he'll eventually need in stock at all times.
"I think I have every belt that MTD makes," Groen exclaims. "I keep 25 spindles in inventory at one time, along with lots and lots of blades."
Generally speaking, Groen orders parts from his main distributor, CPD, once a week. They offer a program where dealers get free freight one day a week if they get their orders in by noon. Groen has picked Tuesday as his free freight day. He does a visual check of his inventory first thing in the morning to determine what he needs to replenish. His shop isn't computerized. "It's all in my head, and that's OK because there's nobody else here who needs to know," Groen reminds.
Kenneth, MN, is a big farming community. Hence, there is plenty of John Deere equipment in the market. Groen repairs a lot of it. He'll typically get parts from the big dealer in the area. The same goes for Stihl. Finally, he relies on two aftermarket brands—Stens and Oregon—to help supplement his parts inventory and ensure he has what he needs, when he needs it.
He has less of a need for two-cycle engine parts than in the past. "When I was still taking in two-cycle repairs, I used to have 20 pieces lined up at one time," Groen says. "It just wasn't worth the hassle of running around for parts for all of the different brands people were bringing me. So I've stopped doing it." Now Groen only services what he sells, which is a limited amount of Troy-Bilt trimmers and blowers.
Groen also sells Troy-Bilt mowers—but not in a limited amount. Mowers are a big part of his sales operation. "We're selling more and more zero-turns," he says. "We used to sell a lot more lawn tractors and rear-engine riders. But now we're selling about 10 zero-turns to every tractor or rider. And the zero-turns are getting bigger. So we've had to get bigger trailers in order to keep up with how the market is changing." Groen says he also sells 10-15 push mowers a year.
But speaking of zero-turns, a growing market is females who have taken on the chore of mowing their lawn. Groen says most are initially intimidated by the zero-turn. He directs them to the tennis court.
Huh? That's right, the tennis court. Groen has one on his expansive property surrounding his dealership. "I let them drive the mower around on the tennis court where it is nice and level," he explains. "I tell them we won't run the engine wide open or engage the blades; they can just get a feel for the controls. Most end up feeling comfortable after a short time and want to buy one—and a year later you couldn't take that mower away from them."
It has been a fun ride
As is the case with most small-town repair shops, Groen Small Engine Repair relies on word of mouth. Still, Groen has regularly run ads in a local farming publication which reaches a lot of people. "I've heard that dealers should spend about 2% of their inventory on advertising," Groen says. "Well, we spend more than that." It's necessary in a market as desolate as this because expansive reach is so important.
At the end of the day, though, it's Groen's reputation that pulls customers in—and keeps them coming back. Great, reliable service is key. So is community involvement.
Groen and his daughter have been helping to spearhead a unique fundraising event for the past six years called the Lawnmower Fun Ride. It is held in conjunction with the City of Kenneth's annual celebration each August. Groen encourages customers to bring their riding mowers and four-wheelers to join in the 5-mile ride and make a modest donation. Roughly 90% of the money raised goes to the City of Kenneth for snow removal. The rest helps pay for food and entertainment. "We typically have 60 to 80 people riding in the event—and they come from all over the area," Groen says.
They must come from all over the area, because the turnout for the Lawnmower Fun Ride nearly exceeds the entire population of Kenneth. That's part of living and operating a business in a rural area. Your neighbor, and oftentimes customer, might be 20 or 30 miles away.
Perhaps that is why Groen and daughter Kristy go to such lengths to stand behind what they do and always do right by the customer—even when it requires 16-hour days.
"It took a while, but now we seem to have a good system and rhythm to how we do things," Kristy says. Still, it's easy to get frazzled when things get really backed up. "But all you can do is focus on one machine at a time. We're pretty proud of the fact that, unless it's a major rebuild or something, we usually get machines back to customers within a week. They are happy with that so we don't often run into any issues."