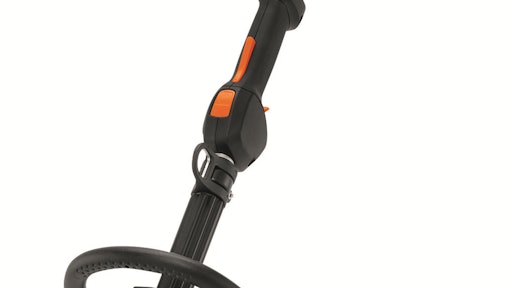 Stihl is rolling out one of the largest product launches in its history. The 40 new models being introduced this year include everything from brand new pressure washers to nine battery-powered products and nine gas-powered models.
The nine new battery products are part of Stihl's ever growing Lightning Battery System lineup. They are joined by nine new gas-powered units designed for professional landscapers. Stihl says the pro units are engineered for easier use, less maintenance and longer run times.
New design, efficiencies on pro models
The new and upgraded professional models will come with a host of new features and enhancements. The new string trimmers, edgers, KombiMotors and bed redefiner are designed with larger fuel tanks, providing 30 percent longer run times than the previous models. The new units boast a simplified three-step start procedure enabled by the semi-automatic choke lever, saving users time on the job and reducing the chance of flooding the engine. Each product's vertical pleated paper air filter allows for better filtration, extended replacement intervals and long service life.
In addition, the redesigned and lighter gearbox on the new pole pruners and extended-reach hedgetrimmers shift weight to the powerhead of the unit for balance and maneuverability, helping users work for longer periods with less fatigue.
Additions to the Stihl range of professional gas-powered products include:
Seven string trimmers: the Stihl FS 91, FS 91 R, FS 111, FS 111 R, FS 111 RX, FS 131 and FS 131 R
Three edgers: the Stihl FC 91, FC 96 and FC 111
Three KombiMotors: the Stihl KM 91 R (pictured), KM 111 R and KM 131 R
One dedicated bed redefiner: the Stihl FB 131
Five pole pruners: the Stihl HT 102, HT 103, HT 132, HT 133 and HT 250
Four extended-reach hedgetrimmers: the Stihl HL 91 K (0°), HL 94 K (0°), HL 94 K (145°) and HL 94 (145°)