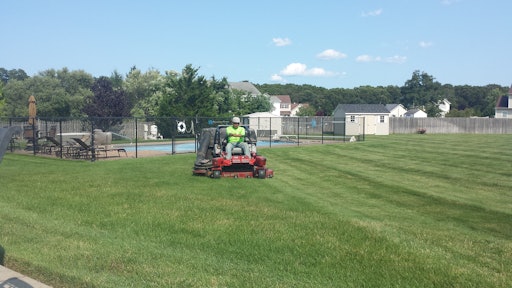 With most landscape companies worried about finding enough employees this season, one must wonder about the effect that might have on service delivery. You also have to think about customer service in general. Too few employees, or even the wrong employees in the wrong positions, opens the door for mistakes, oversights, and an overall poorer customer experience.
"Customer service is one of the few remaining areas where contractors can differentiate themselves," says industry expert Jonathan Pototschnik, co-founder of Service Autopilot Academy. "Based on their similar actions and appearance, landscape and lawn care companies are becoming more and more commoditized. Then the customer is left to make a decision based on price because price is one of the few variables left to compare.
"It takes time (sometimes years) and investment to build this, but contractors can position themselves differently," Pototschnik adds. "They can position themselves on customer service and the overall customer experience."
Here's a rundown of some of the things Pototschnik says contractors can do to improve the customer experience in today's fast-paced world of doing more with less.
1. Answer the phone
"I am absolutely dumbfounded by the number of companies that do not answer their phone," Pototschnik says. "I understand the reasons why a contractor might not be able to answer his phone, but what I don't understand is the general lack of willingness to solve that problem."
For instance, some companies hire an answering service. While that might not be the perfect solution, it is definitely a solution—until you can definitively solve the problem by staffing your office to handle the phone.
"Research shows that many people will not bother to leave a voicemail," Pototschnik points out. So you've spent all of this money on marketing to get someone to call you, but then you don't have the opportunity to covert that lead into a sale. When you look at it that way, an answering service, which can be relatively inexpensive, has the potential to pay for itself in short order.
Another issue is when an existing client is calling with a concern. Not answering the phone doesn't do much in the way of conflict resolution or reassurance. "A cornerstone of customer service is knowing that the phone is going to be answered by a friendly, professional individual, and that your problem is going to be solved," Pototschnik reminds.
2. First impressions count
On that note, first impressions matter—a lot. "What is that experience going to be both visually and verbally?" Pototschnik asks. "I think of that first impression as almost theater."
For instance, you could train your crew to look for a list of things on its first visit to a property, i.e. weeds or tree branches in flower beds, dead flowers that need to be pulled, a broken gate latch, trash cans by the road that could be brought up to the house, etc. "It takes a matter of minutes to deal with things like this," Pototschnik says. "Leave a note about what you did. This can go a long way."
Other examples of "theater" include sending a welcome package to new clients, and following up with a phone call a month into service. It is crafted, but it doesn't feel that way to the client. It feels personal. It feels good. "It's all about making the most of those first two months with a client," Pototschnik says.
The industry is quickly moving toward what some contractors would consider the dream scenario: Clients can view your services, sign up and pay you online. You might not even have to talk to them! While that can be good in a lot of ways, it can also be risky. You don't want to completely lose your ability to interact with the client and make a great impression.
3. Easy to pay
Making it easier for clients to pay, however, does constitute great customer service. There is no better way to lose a customer's trust than to screw up their invoice, i.e. bill them the wrong amount, bill them for something you didn't do, forget to bill them for something you did do. It's also important to bill them at the same time every month, because consistency breeds confidence.
Along with accuracy, convenience is the key element. These days, more companies are doing electronic billing and even providing for online credit card payment.
4. Communication
Just as making a good first impression is important, so is ongoing communication. You can think of this step as theater, too.
"One of my favorite restaurants is Eleven Madison Park in New York," Pototschnik says. "Everything is incredible and perfectly paired. When I'd went there last year, I walked up to the door and they opened the door and said, 'Hello Mr. Pototschnik'. The team clearly googled me and found me online to learn who I was and what I looked like. That's theater, but it didn't feel like it to me, the customer."
The lesson? Take an interest in your customers and treat them like royalty. It sounds cliché, but it is effective—and not too many contractors are doing it.
Other things you can do include phone calls, handwritten notes and emails. Some of it can be pre-written and saved in your customer database software, prompting you or your team members to customize and send to certain customers based on a timetable. You can even do this with a paper-based system, if you commit to it and train your people to it.
5. Look like a pro
Speaking of your people, they have to look professional (i.e. uniforms or some kind of consistent dress code). For that matter, so do you—and so do your trucks.
"So many contractors still aren't branding their trucks," Pototschnik observes. "It's so inexpensive but so effective that I just don't get it. It builds recognition, trust and credibility. It's not really customer service, per se, but it's the subconscious part of customer service."
6. Train your crews
A lot of companies hire a new employee, through him in a truck and hope it all works out. Fortunately this isn't all companies, Pototschnik points out, but it is plenty—and too many, in his estimation.
"The only way you achieve great customer services is to train your field employees," Pototschnik says. "Train them to make eye contact with the client. Train them to wave at the client, and even other onlookers. Throttle the blower down when a neighbor comes walking down the street. Even though your Spanish-speaking employees might not be able to engage in conversation with a client, they can still do these things. Train them."
7. Educate
One challenge the industry has is that most consumers don't quite understand what landscaping professionals really do. They see a 10-year-old boy mowing a lawn, and equate that to a professional maintenance crew. They don't realize that a professional sharpens his mower blades every day. They don't realize how much a landscape company owner pays for insurance. They don't understand the employee training that takes place. They don't understand why the contractor fertilizes when he does, or why he maintains the grass at a certain height. We could go on and on.
You have to educate the customer in order to maximize the level of appreciation that customer has for your services. Email newsletters, website blogs, social media and even direct mail can allow you to share your message. And let's not forget about answering your phone, because doing so gives you the chance to teach the client about why you are their very best option. Just like anything else, you have to commit to doing it—and do it.
And that's really what it comes down to with customer service. You have to commit to it. Hopefully the items discussed in this article help get your started. The sooner you start, the sooner you'll be able to start wowing customers and shooting past the competition.