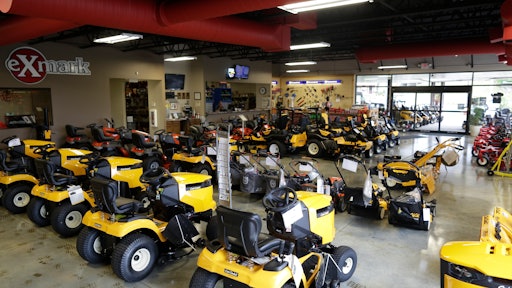 Conventional wisdom suggests it is much more expensive to sell to a new customer than an existing one. That said, you do want to be pulling new customers into your dealership and/or website to continually grow your customer base. Having a well thought-out, consistent follow-up marketing effort can help dealers on both of these fronts.
"When a customer chooses an independent dealer, it is often based on the expertise and service that a dealer can provide," says Emily Sword, director of marketing for Cub Cadet. "These dealer advantages become even important after the customer gets home and starts using their new outdoor power equipment. Our independent dealers keep in touch with customers. It is sometimes easier to say than to do, but it is doable. Contacting owners on a regular basis is key. We encourage dealer outreach to focus on a very timely message which may be sent less often but will most likely lead to better results for the dealership.
It's important to keep in mind that consumers have an increasing number of choices today. Not only are there other dealers, hardware stores and big box stores, there is the growing influence of online retail. This is especially true when it comes to aftermarket parts and accessories. All of this necessitates the need for a sound follow-up marketing effort.
There are basically three types of audiences that follow-up marketing could be directed at:
Those who've bought equipment from you and have a need for service, parts, accessories or an add-on product
Those who've bought equipment from you and need to replace it
Those who've engaged with you but not yet bought, i.e. stopped in your store or visited your website or Facebook page.
To generate the best response to follow-up marketing, it is very important to tailor the message to the customer by knowing what information to send and at what time. "At the right intervals, a maintenance reminder can create demand for parts," Sword points out. "A follow-up with a new customer post-purchase is a great opportunity to ask for an online review of their experience. For current customers who were very satisfied with their dealership experience, a 'refer a friend' offer could generate additional leads."
The challenge, as is often the case, is time. How does the typical dealer find time to collect data, manage it, analyze it and act on it with marketing campaigns? Most dealers don't have dedicated marketing staff and can't afford to outsource it. Some have office staff—but they, too, are stretched thin, especially during the busy season.
Three things can help dealers get their arms around the concept of follow-up marketing: the commitment they themselves make to it, management assistance from a good software system with robust CRM (customer relationship management) capabilities, and the support they get from suppliers.
Data collection and campaign deployment
Dealers and their suppliers need to think about how they gather customer information, what information they gather, along with what they do with it, when and how.
Here are some common ways small businesses like outdoor power equipment dealers go about collecting customer names and email addresses:
Product registrations
When a new customer stops in the store to browse or buy a part, as for the info by putting a bucket on the counter – offer something like a subscription to an email newsletter or chance to win in a drawing, etc.
Local garden shows, etc. you exhibit at (same thing, bucket to collect names or biz cards)
Facebook
Referral programs
Reward programs
Birthday clubs, etc.
"Simply registering a new product begins the relationship with the owner," Sword reminds. "In the case of Cub Cadet, either the dealer or customer can easily enter product registration online. Once entered, data is managed in one central CRM tool (by Cub Cadet). By providing this information, the customer will receive periodic emails from Cub Cadet on new products, special offers, warranty information and other topics. Additionally, dealers can access this information and use it to directly communicate with their specific customers."
Sword can't stress the importance of the product registration process enough. "Cub Cadet will contact the customer shortly after their purchase to thank them for their business and for choosing their local independent dealer," Sword points out. "The customer can then choose to receive future news and special information from Cub Cadet." It's all about maintaining communication with the customer to build an ongoing relationship.
Cub Cadet also works with other partners, including finance partners, to coordinate customer communication on behalf of the dealer. "For new sales opportunities, Cub Cadet is capturing data through a lead generation program on Cubcadet.com," Sword adds. These leads are captured in the Cub Cadet CRM tool for future communication campaigns—and are also passed along to dealers for their own follow-up efforts."
Technology and business automation help a great deal in this regard. Furthermore, a good dealership business management system with a strong CRM component can help dealers tackle follow-up marketing themselves. So if you're shopping for a new BMS, don't stop your comparison research with the service department and inventory management functions. As important as those functions are, you must also ask the BMS provider to explain how its CRM tool is going to help you drive sales.
Turning the efforts into sales
Steps to sound campaign management start with database discipline. A clean, up-to-date database rich with insightful information will help you parlay follow-up marketing efforts into actual sales.
"As referenced earlier, Cub Cadet dealers have access to a new CRM tool where customer data is entered and warehoused," Sword says. "All dealers have access to their customers at any time. Another step is to have a member of the dealership team dedicated to campaign management. Having someone focused on knowing where your customer data resides, along with how to access it, will allow the dealership to uncover sales opportunities.
"For example, if an early-season winter storm is predicted for your area, sending a weather-triggered email to your snowthrower customers highlighting the fact that you have a full inventory of snowthrowers and parts could prove to be just the reminder they needed to call you. As part of your campaign planning, a dealer marketing representative has already planned this email and they can quickly download the current snowthrower customer list from the Cub Cadet CRM tool. Within days of the email being sent, the dealer can receive parts orders and start generating additional sales."
Data collection and follow-up marketing require time and discipline. But generating additional sales—from both new and existing customers—is more than enough reason to commit. Are you, the dealer, committed? Are your suppliers?
Companies in this article