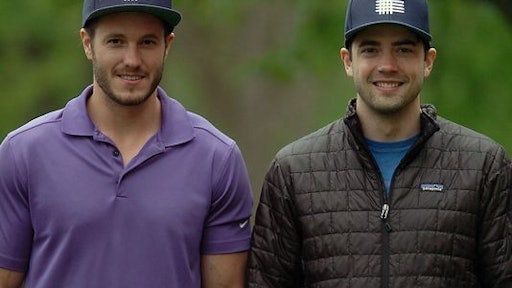 Not every million-dollar company can say it all began as a small-business summer job to help pay for college, but for co-founders Brandon Bertrang and Skye Durrant, that's exactly how LawnGuru began. According to Durrant, the pair kept in touch and swapped business ideas through college. "Partnering again was always in the works. We were both looking for the next thing to do and saw real opportunity."
The duo reconnected in 2013, working with the same concept of lawn care that brought them success before college. "After a few years and a million dollars in sales, we bought out smaller companies and created a standardization of business practices," Durrant says. "We envisioned a marketplace where we could improve the businesses of owner-operators."
Bertrang and Durrant saw an opportunity to combine the technology of an app with quality customer service. Durrant says LawnGuru offers "convenience, control and transparency for customers. We improve the overall experience for them through communication and picture receipts—modern tools in an experience that has been dated and lackluster for a long time."
By May of 2015, the pair launched their first version of the application in iOS format. Durrant describes LawnGuru, an app used to connect lawn care professionals with clients requesting lawn care services as "a remote control to your lawn." Once users download the app through iTunes or the Google Play Store, it allows them to request, skip, pause or stop services all with the click of a button.
The Technology for Customers
According to LawnGuru.co, setting up service begins by measuring clients' properties using satellite images to provide standardized pricing based on the square footage of each property. LawnGuru users then set up preferences regarding what type of service they are seeking, what day the service needs to be completed and the frequency of service. From there, users receive text alerts to keep updated on the progress of the work.
Once the job is completed, users' payment cards are charged and they receive a picture receipt. Users are encouraged to provide feedback by rating their provider's service. Durrant describes the overall customer satisfaction rating, saying, "The customer rates [providers] on a one-to-five level, which includes quality of work, communication with the customer and the number of jobs they've done."
Durrant recognizes the rise of technology is increasing the demand for apps like LawnGuru. "Today, a lot of people are expecting this level of service," he says. "Comparatively to what's out there, our customers see the immediate value."
Durrant also notes that offering lawn care services through an app allows their business to reach a wide audience. "The majority of users are 25- to 45-year-old male homeowners with a dual income," Durrant says. However, LawnGuru is also capitalizing on the generation gap and securing clients who may not use app technology. "We find kids are more than open to using a service; it allows them to control it. They think it's great because they communicate with us and their parents."
The Technology for Lawn Care Owner-Operators
But lawn care customers are only half of the LawnGuru equation. Lawn care owner-operators who sign up with the app see tremendous advantage over their competition. "The biggest advantages for owner-operators come in with marketing, customer support and billing," Durrant says.
"The marketing we do for owner-operators is reaching out and selling these jobs to customers, providing a constant stream of new work they can pick and choose from. They get new job alerts, set up a service area, and then they can pick and choose the jobs that are best for their routes, providing cash flow and route density."
Additionally, owner-operators receive payment for jobs quickly. "As soon as they complete a job, money is on the way to the bank," Durrant notes, "so these guys have their money after 48 hours. Our providers are paid via direct deposit every two days for work completed."
LawnGuru not only creates new jobs for owner-operators, but it also helps them establish long-term customer relationships. The app encourages additional services and reminds clients what is needed depending on the season.
For example, Durrant says, "Right now, we're transitioning out of lawn season into fall cleanup and winterization. We send emails to our customers reminding them of the importance of leaf cleanup and winterizing their irrigation systems." During the winter months, LawnGuru offers a snow removal service that owner-operators can take advantage of as well.
A quick application is required to become a provider through LawnGuru. Applicants go through vetting, a background check and an equipment review before they can begin accepting jobs. "Providers must carry liability insurance and uphold our quality standards through customer ratings," Durrant states.
LawnGuru's quality standards require providers to receive at least a four-star rating for each job. "If they go below four stars, we're reaching out to them and letting them know their performance standards aren't up to what we're asking," Durrant warns.
"They have the chance to improve, but if they continue to have low ratings, we're going to remove them from the platform and not allow them to do jobs anymore."
For those who uphold the quality that LawnGuru requires, there are rewards available. According to Durrant, "Top-performing providers are preferred providers. We offer them additional work, throw them more leads, and help grow their business and get more jobs on their routes."
While LawnGuru receives a certain percentage of each transaction (from 0 to 20 percent, depending on the job), the app is free and owner-operators can add their current client base for no charge. "If they want to reduce their billing efforts, they are welcome to add clients. We don't take any percentage of jobs for providers' existing clients," Durrant says. LawnGuru also provides a client relationship management tool and covers credit-card processing fees.
Additionally, LawnGuru offers owner-operators security. "They can keep track of an existing crew and know where their guys are at all times," Durrant notes. "We also found that some of our providers are using the service to cover their jobs in case of any equipment breakdown."
Providers can also promote customer specials without losing any money themselves. For example, "If a customer signs up with a referral, the customer receives a discount, but the provider is still paid in full and we're not taking any percentage of that transaction," Durrant states.
Customers also receive perks for being long-term users of the app. "When customers sign up for weekly service, they get a 15 percent price cut and can schedule their cuts for whenever they're needed. If their lawns are not growing that fast, they can skip a mowing. That savings can add up to a couple hundred bucks for high-frequency users," Durrant mentions.
Where to Go from Here
Currently, LawnGuru exists in seven major metro areas and suburbs, including Detroit (where it originated), Chicago, Cleveland, Houston, Atlanta, Washington, D.C., and Philadelphia.
While these locations allow for a much larger service area, Durrant notes that smaller towns play an important role as well. "A lot of the work comes from smaller towns and neighborhoods surrounding these larger areas. While I don't see us entering an isolated town that's not anchored by a metro area, clients can request the company come to their area."
The LawnGuru app is free of charge, and can be downloaded from iTunes or the Google Play Store. Providers can also sign up with the Get Started button at LawnGuru.co/providers.
Angie Mellor teaches communications and writing classes at Western Technical College in La Crosse, Wisconsin, while freelance writing and editing as well.