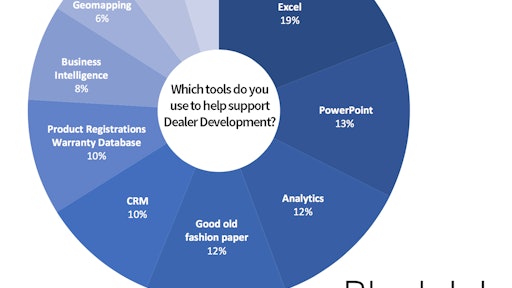 Black Ink Technologies
The recent release of a research initiative conducted by Black Ink Technologies, in conjunction with EPG Media, shined a spotlight on the technology challenges faced by outdoor power equipment dealers. The study pointed out the slow pace of adopting sales tools that meet the increasing demands of a changing universe of customers—which includes landscape contractors.
Among the major obstacles reported was data fidelity, and the outdoor power equipment sector was among several noted to be lagging in the utilization of sales enablement tools. However, despite these findings, there is both a bright spot and a solution.
As legacy and new-to-market dealers struggle to keep up with a constantly changing landscape contractor marketplace, the example of CPO Commerce, one of the newest and fastest growing online tool retailers, offers hope to the entire sector and its constituencies in landscape contracting. It is retooling the industry's future with new product information management (PIM) systems.
What is PIM? PIM is a platform that enables an organization to collect, store and access all the information related to its products, serving as a central product information repository with a common user interface for all enterprise-wide product-based information and functional departments involved in managing and using that information.
PIM enables business-to-business-to-customer (B2B2C) connections—from the manufacturer to wholesaler to dealer and retail networks—providing the most current and enriched information, whether online or in physical settings. In this way, business partners, as well as end customers, see the most accurate and up-to-date product information.
At a dealer level, PIM technology allows alignment of print with the multichannel shopping experience to help achieve cross-channel integration, as well as the ability to collect and manage the data necessary to better understand and serve customers. With the landscape contracting industry a mixture of independent operators and small enterprises, the ability to have product data aligned across channels makes buying and selling a more reliable exercise, and a better overall experience.
While CPO Commerce works from a different perspective as a manufacturer with online retailer roots, it has the goal of making the purchasing experience for the landscape contractor simple and seamless. The online tool retailer is using new PIM technology to bring it into the digital age. The company is responsible for multiple websites, and uses PIM to manage product information, and feed e-commerce websites and a variety of marketplaces.
"As a leading online tool retailer, we require the best and most enriched content to be available to our millions of professional and do-it-yourself customers. Their needs are complex, requiring us to curate a broad assortment of new and factory-reconditioned tools and equipment," according to Mike Ritter, president of CPO Commerce.
"PIM offers us the ability to better show our customers exactly what they are buying—whether new or reconditioned—to reinforce their confidence in our brand," he continues.
For a landscape business owner whose time is money, PIM curates a brand experience that not only provides evocative visuals, but also immediate click-through to e-commerce portals. The ability to see precisely what the product is and be able to buy it quickly is both a time-saver for the customer and sales-booster for the outdoor power equipment dealer.
Another way that PIM is augmenting dealer offerings is by connecting channels. Print catalogs become digital valets, meaning they are created with the intent to guide landscape contractors to online sales channels, in addition to their traditional job in direct sales. That way, if a contractor prefers online shopping, PIM can simplify the process.
In contrast, if the contractor prefers calling in an order or visiting a dealer location based on what he sees in the catalog, he can be secure in the knowledge that there is no online deal that he's not seeing in the dealership. In addition, the PIM solution adds images, reviews, videos, descriptions, and even virtual 3D and augmented reality experiences to assist in the decision-making process.
PIM offers outdoor power equipment dealers the capability to focus on analyzing results that could lead to improvements in the customer experience. Focusing on analyzing results by utilizing PIM and master data management helps them connect the dots between data domains—including product, customer and more.
When it comes to the bottom line, PIM is the technology tool to analyze results, nurture customer relationships and, ultimately, boost return on investment.
Companies in this article