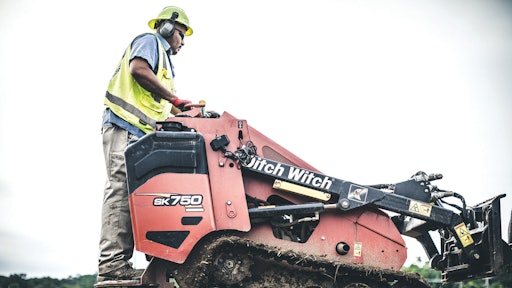 This article was originally published in March 2019 as a general presentation on safety on job sites as provided by SiteOne Landscape Supply. With the ongoing impact of the COVID-19 pandemic, safety is currently at the forefront of most businesses and made this article even more relevant today. Read on for more.
Your employees are the most important part of your business. As a landscape contractor committed to success in the green industry, your number one goal should always be to send employees home safely after a day's work. Adopting safe practices is the key to keeping your team happy and healthy.
While safety has always been an important topic in the green industry, more contractors than ever before are prioritizing their employees' wellbeing. Primarily, it's because they understand that it's the right thing to do. But there's a secondary reason as well; in today's competitive labor market, workers who do not feel safe or valued can easily leave for another employer. In addition, injured employees need time off work and costly medical care. Labor shortages and employee injuries jeopardize your profit margins, your project quality and completion dates, and your reputation. By taking excellent care of your employees, you can safeguard your crew—and your bottom line—from injury.
There are proactive steps you can take to keep your employees safe. By establishing a safety program, adopting safety technology and matching equipment to the task being performed, you can help ensure that your employees go home in the same healthy condition they arrived.
1. Establish a Safety Program
It's challenging to manage workers' safety when they're scattered across different job sites. Establishing a safety program helps employees follow safety practices no matter where they go. While safety programs look different for every company depending on their size, line of business and other factors, they can each contain the same basic criteria.
First, provide detailed trainings on the types of equipment and chemicals your employees are working with and around. Part of this training should include clear instructions on exactly how and when workers should wear personal protective equipment (PPE).
Second, assign someone on every team to be responsible for safety. This person is the go-to source for safety issues on that site and makes sure nothing falls between the cracks. This person can help ensure that other workers wear the appropriate PPE, use equipment and chemicals safely, and complete safety paperwork if applicable.
This safety champion can also complete the job site checklist. When starting on a new job, the worker responsible for safety should do a job site review with the rest of the crew. By walking through a comprehensive checklist, the entire crew can become aware of hazards that may be unique to that site. For example, your checklist may include underground and overhead powerlines, underground tanks, gas lines, steep slopes, cliffs or unsafe edges. Make sure your job site checklist includes anything workers may encounter that could cause injury.
Another part of any safety program should be encouraging associates to report site-related hazards or unsafe practices. Establish an open-door policy for workers to speak to you about safety. You may even consider adopting an incentive program that rewards employees who share a safety suggestion or report a safety hazard with a corrective action. By listening to your employees' feedback and taking action, you make them feel valued and keep them safe.
2. Adopt Safety Technology
Another step to keeping employees safe is adopting safety technology. The rise of mobile technology is currently one of the most important trends in the safety field.
Contractors used to depend on hard copies of accident reports, but can now complete all documents on their phone or tablet, and electronically share them with the office. This same method of document completion goes for hazard investigations, site reports or any other safety-related paperwork. With so many landscape contractors working from decentralized locations, the use of mobile technology is an efficient way to process reports in real time.
Another safety technology on the rise is vehicle telematics. With telematics, you can track safe operations of your fleet. Most telematics providers can send you real-time alerts about who is driving your vehicle, how fast they're going and how safely the vehicle is being operated. You can be notified if a speed limit is being exceeded or a seatbelt isn't being used, and take corrective action with the employee. These vehicle safety requirements are crucial to protecting employees' wellbeing. Require your workers to buckle up and drive safely in every vehicle, no matter if it's a truck or a forklift.
In addition to tracking safe vehicle operations, telematics can also provide cost savings by identifying fuel consumption and idling time.
3. Match the Equipment to the Task
One of the most important safety steps you can take is to ensure that your employees have the right tools for the job, including PPE. PPE is some of the most important equipment your workers are ever going to use.
The Occupational Safety & Health Administration (OSHA) requires employers to provide PPE when their employees are exposed to hazards. Depending on the task being completed, required PPE can include hand, foot, eye and ear protection, high-visibility clothing, hard hats and more. Look for PPE with an American National Standards Institute (ANSI) rating. To achieve ANSI standards, a product needs to be thoroughly tested and meet certain criteria to ensure that it can perform safely. The higher the ANSI rating, the more protection the product supplies.
Make sure that the safety products you purchase are compliant with the application they're going to be used for. If workers are operating a hand saw to cut bricks for hardscaping, their gloves need to be tight-fitting and cut-resistant. If they are running a string trimmer, make sure they're using eye and hearing protection at the level needed for the task.
In powered equipment, look for products that are properly guarded and lack pinch points. Train your team to only use equipment in the applications for which they are designed and make it clear that they should never remove safety guards.
4. Put It into Practice
Following these steps can help accomplish your most important goal: keeping employees safe. Well-cared for employees yield concurrent benefits, such as lower turnover, and avoiding workers' compensation claims and OSHA violations.
For more information about optimizing safety on the job site, please visit www.osha.gov.