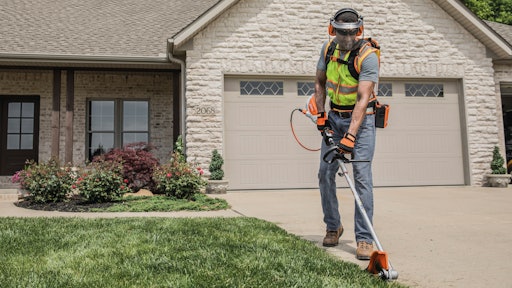 I woke up with a startle last Monday. I dreamt my two crew members were loading up our trailer with 16 robotic mowers to head out to a retirement community we had been maintaining for years. But instead of having three crews spend all day there, they were going to simply drive by our properties and essentially drop off a robotic mower, push a button, and return an hour later to pick it up.
Imagine that, they were going to do that for nearly 100 accounts, with only two crew members. My employee problem was solved. I didn't need three trucks with trailers, nor did I have to carry extra fuel.
Wait a second. Extra fuel? That's what sparked my dream. I had just purchased a couple battery-powered string line trimmers and was looking forward to inserting a battery module instead of handling fuel, pushing a button instead of pulling a starter cord.  Anyway, there's no way, the industry would evolve to replacing employees with robotic mowers, or would it?
Employing robotic mowers to completely replace crew members is likely years away, but battery powered equipment is rapidly finding a place on landscape maintenance trailers. This trend has been more than a decade in the making, and the catalyst was the transition from lead acid to Li-Ion (Lithium Ion) batteries.
Greenworks introduced its first rechargeable hand tools in 2005 and has since developed a full line of both homeowner and commercial products. Within the last year, the company has added a rechargeable stand-on and zero-turn rider and an UTV to complement a line of rechargeable hand-held equipment for the professional user.
"Li-Ion batteries have more power, last longer, and charge faster than lead acid batteries and they don't have a degradation of power," said Greenworks Commercial Business Group Leader Tony Marchese. "They are smart, as well.  Some of ours have Bluetooth capability, allowing users to check on things like battery life and the number of charges it has left. Those in our zero-turn mowers have the capability to locate a mower if it is stolen and actually make the battery inoperable."
The rechargeable solution
Producing less noise and few emissions are among the most obvious advantages to using battery-powered equipment, which makes them attractive to towns and municipalities, colleges, corporate America and virtually anyone or company that wants to be "greener."
Marchese emphasized this equipment also has real pragmatic value for the professional user.
"Now 500 cities have some form of regulation on two-stroke engines, that's up from 250 a year ago," he said. "Promoting your company as a green company with the capability to deliver all services with rechargeable equipment from blowers and trimmers to mowers can give you a true marketing advantage."
He noted that there are several productivity advantages, as well.
"Generating less noise allows rechargeable equipment to work on a property early in the morning and late into the evening," Marchese said. "Operators don't need to be mechanically savvy to start and operate equipment, nor are there downtime issues with a broken throttle cable, plugged air filters, and the like, not to mention early morning stops at a quick mark to get fuel and coffee."
Despite their growing popularity, many landscape contractors are reluctant to give up their gas-powered equipment for rechargeable ones, having concerns about their initial cost, performance, and run time.
"Take costs as an example," said Marchese. "Greenworks zero-turn mower sells for around $24,000 compared to a price of between $10,000 to $12,000 for a comparable gas-powered mower. If you add up fuel savings alone, users will pay for their battery within three years.  Add in oil changes, service charges, and overall less vibration traveling through the mower and savings on repair and service costs are greater yet."
He pointed out that performance shouldn't be an issue, either.
"Our professional backpack blower delivers 700 CFM (cubic feet per minute), in line with the industry's gas-powered workhorses," he said. "Battery power also delivers extreme torque. Gas-powered mowers experience a degradation of power transfer from the engine to the transmission, belts, pulleys, and so forth, something rechargeable mowers don't experience. Power goes directly from the battery to the blade and wheel motors."
Then there's the issue of run time. Professional users can take along extra batteries for their hand-held units, but Greenworks stand-on and zero-turn mowers will need to be recharged, just like a Volt or Tesla.
"When factoring in windshield time, an average mow, blow, and go company will spend approximately 4 hours a day mowing," Marchese noted. "Depending on the conditions, our stand on and zero turn rider will mow for between four and six hours before needing to be recharged. It takes 10 hours to recharge the battery, but we also know there are occasions when larger properties, such as corporate accounts, will require longer mowing stints. Later this year, we will introduce a high-speed charger that will reduce charging time to two hours."
Growing market
Greenworks product lineup is exclusively battery-powered, but the company isn't alone in the growing market. STIHL, Inc., for example, introduced its first battery-powered product in 2010.   
"Battery products are lightweight, start instantly, and are easy to operate and maintain," said Mike Poluka, STIHL, Inc. product manager.
Echoing Marchese, he emphasized that today's products also "offer excellent run times, with no exhaust, little-to-no noise, and no gas or fuel to mix while on the job. Battery-powered equipment might have a higher upfront cost, but over time users save on maintenance costs and have a product that requires little upkeep when compared to the alternatives."
Over the last nine years the company has introduced 35 battery-powered products into the marketplace, including several that are appropriate for the professional user, explained Poluka.
"Of the three tiers of performance, the STIHL AP Battery Series is designed for professionals and delivers the power landscape contractors require and are ideal for extensive use on a variety of properties," he said.
In this product category, he includes just about every hand-held product a landscape contractor would want, everything from hedge trimmers, handheld blowers, and chain saws to string line trimmers, a walk-behind lawn mower, pole pruners, and extended-reach hedge trimmers.
STIHL also offers battery-powered garden shears, a robotic mower, and what Poluka says is the world's first battery-powered cut-off machine. A new top-handle chain saw will be available in August 2019.
The growing popularity of battery power among landscape contractors has been fueled in part by stringent emission and noise standards. They've also witnessed first-hand the evolution of this technology as their truck and trailers continue to share the highway with more hybrid and plug-in automobiles.
There's no question battery technology has improved vastly over the years, both in terms of power and run time, two prior obstacles for their use by professionals.
"Our battery products feature optimal power-to-weight ratios, making the equipment easier to use and maneuver and considerably lighter than gasoline-powered models," Poluka said. "To provide user comfort during long work days, several of our AP Series battery products offer an external battery connection allowing operators to shift the battery weight from the unit to their back or hip."
STIHL is continuing to expand its offerings of battery-powered products for both homeowners and professional landscapers while, at the same time, working to improve upon gasoline-powered products.
"We are evolving with the landscaping industry," added Poluka. "Because the Li-Ion market is rapidly growing, we have a new research and development center in Germany devoted to their development and refinement."
Marchese agreed.
"The growth of this market has been nothing but amazing," he said. "By 2023, we anticipate the rechargeable market will exceed that of gas products." He noted that sales to homeowners through chain stores will represent a large portion of this growth, but professional users will be part of this expansion, as well.
Dreams can come true
Several manufacturers, like STIHL and Husqvarna, have successfully introduced robotic mowers to the rechargeable product marketplace.
These mowers are designed primarily to take the legwork out of mowing for home owners, but Weed Man is testing another franchise concept that will get the professional users involved, as well. Two former landscape contractors and current Weed Man franchisees, Kevin Adan, and Jim McClure, are part of the test in the Atlanta market.
"We're in the very early stages of the automation age when industries are looking for ways to solve the labor shortages," said McClure, who along with Adan, operated a lawn maintenance company prior to buying a Weed Man franchise in 2001. He noted they joined Weed Man in part because running a lawn maintenance company was too labor intensive. Now, they're planning on getting back into the lawn maintenance business with robotic mowers doing most of the legwork.
The new franchise being developed by Weed Man called TurfBot Robotic Mowing Service, is expected to be formally introduced into the U.S. market later this Fall.  Adan and McClure are testing the concept with a Husqvarna robotic mower.
"Powered by a Li-Ion battery the mower is quiet at 58 decibels. It literally maintains a lawn 24 hours a day, taking off an eighth of an inch of grass per cut. It mows for approximately 70 minutes before returning to port to recharge for 60 minutes," said Adan. "Unlike a mowing crew, it mows rain or shine, doesn't scalp, and doesn't leave ruts. The lawn is a deeper, darker green than one that's mowed weekly, and it always looks and even smells freshly cut, because it is."
As part of the new service to homeowners, Adan and McClure would purchase and program the mower, install a perimeter wire around the property to guide the mower, and offer a bi-weekly service to tidy up the lawn and landscape with a trimmer and blower and check on the mower to ensure its operating as programmed.
 "The contractor may even want to expand the service offering by installing shrubs and seasonal color, but the bulk of the work would be done by the mower quietly and emission free," added McClure.
Adan and McClure are excited about the program and look forward to once again getting involved in the mowing side of lawn maintenance, if they don't need a covey of trucks, trailers and workers to do so. They wouldn't be entertaining their reentry into the marketplace without the robotic mower, which relies on advancing battery technology to get the job done.  
"Advancing" is the key word. As batteries continue to improve, finding new ways to take advantage of them will be on the agenda of both manufacturers and the operators who use their products.