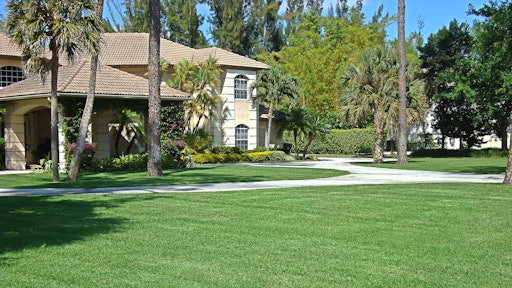 NALP Philippe Nobile Photography
Studies show that the green industry persevered despite the challenges brought on by the COVID-19 pandemic in 2020.
Both SingleOps and Jobber recently released annual economic reports highlighting the unexpected success of the green industry in 2020. Data from each is collected from industry professionals who uses their respective business management software.
Sparked by renewed homeowner interest to improve indoor and outdoor living spaces, data shows consumer spending in home service out-performed most major categories in the second half of 2020, compared to the same period in 2019.
According to Jobber's Home Service Economic Report: 2020 Review, the green segment of home service businesses served by the company, encompassing landscaping, lawn care, and other outdoor services, was the only segment reviewed that saw year-over-year growth in median revenue every month during 2020 and reached a peak of a record 32% year-over-year growth in December.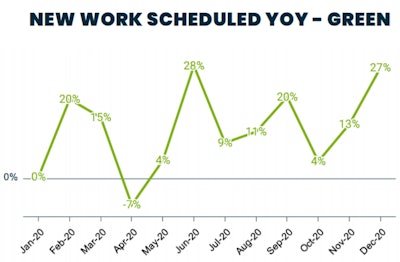 "While so many small businesses were sadly forced to close shop in 2020, most home service businesses endured," said Sam Pillar, CEO and co-founder of Jobber. "All the major metrics we track for home service, including consumer demand, employment and revenue, point to an overall category recovery as we kick off 2021. If 2020 is any indication, service providers are a resilient group that can overcome challenges that may surface in the year ahead."
SingleOps 2021 Green Industry Economic Report analyzed over 700,000 proposed jobs totaling $1.4 billion and nearly 400,00 accepted jobs totaling $700 million across commercial and residential landscaping and tree care.
"Across each service and customer type covered in this report, the number of proposals delivered increased and the time to payment went down," said Sean McCormick, CEO of SingleOps. "These are significant insights, so we wanted to determine some of the main drivers of these trends."
Both reports suggest an increase of adoption of digital work requests and payments.
"A big takeaway was that the data pointed to adoption of specific software functionality, in particular digital estimates and integrated payments technology," McCormick said. "Companies that leverage digital signatures, automated invoicing, digital/contactless payments, automated reminders, and self-serve customer portals saw higher than average sales activity and A/R efficiency, which isn't surprising for a single company, but to see accelerated adoption of these technologies influencing positive trends industry-wide, that's exciting."
Jobber's report also found that technology adoption for both contractors and clients was on the rise. According to the report, digital work requests saw accelerated growth through 2020 after a decline in March and April. Data also shows an increase in electronic customer communication in the form of visit reminders, which saw 30% year-over year growth in April and May, even though actual visits declined during this period. In addition, online payments continued to show growth.
"When the COVID-19 pandemic hit back in March, we weren't sure how our customers' businesses would perform," said Abheek Dhawan, vice president of business operations at Jobber. "Although service businesses experienced record declines at the onset of the pandemic, they managed to weather the storm rather effectively to end 2020 on a positive note. It's especially promising to see the increase in technology adoption, as it means that not only are service professionals surviving, but also further investing in their businesses. We suspect that the trend towards technology adoption, which has accelerated due to the pandemic, will continue into 2021 and beyond."
Jobber Home Service Economic Report: 2020 Review
The Jobber report provides insights into key segments such as cleaning, contracting, and green services and investigates industry trends related to technology adoption and how they are affecting home service businesses' ability to get work, do work, invoice, and get paid.
In 2020, the "essential" classification of green industry businesses varied by state as the stay-at-home orders were issued. Generally, landscapers, tree care workers and other green industry workers fared relatively well due to most of the work being outdoors.
According to Jobber's report, the green industry saw positive new work growth in Q1 before declining sharply to -7% YoY in April due to restrictions. Median revenue followed a similar trend but didn't dip into a decline. In the second half of the year, new work in the green industry saw consistent growth, and revenue growth continued accelerating throughout Q3, before hitting record levels in Q4.
Continuing, the report states that regular, recurring contract jobs were significantly impacted during the pandemic wave, dipping to -17% YoY in April and building to a slow recovery in September and suffering again during the second wave in November.
Conversely, Jobber's report found that one-off jobs were not impacted much, outside of April, when these businesses missed out on some seasonal opportunities. Outside of April, the remainder of the year indicated positive year-over-year growth throughout 2020.
SingleOps

2021 Green Industry Economic Report

One-Off Landscaping

This section of SingleOps report focuses on landscaping services that take place only once, such as landscape design, irrigation repair, installs, supply retail and delivery.

According to SingleOps report, with more people sitting in their homes and backyards during the pandemic proposals for one-off landscaping projects saw a dramatic increase. In 2020, proposal acceptance rate for one-landscaping services increased by 4%.

Such one-off landscaping services do have more variance in price and size as data includes design/build jobs and smaller installs. Although these services typically are higher price items, the report indicates that time to payment dropped from 15 days in 2019 to 8 days in 2020. The shift is attributed to the pandemic accelerating the industry trend towards integrated payment solutions that support online or other contactless payments.

Overall, the SingleOps report states that commercial and residential one-off landscaping service providers performed well in 2020. The average revenue per job for commercial projects was $1,598 compared to $1,198 for residential jobs, an increase from 2019. Also, commercial job bids were accepted by clients 75% of the time compared to 59% for residential bids. Time to payment for commercial projects was 17 days versus 8 for residential, and the revenue per hour was $125 for commercial assignments compared to $139 for residential.

Recurring Landscaping

This section of the SingleOps report focuses on landscape services that take place on a recurring basis, meaning providers are on client's property multiple times a year on a monthly or even weekly basis for services such as lawn maintenance and lawn care.

Providers of commercial and residential recurring landscape services also enjoyed a strong 2020, although the overall acceptance rate for service was down 5% from 2019. Commercial providers achieved a 92% acceptance rate on bids while residential bids were approved at a rate of 97%.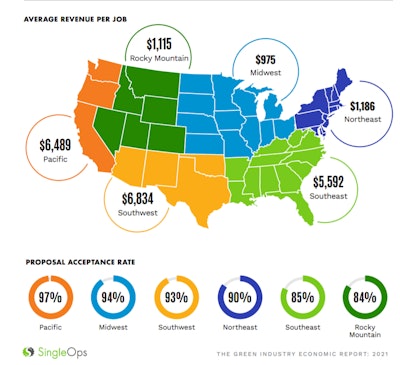 In addition, average revenue per job saw slight decreases from 2019 to 2020. Average revenue per commercial job was $5,390 compared to $842 for residential work. Still, like the one-of jobs, the time to payment did drop overall from 20 to 18 days. Time to payment for commercial jobs was 21 days compared to 13 for residential, and the average revenue per hour for commercial projects was $128 versus $194 for residential.
Tree Care
Lasty, SingleOps report reviews services provided by arborists and tree care professionals, including pruning, tree removal, plant health care, cabling and bracing, transplanting, fertilization and lightning protection.
Commercial tree care service providers raked in an average of $4,620 per job last year compared to $1,369 for residential projects. Commercial providers achieved a 62% acceptance rate on bids while residential bids were approved at a rate of 49%. Time to payment for commercial jobs was 24 days compared to 7 for residential and revenue per hour was $112 for commercial jobs and $120 for residential.