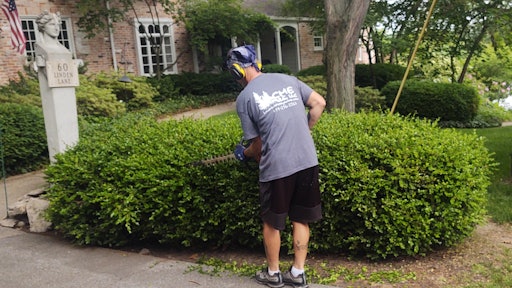 Acme NLS, LLC
Do what you love, don't sweat the little things.
That's been Scott Horoszewski's motto as he's run Acme NLS, LLC for the past 25 years. The company, based in Swanton, Ohio, performs mostly lawn maintenance work, design and installation, lawn care, snow and ice management and irrigation for residential and commercial clients.
Horoszewski entered the green industry after high school. He was looking for a job and upon his uncle's suggestion, joined a lawn care company.
"I loved what I did, so I stuck with it," he says.
He decided to start a company of his own. Horoszewski enrolled in business classes and his wife bought him his first mower.
"My boss let me use his other equipment on the weekends," he says. "And off I went."
Horoszewski and his two employees strive to give the customer with stunning results at fair prices, he says. His company's mission is to "provide a breathtaking lawn and landscape for the customer to enjoy."
"We treat every property like it's ours," he says.
That philosophy must be working, because Acme NLS earned the Green Industry Pro Hidden Gems award for three years in a row. The company continues to grow through word of mouth and Horoszewski plans to add more landscape work over the next few years. In another decade, he might consider retirement, he says.
The company is also involved in supporting the community.
"We like to give back to our local community by donating and sponsoring our kids' futures," he says.
Contractor Profile
Name of Business: Acme NLS, LLC
Business Location: Swanton, Ohio
Name of Owner: Scott Horoszewski
Year Business was Founded: 1996
Number of Employees: Two full-time, one part-time