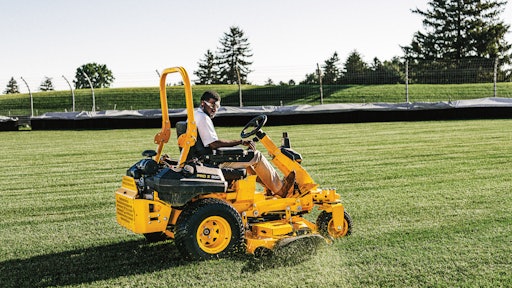 Content Sponsored by Cub Cadet
The adoption of autonomous and robotic mowers represents a paradigm shift in mower design and capabilities. Instead of incremental changes and improvements — like adding features, upgrading materials and refreshing designs — this evolving autonomous technology can fundamentally change the way landscapers approach their tasks with the ultimate goal of delivering value to their businesses.
In September 2021, Cub Cadet took the first step toward this paradigm shift by changing the landscaping game with the introduction of its first GPS-operated semi-autonomous commercial lawn mowers. The Cub Cadet PRO Z™ 960 S and 972 S SurePath® each are outfitted with GPS technology and an exclusive four-wheel steering system to provide a semi-autonomous experience.
SurePath® Auto Steer is a game changer. Auto Steer is a GPS assisted driving technology that is designed to minimize overlap and maximize productivity. Plus, it is easy to use regardless of the operator's experience. The operator simply sets the preliminary cut line and the SurePath® units will perform straight cutting paths with an auto-zero-turn at the end of each row at the touch of a button.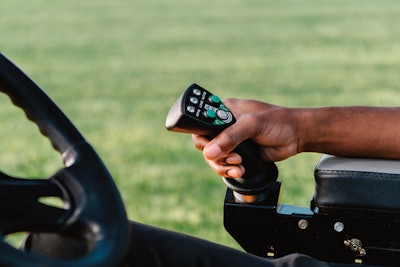 These machines were designed to maximize efficiency and productivity while minimizing effort and advanced training. In a world where skilled and dependable labor is hard to come by, a major benefit of the Cub Cadet PRO Z with SurePath® is that it simplifies the onboarding process while maintaining a consistent level of quality for a premium cut. Freeing up human labor to take on other necessary tasks, empowering landscapers to do more with less.
SurePath® Auto Steer technology is just the first stage of Cub Cadet's commercial autonomous road map, ensuring that landscapers receive tangible value at each phase for an immediate benefit. SurePath® technology is the ultimate efficiency tool for today while avoiding the current pitfalls of fully autonomous units.
Labor constraints continue to be a headlining issue in the industry, and Cub Cadet SurePath® is a solution that can help landscapers who are struggling to fill out their crews. And because of the semi-autonomous nature of the GPS technology, operators with different levels of experience, from new hires to landscaping vets, can be expected to deliver consistent quality cuts and efficient operation when using a SurePath® unit.
Cub Cadet PRO Z SurePath® empowers landscapers to do more with less through maximizing efficiency and minimizing operator training. Utilizing high-precision GPS technology, SurePath® reduces overlap and helps to cut straight stripes, allowing the operator to complete a property in less time while producing superior cut quality productivity* when compared to an identically equipped Cub Cadet manual lap-bar mower. And each pass adds up to some serious productivity gains over time. Third-party testing revealed operators using SurePath® technology experienced an increase in productivity when compared with an otherwise identically equipped Cub Cadet mower with manual lap-bar steering controls. Meaning landscapers can look forward to substantial time saved to take on new jobs, projects or clients with the same labor force.
Beyond efficiency, cut quality and an intuitive user experience, SurePath® represents a new era in ride comfort for operators. SurePath® mowers are built on the trusted PRO Z 960 S and 972 S platforms. By automating turning and steering, the GPS technology helps reduce hand-arm vibrations, manual inputs and the need for sustained concentration, similar to the way current self-driving technology in the auto industry has made parallel parking easier and long drives less draining. Reducing operator physical and mental effort is a business priority for many landscapers looking to increase workforce productivity, giving their employees the necessary time and energy to devote to other high- priority tasks and projects.
At Cub Cadet, we firmly believe we are entering the era of autonomous and robotic mowers. And while we have our sights set on the future and are keen to unlock the potential of fully autonomous units, we are excited to offer a semi-autonomous solution that helps landscapers address today's challenges and realize new opportunities. The future may be a little more hands-free, but for now landscapers can try their hand at something new and experience what a semi-autonomous mower can do for their business.
*Based on measured overlap improvements between a Cub Cadet SurePath-equipped commercial zero-turn mower with a 72-inch cutting deck/cut width compared with an otherwise identically equipped Cub Cadet mower with traditional lap bar steering controls operated by a variety of professional landscapers in controlled conditions. Actual results in the field may vary based on operator preferences, mowing conditions, terrain, site configurations and other factors.
For more information visit: https://www.cubcadet.com/en_US/commercial-equipment/surepath-commercial-zero-turn-mowers