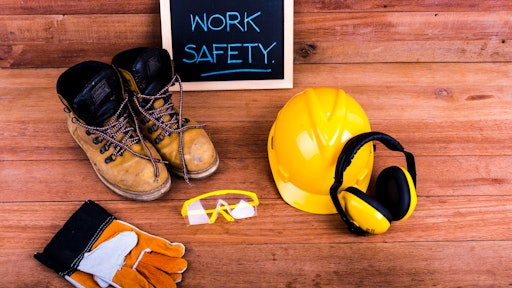 stock.adobe.com - chatchai
The adage "safety first" is used so much that it may seem cliché, but the importance of landscape companies enforcing safe practices among employees cannot be stressed enough.
"No business wants an injury claim, and we don't want our people hurt," says Kris Kiser, president and CEO of the Outdoor Power Equipment Institute. "Operated safely, the machine will do the work. It's when the operator uses the machines in a way they're not designed where people get hurt. It's up to us to be mindful of how we operate them."
Kiser and Sam Steel, safety adviser for the National Association of Landscape Professionals, offer advice to help landscape companies keep employees and customers safe this season.
1. Put a safety program in place
First things first: companies should have a written safety program that outlines procedures and safe practices.
"Safety measures and trainings are put in place to protect the important human resources (employees) from hazards and risks; comply with local, state and federal safety and health regulations; recognize safe work behaviors and habits with input from safety committees and management; reinforce the company's reputation for its commitment to safe work practices; and let employees know that the firm genuinely cares about their safety and welfare," Steel says.
According to Steel, the safety program should include the following:
Identification of all hazards that could result in illnesses and injuries to employees.
Prioritization of the identified hazards.
Development of safety policies and procedures.
Selection and implementation of training tools for eliminating or reducing the risk of injury or illness.
A system for documenting all training and safety briefings and updates.
Observation of worksites to ensure that safety training and desired behaviors are followed.
Retrain as needed to maintain a high level of safety practices and procedures at all worksites.
2. Train crews on safe practices
When training operators on handheld equipment, landscape companies should provide examples of safe operation methods and allow the trainee to demonstrate their learned behaviors through training exercises.
Training should occur at the beginning of each season for both new and veteran employees.
"With employee turnover in mind, a comprehensive early season training program is important," Steel says. "Using a 'buddy system' of experienced employees working with and monitoring new employees will have a positive impact on the safety and health of all crew members."
Beyond the initial safety and health training in the spring, landscape firms can use weekly all-employee training sessions, on-site safety tool box training and site briefings to remind workers about hazards specific to their current worksite.
For example, slopes and dropoffs are serious hazards at some maintenance sites and a prework briefing on reminders for operating equipment at these sites is very important. Steel says that briefings are also critical at worksites where large, mature tree trimming or removal is being done.
"It is important for the tree climbers and ground crew members to understand the importance of constant communications to prevent traumatic injuries from falls and falling debris," Steel says.
3. Read the operator's manual
While different brands of equipment may be similar in design, Kiser notes that each piece of equipment is unique.
"Oftentimes, they have modest changes by manufacturer," Kiser says. "The key to safe operation is genuine familiarity with the equipment. It may sound trite, but know your owner's manual. Go online and familiarize yourself with that equipment. Ask yourself what safety equipment that particular machine has."
Kiser adds that many manufacturers provide equipment trainings in video format and in various languages, including Spanish.
4. Survey the surrounding environment
Because spring and summer bring more people outside, Kiser stresses that landscape crews should take extra note of their surroundings—looking out especially for kids and pets.
"We don't want any kids hurt," Kiser says. "They like to emulate their parents or adults, and they can creep up on you. Both kids and pets can be quick and move unpredictably. Also, don't teach a kid how to use the machines because they're curious and will try to use them unsupervised and could get hurt."
Kiser adds that crews should walk yards before performing maintenance work, making sure obstacles are removed.
"We encourage people not to mow in reverse," Kiser says. "If there's a toy left behind by the dog or a kid, the machine will find it, and you don't want the machine to find it."
5. Be aware of debris
Because handheld maintenance equipment produces a lot of flying debris that can result in severe eye injuries, eye protection is a must.
Steel recommends eyewear that provides impact, peripheral and ultraviolet light protection and that is certified by an American National Standards Institute (ANSI) Standard referred to as Z87.1. Certified protective eyewear will have the Z87.1 designation imprinted on the inside of the stems of the glasses.
"Fashionable and aviator style glasses do not normally meet the standard and should not be used when protective eyewear is required," Steel notes.
On a similar note, crews should also wear appropriate footwear and attire to keep themselves protected.
6. Account for decibel levels
Handheld equipment such as gas-powered chainsaws, trimmers and leaf blowers can expose landscape crews to excessive noise levels, otherwise known as decibels.
"With the knowledge that above 85 decibels of noise for a duration of eight hours or more, there is a strong possibility of hearing loss, hearing protection through the use of ear plugs or ear muffs is required," Steel says.
Keep in mind that in order to reduce operator exposure, hearing protection should provide at least 20 decibels of protection. In other words, the hearing protection should have a noise reduction rating of at least 20 to 25 decibels. Steel says that manufacturers rate the noise levels in dB at 50 feet from the operating equipment.
Finally, Steel says it's not enough for crews to have access to hearing protection—they must also be wearing it properly.
"There is a right and wrong way to insert ear plugs," Steel says. "Make sure proper insertion methods are provided through training demonstrations to workers in need of hearing protection."
7. Keep safety checks in place
When using equipment, it's important that crews don't disable safety features.
Kiser points to the rollover protection systems on mowers as an example.
"Those safety devices are there for a reason," Kiser says. "Don't modify it, change it or remove it."
8. Safely store energy sources
Whether equipment is powered by batteries or gas, landscape operators should be sure to properly store that power source.
Kiser notes that companies should pay attention to safety recommendations on the conditions, temperature and humidity when it comes to storage.
"If you follow the manufacturer's guidance, you just lengthen the life of the product, it'll run better and more efficiently and it's a safer product overall," Kiser says.
Related: Find an online-exclusive article on heat safety here.