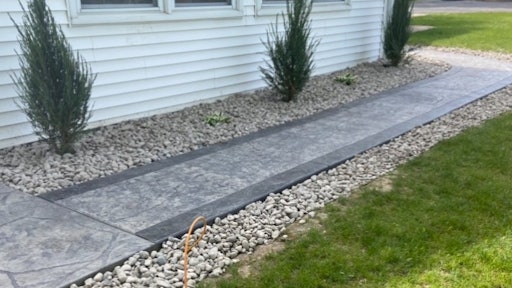 Archbold Landscaping
When overgrown bushes, unruly weeds and outdated rock material had taken over a homeowner's property, Archbold Landscaping was selected to tackle the job and beautify the space in the process.
The company provides lawn care and landscaping services for customers in the Decatur, Ind., area.
Dan Archbold, owner of the company, said work on the project started in the beginning of the year.
"We hand dug out all the bushes, dug out all the weeds and put weed barrier down, so they don't come back," Archbold says. "We also planted a bunch of juniper trees and hostas around the house."
To go along with the newly landscaped space, the homeowner had also recently installed a new patio, so Archbold Landscaping removed old stones and laid new ones around the space.
Archbold Landscaping made quick work of the job. Archbold and two crew members completed the project in two days. On day one, they cleaned out everything and prepped the area to lay the rock around the patio on day two.
According to Archbold, no unexpected challenges cropped up during the project—something that, among landscapers, is often deemed as a pleasant surprise.
"It all went pretty smooth, and everything pretty much went how I planned it," Archbold says.
Overall, Archbold says the client was so pleased with the finished product that he requested Archbold Landscaping's services for his business in addition to his house.
For other landscape professionals undertaking similar projects for clients, Archbold recommends leaving the area clean and in tiptop shape once the work is done. This can help show the client that a company has gone the extra mile in completing a project.
"I think most people will do good work, but cleaning up is the biggest thing," Archbold says. "It's about making sure you rake up any materials or clippings left behind in the yard."