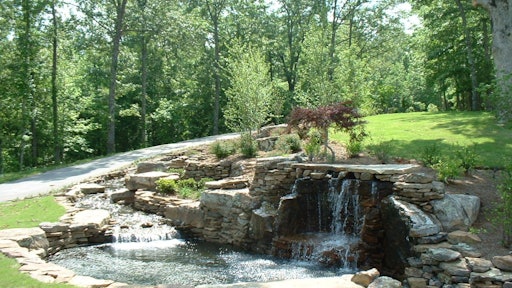 http://www.hatcherlandscape.com/projects/ashland-ms-residence/
Founded in 1987, Memphis-based Michael Hatcher & Associates learned a lot when the landscape design/build business took a dive in 2009. The company and its owner, Michael Hatcher, took the opportunity to reinvent itself, so to speak, and focus the entire organization on what it was going to take to not only survive the economic downturn, but lay the groundwork for a thriving landscape design/build/maintenance company for years to come.
Match identity to customer need
At the start of 2010, Michael Hatcher & Associates changed its marketing tagline to "Pools, Plants and Patios … Plus a Whole Lot More." This statement crystallizes the company's promise to deliver the complete landscaping experience through the design/build, installation and maintenance services it provides. The company now offers design/build, hardscaping, lighting, pools, landscape maintenance and irrigation.
With respect to design/build, everything starts with a consumer need or desire, Hatcher reminds. "As I reflect on the 1980s and 90s, everyone in the Memphis market was looking to have a wooden deck installed," Hatcher tells. "Today it's more about hardscapes and paver patios, along with other outdoor living amenities." This represents a great opportunity to update and modernize some older, outdated landscaping.
Presentations that engage the client
After identifying a customer need through an initial meeting or phone conversation, Hatcher's solutions-based selling approach quickly shifts gears to place focus on features and benefits. In design/build, you certainly have to be price-competitive, but the presentation can matter just as much.
For the initial client meeting, then, Hatcher & Associates typically sketches out two or three basic conceptual designs. "This is important for that initial meeting because it allows the client to explore all of his or her opportunities," Hatcher says. "We also talk about the client's budget, along with what their needs and desires really are. We're adding notes to the original sketch all the while we're talking. These days, customers are looking for that type of interaction with their contractor. In the old days, all we had to do was go in with a single plan and say, 'Here it is.'"
Hatcher and his team return to the office with the concept the client selected, complete with all of the notes that were made during the meeting. From there the design is finessed a bit before being put into a full-color, hard-line drawing.
This rendered drawing becomes the focal point of the second client meeting. "Depending on the size of the project, we may even create a 3-D model that we can show the customer on our laptop," Hatcher relates. "I realize that not every contractor has access to this type of technology. But this is just one example of how you can be creative in your solutions-based selling approach."
An itemized proposal is also introduced at this second client meeting. "This is where we sit down and start fine-tuning the project costs with the client," Hatcher says.
While going over the final design and itemized proposal with the client, Hatcher is also sure to provide a compelling history of his company. "We want to show where our company has come from, and how we have thrived as an industry leader with visionary thinking," Hatcher relates.
Telling the company's story includes discussion of past projects that have been completed. Before it's all said and done, this second client meeting, Hatcher points out, generally lasts at least one hour.
"Consumers want to do business with contractors who understand their needs and the opportunities that exist in the industry," Hatcher concludes. "This is more important now than ever."
Closing Sales by Selling Benefits
In the world of sales and marketing, features represent the attributes of a product whereas benefits represent the desirable outcome those features have in the eyes the consumer. Michael Hatcher says that selling benefits must be central to a solutions-based sales approach.
To Hatcher, not to mention many other landscape contractors, "green" is just a buzzword. But "sustainable landscaping" has real tangible benefits for just about any consumer. So that's what Hatcher focuses on.
"I'm seeing more people interested in sustainable landscaping," Hatcher relates. "Sustainable landscaping could mean things like capturing surface water run-off and recharging it back into the ground. Using Belgard's permeable paver system allows us to do this."
When talking to a client about the ET irrigation controllers his company uses, Hatcher is talking about the fact that ET controllers are high-tech devices that can help the consumer reduce water usage.
"We stay on top of manufacturer data," Hatcher points out. "Understanding this information and presenting it to clients helps position us as a solutions provider. This is the one thing you can do, regardless of the size of your company, to help create some differentiation."