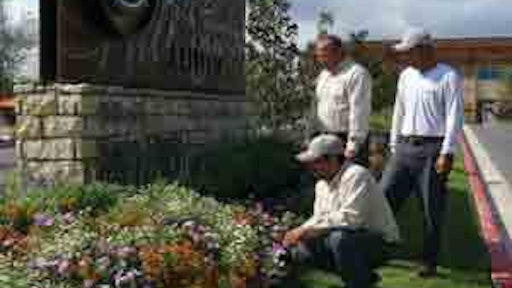 Ivan Giraldo, co-owner of CleanScapes in Austin, TX, has been grinding through his busiest season ever. They could always use a little more rain, he relates, but the company's growing list of commercial customers has kept each of its divisions on its toes this year.
CleanScapes offers maintenance, installation (including hardscaping and water features), irrigation and lawn care. More than half of the company's revenue comes from installation, which has included several large projects such as the Texas State Capitol, countless hospitals, office buildings and apartment complexes, and a variety of retail malls such as the Domain Shopping Center and Hill Country Galleria.
Today, CleanScapes employs roughly 200 people in peak season, has more than 300 commercial accounts, and generates an estimated $26 million in annual revenue. With those kinds of stats, you'd think the company has been at it for a good 20 years. But believe it or not, CleanScapes was founded just a few years ago.
YEARS IN THE MAKING
Actually, 23 years ago, Giraldo was just stepping foot on U.S. soil for the first time. He arrived in Miami in 1985 to join his two brothers in their upstart landscaping business. He worked with them for about a year, but wanted to find his own opportunity. He moved to Arlington, TX, and proceeded to work in a variety of jobs for the next four years. Giraldo then moved back to Miami to give it another try. After a few more years, he married someone who grew up in Texas, so the couple decided to move back to the Lone Star State.
Austin seemed like the ideal place to start a family. When Giraldo and his new bride arrived in San Antonio, the job hunt concluded nearly as fast as it started. Giraldo heard about a landscape company in Austin that was looking for a foreman. He applied, interviewed and was hired on the spot. That was 1994.
"It was a good size, growing company," Giraldo recalls. "I started out as a laborer before moving up to foreman. Eventually I became a supervisor. I was dedicated to commercial accounts, primarily focusing on maintenance."
Eventually that company decided to sell out to TruGreen. Giraldo continued to work there, but stayed in touch with the company's former co-owner Rex Gore. After a few years, Giraldo went to work for a different landscape company, this time specializing in the residential market. That lasted another year.
But in 2005—20 years after he first landed in Miami looking for his big opportunity—Giraldo finally found it. "The economy was good, and Rex was wanting to start another company," Giraldo tells. "It was the perfect opportunity and even more perfect timing."
OFF WITH A BANG
Not unlike how many contractors get started, Giraldo and Gore had a couple of big clients go with them. There was also plenty of new business that was up for grabs.
"Industrial development was booming, so there was a significant amount of installation work when our company was getting going," says Gore, who assumes more of a behind-the-scenes role in the company. "We also had some strong relationships with several prominent landscape architects in the area. But the bulk of the credit has to go to Ivan, along with our other two partners Jay Grona and George Lindenberg. They have a great reputation in the local real estate community."
CleanScapes started with a total of seven employees, one of whom spent half his time running the office. Today CleanScapes has roughly 200, including nine full-timers in administration.
"Many of our employees and key managers had worked with one or both of us in the past," Giraldo points out. "They knew our reputation and understood the kind of company we wanted to build."
Even with the seemingly endless rolodex of contacts compiled over the years, the meteoric sales growth CleanScapes quickly enjoyed has made the labor challenge even more challenging. "Without the H-2B program, we would be stretched very thin," Giraldo says. "It's been difficult this year."
Giraldo says he's been very fortunate, though. "We try to create a good work environment. Many of our employees have been with us since the start. They like working here, and in many instances, have brought friends and relatives in as we've needed to add staff."
"The secret to this business is having a great team," Giraldo continues. "Without a great team, client satisfaction and retention is impossible. We're not perfect, but 100% customer satisfaction is our goal."
FRIENDLY … BUT FIRM
One satisfied customer is Dick Anderson of HPI Real Estate Services. Anderson first met Giraldo in the mid-90's. "Back then Ivan was just a worker with a shovel," Anderson muses. "He couldn't speak the best English, but I'll never forget that firm handshake. And he had this innate desire for customer service."
Giraldo says communication with the client can be a contractor's biggest challenge, but also his biggest opportunity. Anderson will attest to that. "With Ivan it's not just telling the client what he thinks the client wants to hear," Anderson says. "He really listens to our property managers to identify their concerns and find out what they need done, even if it will cost us more. That's OK. We don't expect him to do it for free. If it'll save us a few phone calls down to road, not to mention plenty more phone calls from unhappy tenants, we understand that he's doing the right thing—for both of us."
This kind of open communication is something Giraldo has instilled in all of his key managers. "They all have Blackberries and laptops with them, in case they can't meet with the client face to face," Giraldo says. "Many of our clients aren't on site, so this has proved to be very useful."
Having good communicators at the crew leader and crew worker levels is also important. "You have to keep them happy and motivated," Giraldo says. "You have to pass on your passion for the company. I have weekly meetings with all managers to find out how things are going. And because I'm bi-lingual, I'm able to meet at least monthly with crew leaders, sometimes taking them out to lunch."
RIGHT PLACE, RIGHT TIME, RIGHT PLAN
Looking back to 2005, when all the indicators suggested that the Austin-area landscaping business was about to explode, not even Gore could have predicted what his new company would experience. Consider this:
• 2005 – Revenue: $755k, 30 employees
• 2006 – Revenue: $9.5 mil, 80 employees
• 2007 – Revenue: $26 mil, 160 employees
"We could not have done it without the help of our CFO, Dana Adams," Gore quickly points out. "She came from outside the green industry, but came highly recommended. We'd told her that we expected to become a $4-$5 million company in a few years, so the ride has been much wilder than she anticipated. Her hard work and brilliant, detailed accounting system helped us through it."
Like many areas of the country, development has slowed around Austin, and the boom, for the most part, is over. Sales this year are on par with 2007, but next year could see a bit of a drop. Gore says that's OK. "We try to be prudent when it comes to fixed expenses," he explains. "We do own quite a bit of equipment, but have also continued to rent on a project-by-project basis. You could argue that renting is simply throwing money away. But you're sure glad you've been doing it when business slows. Aside from our equipment fleet, we're also comfortable that our facilities expenses are something we can handle."
Another thing CleanScapes will continue to handle is high-profile clients like Dick Anderson. HPI Real Estate Services has roughly 10 million square feet of buildings, so they don't have enough property managers to handle 20 different maintenance vendors. That said, it's important that CleanScapes is the size it is and can handle the volume HPI provides.
But there's something even more important. "The impact Ivan's positive attitude has on our property managers is amazing," Anderson says.
That's why customers like HPI stick with him, not to mention CleanScapes' employees. Ivan Giraldo came to this country in 1985 looking for his opportunity. Now he's more than happy to be sharing in that opportunity with so many others.