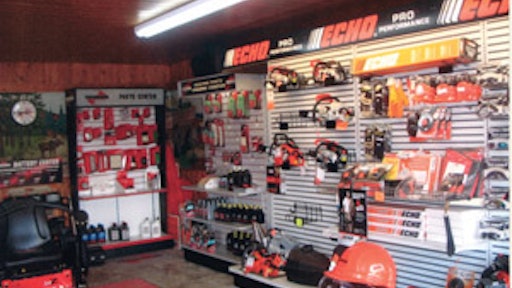 Dave's Small Engine Repair
Oxford, ME
Year founded: 2005
Owners: Dave and Paula Patry
Employees: 3 full time
Annual sales: Under $1 million
Sales mix: 35% wholegoods, 25% parts, 40% service
Customer mix: 75% consumer, 25% commercial
Shop labor rate: $50 per hour
Major lines: Ariens, Echo, Gravely, Poulan Pro, Shindaiwa, Troy-Bilt, White Outdoor
Dave's Small Engine Repair, a family owned and operated shop, was opened in March of 2005. Previously, Dave Patry had been doing equipment repairs part time out of the home for 15 years. His business continued to grow to the point where he lacked the sufficient amount of time and space to provide the quality and timely services he desired. "I worked full time at the local Ford dealership and had built good relations with many people from the surrounding towns. My part-time business from home doing equipment repair had grown so much that there just wasn't any more time in a day to get everything done in a timely fashion, so I had to make a decision," Patry explains. "Either I had to go full time on my own, or start refusing equipment for repair."
After careful consideration, Dave and Paula decided opening up their own full-time shop couldn't have made more sense. "With my wife's encouragement and the fact that she could do all the bookwork and parts ordering/parts look-up, along with my son's eagerness to pursue the same career as I had, we jumped in with both feet," Patry says.
Patry also saw a lot of support from individuals he had the chance to build relationships with in the industry. "Many of my own customers as well as the people I had met through my job at the Ford dealership had mentioned the fact that I was crazy if I didn't open up full time with my own business," Patry explains.
SATISFY THE NEED
The Patrys saw a need for service such as theirs in the Oxford, ME, area and have since been successfully providing it. "We try to provide a wide variety of products so we can satisfy the average homeowner as well as the commercial landscaper," Patry explains. "Our area really needed a great service center, and the customer base we have developed, which numbers over 1,800 thus far, has been very supportive."
Since its opening they have worked hard to build customer relationships through three open houses and several customer appreciation days. Thanks to these efforts, with attendance at each open house reaching 300, they have built a hearty and satisfied customer base.
One customer gave the following commendation: "Dave's is the kind of place where the customer feels like family. It's a family-owned and operated business and you can tell they really care about their customers. They all know exactly what they're doing and how to get the customer what they need."
IDEAL PRODUCTS AND LOCATION
At Dave's Small Engine Repair they understand the importance of offering a variety of extremely high-quality products. In choosing which product lines to carry, they did their homework. After looking into several manufacturers they were confident they found what they were looking for in both Ariens and Gravely; reliable brands that are well-known in the area. "I needed a good product to sell and looked towards Ariens and Gravely first, because we knew the names as some of the'old brands' with a distinguished, trustworthy reputation in our area."
Patry explains that product was just the first step. Next came the location. "Once we had secured the Ariens and Gravely dealership, we needed to work fast at finding a good building in town where people could see what we had to offer."
The first location for Dave's left much to be desired. A flighty landlord and a hard-to-get-to, off-street location led to a move just seven months after opening up. The family saw how this initial location was holding them back and moved on, and up, quickly. They saw a building for sale that would be perfect for their operations and bought it on the spot. "This place was right on the main drag," Patry exclaims. The family worked hard for months at renovating the new place, to make it what it is today.
MOVE-IT MARKETING
At Dave's Small Engine Repair, they use the right marketing tools and techniques for showing customers exactly what their product and service options are. A proud dealer of Ariens lawn mowers and snow blowers, they have earned the praise of Ariens' very own Charles Jillson. "The equipment displayed is neat, clean and well organized. His service reputation is the very best in the area. He uses all of our marketing tools that he can currently afford in a very professional way. His wife Paula is very creative with advertising and merchandising in the business."
Another marketing and service technique is the fact that Patry is an EETC-certified technician. He believes that having said qualifications puts customers at ease by giving them more confidence in his services. Patry talks about his certification, which signifies a higher level of technical know-how and professionalism. "I did it because customers like to see lots of credentials and certifications; it makes them trust that you are serious about your business and you know what you're talking about," Patry explains. He also obtained the EETC certification for his own personal benefit, to keep up in the industry.
FAMILY TRADITION
Working with tools and repairing landscape equipment is something that the entire family enjoys, right down to the Patrys' son Robbie. Dave remembers when Robbie, a recent high school grad, was just a little guy with a thing for troubleshooting and repairs; who he says was born with a wrench in his hands. "He grew up tinkering on small engines and loves the challenge of finding out what's wrong with equipment. When he started junior high school, he knew that he too wanted to fix lawn mowers for a living," Patry says.
Even the manufacturers such as Ariens have noticed how the passion and work ethic have been passed down a generation. "His son Robbie is meticulous with all the equipment set up and repair. He will be full time next year. He will be part of the legacy his parents are building." Jillson explains.
By working hard together as a family and keeping each other in line, the Patrys have seen plenty of growth. To accommodate the continued growth, they are already thinking of the future and its possibilities. "Some day I hope to build a bigger shop area and hire some more help, but I don't want to grow too much too fast. My wife says if we keep our heads out of the clouds and our feet on the ground, we'll do just fine," says Patry. "Our purpose here is not to get ahead of other people, but to get ahead of ourselves."
Companies in this article