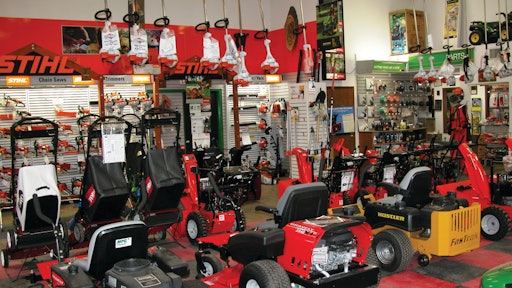 A dealer named "Jack" said that his biggest problem was trying to grow from being very small to being a mid-size dealership (sales climbing over $500K a year). He didn't have the money or time to implement the majority of the ideas he's discovered at tradeshows and reading about other larger dealerships. Jack wanted some practical advice for his average-sized dealership. So here we go.
TAKE TIME TO STRATEGIZE—THEN EXECUTE
In order to grow with very few resources at your disposal, the first step is to set aside some time, even if just a couple hours each month, to work on the business. This meant that Jack and his wife would make the time to discuss actions that could be taken to start growing the business. Scheduling the meeting, conducting the meeting and agreeing on some specific action steps (that are written down) is central to making progress. There's nothing wrong with these first meetings taking place over the kitchen table.
The real power of these regular meetings starts with the second meeting. The first step in the second and subsequent meetings is to review whether or not you did what you said you were going to do in that first meeting. Growing takes work and action that is different than running the store. Simply put, the meetings define real work that is realistic and affordable.
IMPROVE THE CUSTOMER EXPERIENCE
Once Jack decided to start having these important meetings, there were two critical areas that he needed to work on continually. The first is to start, and maintain, a constant level of change. The fancy word for this in business circles is innovation.
The second was to start, and maintain, constant improvements in the customer experience. In very small businesses, the most cost-effective advertising is referrals from satisfied customers.
Growing a business takes work and action that is different than running a store.
Jack said that he didn't have any money for innovation. But he did have old TV and DVD player. He needs to make changes to his store every three months. He could set up the TV on the counter and collect videos from his suppliers to run on a loop. This was a single change that would make the store different.
Other low-cost things were to change out light bulbs to a higher wattage, rearrange fixtures in the showroom, add new paint or signage, and add clean and bright point-of-purchase materials from his suppliers. It's not so much what Jack did, but that he was always doing something. He takes actions as he has the time and money, and his customers get exposed to something new on a regular basis.
EFFECTIVE MARKETING YOU CAN AFFORD
When thinking about advertising, Jack said he only did events at the beginning of the season with newspaper circulars and the occasional ad in local media. It was costly, and Jack was not confident it was a good investment. The truth is, Jack would never have enough money to get the exposure he was seeking. The value of advertising is in repeated exposure over a long period of time. He'd be better off spending the money elsewhere for a better return.
Jack started thinking about nontraditional approaches that were worth considering in his monthly meetings. He did a little brainstorming and came up with the following ideas:
Saturday morning NASCAR-style lawnmower pit stops; a customer brings his mower in for maintenance and gets it back in 15 minutes. Jack could put up a neat sign or stage the service pit stop out on the lawn in front of the store to really get some attention and create excitement.

He created social media accounts on Facebook and LinkedIn and started tracking down and following landscape company owners and other professionals in his market. He also created pages for his dealership to communicate happenings, offer tips, and overall help spread the word about his dealership.

Printing circulars and visiting all of the home centers (big box stores), offering one-day turnaround with free pick-up and delivery on repairs for their customers. Jack started with demand pick-up and delivery—i.e. they call and he goes. When he gets busier it is time to shift to scheduled pick-up and delivery. Try Monday, Wednesday and Friday during the middle of the day to avoid heavy traffic. Whenever it gets too busy, simply raise prices.
THE BOTTOM LINE
The work to grow a business is different that the work to run a business. Jack needed to spend less time worrying about his business and more time actually doing work to make it better. This is the core task of executive management and it never goes away. The tasks change, but no business maintains long-term growth without someone constantly working on the business. Both Apple and Microsoft started in a garage with no money.