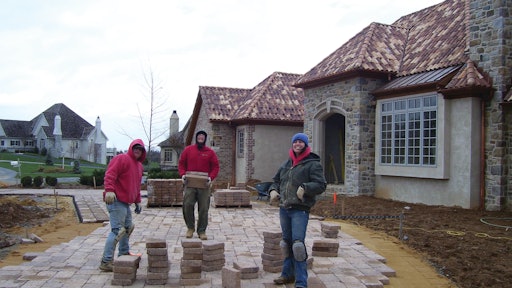 You're a good crew chief. You've been with the company a couple of seasons now. You show up on time, all the time. You and your guys never have accidents, you're a good driver, customers never complain about the work you do, and your boss never gives you a hard time about going over budget on jobs. Sleep well tonight—you are indeed a good crew chief.
But how do you become a great crew chief that your employer would hate to lose? According to renowned Green Industry trainer Jim Paluch, there are three main things you can do.
Take Initiative
The ability to take initiative is a trait most company owners wish their crew leaders had. But not all have it—even the hardest working ones—because taking initiative and working hard are two different things. Taking initiative means you activate yourself to do something even if you haven't been asked to do it. Thus, there's a certain amount of confidence that's necessary.
In order to have the confidence to take initiative, you must understand what the company's goals are, and how they fit with your personal goals and actions. If the company's mission is to "create beautiful landscapes" or "help people live healthier" or "provide outstanding customer service," that's great. But you have to understand what that mission is and how it fits with your personal goals. When you do that, you can find the inspiration to take initiative.
Additionally, when you understand the company's mission and goals, you can spread excitement to other members of your crew so they can find their own inspiration. That's how you begin the process of growing your replacement.
Grow Your Replacement
Are you serious? Train someone so well that they are capable of replacing me?! Your heart may have just skipped a beat, but ask yourself this question: Do I want to remain where I am right now for the rest of my life?
If you want to move up even further in the company, you have to focus on bringing out the best in your crewmembers. That's the best way to ensure that your employer will be comfortable in granting you more responsibility as the company takes on more work.
Communication skills become vital at this point. You start out by taking an interest in your crewmembers, asking them what they need in order to do a great job and grow their own careers. You then learn how to respond in a positive way, which could include asking additional questions to learn more about their needs or concerns. This is how you build purpose in your crewmembers. They know what they are striving toward and what is expected of them—and they know that you are behind them in helping them reach their goals.
Finally, you must be willing to recognize wins as a team on a consistent basis. Positive reinforcement is very important.
Grow Sales
If you want to move up in the company, you not only want to help grow your replacement, you want to help grow sales. It's very simple: When a company grows, its people can grow.
I know what you're thinking: I'm not even a salesperson, so how can I possibly help to grow sales? Well first of all, you must break down the imaginary wall that can sometimes form between operations (crews) and sales (managers). Do everything possible to support the people in your company who are bringing in business. That will lead to more customer retention, more referrals and new leads.
What we're mostly talking about here is producing great work. So, as you see, becoming a great crew chief ties back to what makes you a good crew chief in the first place (see first paragraph). Becoming great means doing what you've always done, and just a little bit more.