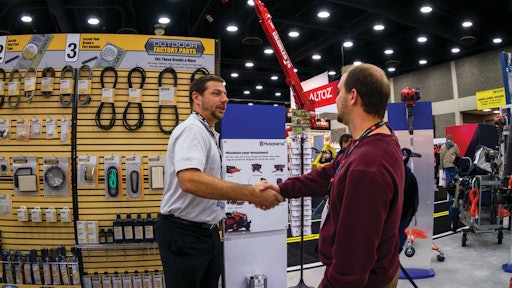 GIE+EXPO
It's that time of year again. Leaves are falling, you're working hard to secure contracts for next year, the MLB playoffs are about underway, the NFL season is in full swing, and the countdown is on for yet another GIE+EXPO in Louisville, KY.
If you're interested in going to GIE+EXPO this year, there's still time to register — and you can even save 50% on registration, complements of Green Industry Pros!!
GIE+EXPO is the industry's premiere event. It includes a tradeshow showcasing roughly 750 exhibits across half a million square feet of exhibit space, a 19-acre outdoor demonstration area, educational and networking opportunities for both landscape contractors and equipment dealers, free concerts from big-name entertainment, and numerous other events and programs tailored specifically to dealers and contractors.
Tradeshow Schedule
This year's GIE+EXPO is once again being held at the Kentucky Exposition Center in Louisville. The schedule is as follows:
Wednesday, October 22 (Dealer Day) – dealers are granted exclusive access to the indoor tradeshow from 3 to 7 p.m. to get a sneak preview of new products, meet with suppliers, and enjoy some receptions and other entertainment
Thursday, October 23 – indoor tradeshow and outdoor demo area both open from 9 a.m. to 5 p.m. for all attendees
Friday, October 24 – indoor open from 9 a.m. to 5 p.m., outdoor open from 9 a.m. to 4 p.m. for all attendees
Dealer Events
The exclusive, pre-show access to the tradeshow floor on Wednesday afternoon is just one of the many features of Dealer Day this year. Seminars begin right away Wednesday morning at 11 a.m. with dealership guru and Green Industry Pros contributor Bob Clements. Those take place in the famed Dealer Resource Pavilion and are free to attend. The Pavilion also features free WiFi, providing dealers a venue to kick back and relax, hop online, and network and compare show notes with other dealers.
The educational opportunities don't end with the Bob Clements management-focused seminars being held Wednesday, Thursday and Friday. On Wednesday, beginning bright and early at 7:30 a.m., are numerous Tech Training and Certification classes from the Equipment & Engine Training Council (EETC). Four "basic" classes are being held, each costing $30 to attend. Three more "advanced" classes are also being held, costing $45 per class to attend. Class sizes are limited, so register early.
Also on Wednesday, author and consultant Steve McClatchy is stepping in as the keynote speaker during a special luncheon address at 1 p.m. He'll offer advice to dealers on how to work smarter, reduce stress and become better leaders. Pre-registration is required for this $25 event.
Thursday is Dealer Summit day. Dealers will have an opportunity to quiz manufacturers and learn about contractor buying habits. Then, on Friday morning, dealers can compare notes and share ideas at a best practices-oriented breakfast roundtable event.
Contractor Events
While GIE+EXPO does draw a diverse group of Green Industry stakeholders, the majority of attendees are landscape contractors—and for good reason. There are many more landscape contractors out there than equipment dealers, for instance. And there are plenty of enticing reasons for a contractor to come to GIE+EXPO.
In addition to the GIE+EXPO tradeshow, which showcases everything from mowers and skid steers to fungicides and fertilizers, the Hardscape North America show is also taking place in the very same exposition center. Hardscape North America features more than 750 exhibits. Additionally, a full track of educational sessions covers a variety of business and technical subjects. Equipment and product demonstrations, along with some competitions, are also held.
Back at the GIE+EXPO, landscape contractor business education takes place Thursday and Friday. New this year are irrigation workshops, being held Thursday via PLANET; Spanish-language seminars, being held Thursday via the National Hispanic Landscape Alliance (NHLA); and snow removal workshops, being held Friday via the Snow & Ice Management Association (SIMA).
And then there's the Green Industry Conference (GIC), PLANET's annual learning and networking event. The education kicks off with Wednesday morning workshops. Also on Wednesday is the annual PLANET Gives Back community service project (site yet to be determined). Back to the classroom, a full docket of educational opportunities exist throughout Thursday and Friday. Other learning opportunities include the popular Breakfast with Champions roundtable discussions on both Thursday and Friday morning, along with the Learning Lounge that's open throughout the show.
Free Concerts
After all of that networking and learning, a series of free concerts are offered to GIE+EXPO attendees at the popular Fourth Street Live! outdoor venue in downtown Louisville. The concert stage is sponsored by Nissan Commercial Vehicles.
Wednesday night: Montgomery Gentry with opener Jeni Carr & Twangtown (Sponsored by Dixie Chopper)
Thursday night: Jamie Lynn Spears, followed by The Crashers (Sponsored by Synchrony Financial)
Friday night: Olivia Henken and Josh Logan, past finalists on the TV show "The Voice"
For more information on how to attend
For more information on GIE+EXPO, visit gie-expo.com.
For more information on PLANET's Green Industry Conference (GIC), visit landcarenetwork.org/GIC.
For more information on Hardscape North America, visit hardscapena.com.