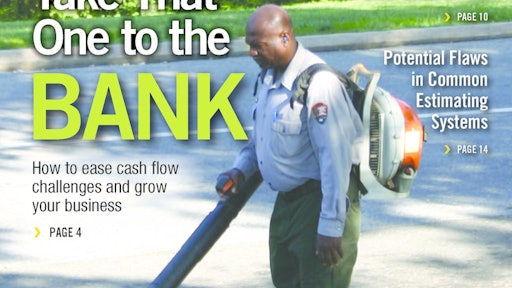 Articles in this volume include:
Take That One to the Bank: How to ease cash flow challenges and grow your "small" landscape company by making it more bankable.
Don't Forget to Mine Your Acre of Diamonds: Many Green Industry companies don't realize the potential value they have with their present client base.
One Way to Avoid Losing a Third of Your Sales Leads: On-hold phone message marketing tips
Selling Beyond the Competition
Why Your Company Might Need a Chief Sales Officer
Commercial Landscape Maintenance Bidding Tips
Potential Flaws in Common Estimating Systems
Filling in the HR Cracks as Your Company Grows
How To Gain a Competitive Edge with Native Trees
Understanding the Changing Workforce: 7 big workforce trends to be aware of, and tips on managing multi-generational teams.
How To Out-Train Your Competition
5 Elements of a Successful Safety Training Program
E-Learning Now an Option: Online training providers—including some that are specific to the landscaping industry—are helping make e-learning a viable option for contractors.
Pole Saw Safety Tips
How Landscape Companies Are Riding the Wave of Economic Recovery: Creating a favorable client experience, building business, and effectively running lean and mean.
Are You Ready to Retire? Tips to help landscape contractors and equipment dealers begin tucking some money away for when they finally trade in their string trimmers for golf clubs.
Companies in this article