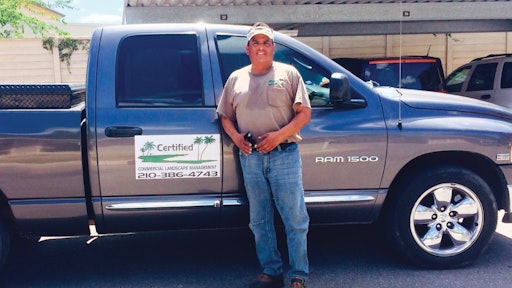 Grow! Grow! Grow! "Grow your business." "Grow your sales." You hear it everywhere. You read it on the pages of magazines, and have it preached to you by industry consultants on a regular basis. You always hear about the importance of growing your business now.
But what about when the pressure of a business that has grown larger than you ever intended starts to take a toll on your health and happiness? And what about when growing your business also means a growing waistline? There may come a point when you should think less about growth and more about the potential personal costs of doing business.
The pressure to grow
Jon Zertuche's Certified Lawn & Landscape commercial landscape business in San Antonio, TX, was doing great. (We even profiled them in 2009 as the company was rapidly growing.) Sales kept growing and new accounts were won regularly. As the company continued to perform, Zertuche and his dad—who helped with sales and job bids—kept reaching for the next sales milestone.
"When my father was on board, it was like we would hit a milestone and then keep shooting for another one," Zertuche explains. When his father retired at age 78 in 2009, Zertuche kept that growth momentum going. As he worked hard to keep the pace of the growth in his father's absence, Zertuche's health fell by the wayside and the pounds planted waist-side.
"When my father retired, I tried to do it all by myself and it started getting real stressful," explains Zertuche. "I was trying to take on too much and I think it had a lot to do with the weight gain. A lot was falling on my shoulders that I wasn't used to having thrust on me when my dad was there."
Working late nights and having less time for himself, Zertuche was dealing with a lot of stress and eating poorly. Wining and dining customers, and managing the workload instead of the stress, his weight crept up without him even noticing. He had ballooned to almost 380 pounds.
Wrapped up in the business he and his father had built, Zertuche paid little attention to his declining health. Shortly after being diagnosed with diabetes, he had a mild stroke. Zertuche's wife Liza sat him down for a talk about what he was at risk of losing if he did not make a change. Their youngest daughter had just celebrated her sweet 16, and Liza warned him of the future birthdays, graduations and other special moments in life he might miss out on.
"My wife had a heart-to-heart with me and said I wouldn't be around to see my youngest daughter Jillian graduate from high school unless I did something about my health," Zertuche recalls.
Making a change
That talk with Liza really helped put things into perspective for Zertuche. He started making changes almost immediately—on the job and at home. He is now down to 189 pounds, and went from a size 44 waist to a 34.
"I started going out with the crews little by little and actually started working again," shares Zertuche. "I stopped wining and dining the clients, and got out on the jobsites and the weight started falling off."
Zertuche has limited his intake of alcohol, quit social smoking, and eats healthier meals earlier in the night. Walks in the evening with his wife Liza have helped get her down to her high school weight while helping them limit their "work talk". Liza also works in the business.
"We walk at night and discuss what we will be doing the next day, and limit talking business to our walk," says Zertuche. "We try not to live it 24-7 like we used to."
The Zertuches also have four grandchildren that give them a run for their money. Jon once worried about making it to Jillian's high school graduation—which has since come and gone—but now has his sights set on something greater.
"I want to be around when the grandchildren hit milestones like Jillian," says Zertuche. "I've made a promise to myself. Jillian has graduated high school and the next thing I want to see is her college graduation. She will be the first in our family on my side to go to college."
It isn't just his family that keeps Zertuche motivated to stay on track. He also does it for his staff. "The employees look up to me to keep it going," says Zertuche. "They have families and are looking for stability. I'm the one out their mentoring them and showing them what they can do and how I started. If I am not around, I will be letting a lot of people down."
Getting back to business basics 
Eating healthy and finding the time to fit in physical fitness was made possible for Zertuche after he made the decision to get back to basics with his business. So much time and effort was spent trying to grow the business that he forgot why he chose to be a landscaper in the first place when starting out as a laborer at age 19.
"Family was really my focus when I started the business. I wanted to build something we could pass on," explains Zertuche. "I never intended to be a Brickman. I never even wanted to get as big as we did. I just wanted to put the Zertuche name on the city of San Antonio and have a sense of pride when passing by properties we maintained with my grandkids."
Now operating as Certified Landscape Services, the company has stopped offering irrigation and landscape installation. They focus mainly on landscape maintenance for commercial properties. The bulk of their work is manufactured home communities (averaging 250-495 units per community). They also have a contract with five AutoZone properties and a few night clubs. They don't do any residential maintenance outside of the organized communities.
"It has really gone back to what I originally wanted when I started my own company—management and maintenance," says Zertuche. The more manageable workload has allowed him to spend more time out on the jobsite. He enjoys being closer to staff, the finished product and the customers.
Zertuche is turning 48 in October and is focusing on enjoying the business he has built that is now in line with his original goals and dreams. He hopes to one day pass the reins to his daughter Jillian. In the meantime, he will focus on maintaining a happy and healthy lifestyle that helps to ensure that he will be around when that day comes.