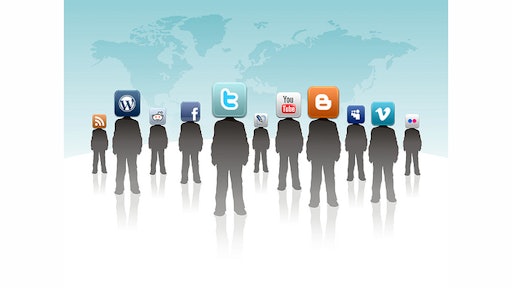 Photo courtesy of The BOSS Snowplow
There are an estimated 900,000,000 unique visitors accessing Facebook every month, according to eBizMBA. That being said, not having an account for your snow-removal business is not up for debate. Your customers and potential new customers are on social media, so that's where you should be.
Social media allows you to provide exceptional, and often, instant customer service as well as humanize your business. And since social media is a natural extension of search, having an active Facebook account, as well as a few other social sites, improves your presence and "search ability" on the internet. Use this article as a guide to maintaining a strong, effective social presence for your snow contracting business.
Here is a closer look at the main social sites that you may want to consider for your business. Facebook, Twitter, LinkedIn and Google+ are currently the four major players.
Facebook
Facebook, being the dominant social media player and having a high volume of traffic, is a great way to present your services to a large number of people and post a variety of media content. You can post pictures, videos, polls, special offers and event information.
The goal with your page should be to engage with your current and potential customers and share information that is relevant to your area of expertise (i.e. snow removal). You could share safety tips about any number of topics including safe winter driving tips or alerting viewers of icy road conditions. You could post a picture of your fleet before a storm and let your customers know that you're ready to take it on. The possibilities are endless.
Twitter
With a 140-character limit per tweet, Twitter is more casual and not always the best platform for long text posts. It's best for short content, pictures and linking back to either your website, Facebook page or any other content that you want to share. Twitter is wonderful for rapid updates to promote content, events and to monitor what people are saying about you with the use of hashtags.
Hashtags are a way to tag tweets and funnel the conversation around a topic or event and makes it searchable for any Twitter user. Hashtags that would be relevant to you would most likely be hashtags like #snow, #cold, #ice, #snowplow, any hashtags about winter storms, etc. Many conferences and trade shows create specific hashtags for the events. If you're attending, you can use those hashtags too.
LinkedIn
For a more professional platform, head over to LinkedIn. LinkedIn is a place for professional people and businesses to network and showcase their accomplishments and knowledge. You can connect with others in the industry and share knowledge by using a business and a personal account.
LinkedIn also allows users to review products and services. You can then collect these firsthand testimonials and put them on your products and services page tab on your account for everyone to read, providing a great source of word-of-mouth promotion.
LinkedIn also provides a great resource for educational content to help you develop as a professional/business owner. Whether you are looking for information on marketing your business, assistance on managing your staff or information on trends in the snow and ice industry, LinkedIn is an excellent place to stay up to date.
Google+
Google+ is often underestimated, but Google+ can be a valuable business tool for several reasons. It is similar to Facebook in that you can connect with people and share a wide variety of content; however, its most valuable feature is that it is integrated with many Google products including, Google search and YouTube, increasing the chances of your business getting found through search.
SEO, or Search Engine Optimization, is how you improve your rank in the browser's search index, whether that be Google, Bing or Yahoo. If you aren't well-indexed on search engines, or more simply put, if you are not showing up on the first page of the search engines, you are missing out on innumerable opportunities for people to view your page or read your content. Whenever someone has a question, it is becoming more common to just say "Google it." This is also true for snow-removal services, and you want to be on the top of the list.
You don't need to be on all social media platforms, but definitely try setting up one to start. Where should you start? It is important to find where your target audience is. You don't want to waste time and precious content on places where your audience won't see it. Test it out and see which social platforms are most effective. Set some goals, be patient and get ready to create some great content.
Developing Quality Content for Social Media
Now that you have established a social media presence, let's take a deeper dive into developing quality content that will be shared by your followers. Quality content done the right way is what can set you apart from your competitors and is the key to customer trust. Read on to learn what quality content is and how to create it.
What to Post
To determine what you should be posting, you have to define your target consumer; there are probably several. Don't overlook this step, as it is a vital component that will naturally guide you to what kind of content to put out there. Ask yourself some of these questions: Who is your target customer? What kinds of problems do they have? What questions do they have? What value do you bring to them? Once you have defined who they are, only post content that would be important to them. If you educate them, answer their questions and prove that you are knowledgeable: it makes you stand out as being trustworthy and customers will be more likely to utilize and suggest your services to friends and family.
For example, inform your social followers about the emergency items they should keep in their vehicle in case of an accident during the winter. Think of some of the things that you tell your crew about safety or any other topics, and decide if it would be relevant to share with your audience. Are you going to attend an upcoming tradeshow? If so, tweet about it while you're there. Share what's going on, and what you're learning there and post photos on Facebook and Google+ about it. Social media doesn't stop with your snow removal business. If you are a landscaping business in the summer, post relevant information about that, too. You could post before and after pictures of a job or post safety tips about how to stay properly hydrated during the hot summer months.
Rich Content
Now that your audience is defined, we can dive deeper into what you should be posting to ensure you post quality content that will help you get found through search and also content that your audience is interested in. Optimize your content by using industry keywords. Most likely, these words for you will be snow, snowplow services, snow and ice removal etc. Try to make your content rich with keywords to help you get found.
Of course you want to sell your services, but you don't want to oversell. The people on social media generally don't want to have a sales pitch thrown in their face constantly. Remember to focus on your audience and what they want. List out their common interests and concerns, and that's where you should start with your content. 80 percent of your posts should be dedicated to showcasing your expertise and knowledge about their concerns and interests, and the other 20 percent should be selling your snow-removal business.
Your content should also be engaging. Think of social media like a cocktail party. Nobody wants to hear you talk about yourself the entire time. You should make conversation with other people and ask them to talk. Engage your audience in the same way by asking them questions and having them comment. Ask them to post photos. For example, you could ask them to post a picture of their freshly plowed driveway or parking lot. Tweet about an upcoming snowstorm, link to a weather forecast and ask if they are ready for the storm. Ask them if they prefer the winter months or if they are ready for some summer landscaping weather. Get them talking and participating.
Quick Tips for Using Social Media
When the snow starts to fall, finding time to post can be difficult. Plan out posts ahead of time and use an app like Buffer or one similar to it, which allows you to schedule and automate your content to be posted at a later time of your choosing.
Post often, but don't sacrifice quantity over quality content if you don't have the time
Share links
Use visual content
Find relevant users to follow so you can engage and share their content as well as your own
Don't make a page and later abandon it. To the consumer, it shows that you don't care
Analyze your results and data and make any necessary changes with your social media use
With these guides, you should be able to get started or improve your existing presence in the social media world. Don't get discouraged if you don't see results overnight; it does take time, so get started and get social.