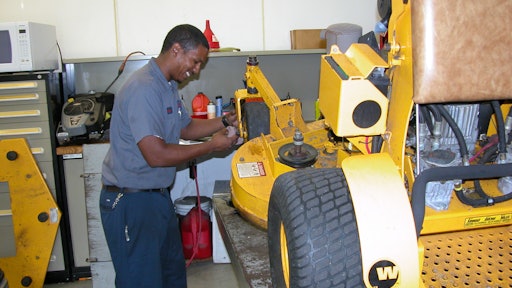 The service department is where the money is at for just about every dealership. To that end, maintaining a talented staff of technicians is paramount to dealership success and profitability.
With improvements in technology, it is becoming easier and more affordable for dealers to keep techs up to speed on the latest advancements in power equipment and small engine design. With 42% of dealers surveyed by Green Industry Pros looking to increase service department staff this year, finding and training technicians will be a big focus in 2015.
A revamped EETC
The Equipment & Engine Training Council (EETC), a non-profit association with the noble goal of addressing the shortage of qualified outdoor power equipment service technicians, is looking for new ways to serve members and grow the industry's technical talent pool. A recent revamp of the EETC website, eetc.org, makes new tools and features available that connect manufacturers, dealers and technicians.
"One of the biggest requests of our membership was website improvement," shares Erik Sides, EETC executive director. "It was outdated and not being updated often enough. We have built a new website, and all changes are made quickly from my computer in my office."
The new website is helping to drive up the association's membership numbers, Sides points out. Online registration simplifies what used to be a more time-consuming paper process. New membership categories open the association up to manufacturers, distributors, dealers, technicians, educators and students. Sides says they have seen a lot of interest from educators, as well as high school and college students. There has been a 58% increase in high school memberships and a 20% increase in college membership in 2014 over 2013.
Recruiting technicians
A new feature on the revamped EETC website helps dealers connect with technicians who are looking for work. "We now have a career center on our website. It is like a LinkedIn for technicians," explains Sides. "Dealers can upload job postings when they are looking for technicians, and technicians can upload their resumes."
Tom Billigen, training manager for customer education at Briggs & Stratton, says this new EETC feature is a great place to reach out to technicians. He also suggests connecting with teachers at local high schools and technical colleges to be tapped into the potential surge of younger techs entering the field.
"Years ago the average age of a technician was around 53. That number keeps dropping slightly," shares Billigen, who also worked in small engine repair for 10 years. "As a lot of these guys retire, we see an insurgence of the young group taking an interest. We have a lot of connections with teachers at colleges, technical colleges and high schools. They teach FFA and have an ag mechanics small engine program rolled into that. For a lot of students, it is their first step into engines and they end up going to work at dealerships. The talent pool seems to be getting deeper with people coming out of technical college."
Show them the money, but also opportunity
When on the hunt for a technician who will make a good addition to your shop, attract them with a culture that values employees. A promise to continue to invest in their training—and help them reach that next level of education—can be just as alluring as dollar signs, if not more.
"It's not always about money for technicians," says Sides. "A lot of it has to do with having a good relationship with the technician. In some cases it is about the money, but mostly it is just being recognized as a valuable employee. Keep that relationship open and stay on top of what the technician desires as far as advancement and future opportunities."
Billigen agrees that most technicians see the value in training and will obtain the highest level their employer, the dealership owner, will allow. While an increase in compensation isn't guaranteed, the prestige of a high level of training does hold merit for most.
"I would say 95% (of technicians) obtain high levels of training for the pride aspect and recognition," says Billigen. "These are they guys who go above and beyond. Some of them take it seriously and it is a lifestyle for them. They enjoy taking these exams and passing them."
Building blocks for new technicians
To help technicians start out strong in the dealership, dealers can turn to the EETC for training on some of the fundamentals. These fundamentals are the building blocks technicians need before moving onto manufacturer-specific training.
"A lot of the content manufacturers are training on is product-specific," says Sides. "For some technicians, the problem is they are not necessarily trained on the basics and lack a strong understanding for troubleshooting. That's where the EETC has a niche. We are the foundation for the basics in troubleshooting and diagnostics, so manufacturers can concentrate on product-specific content."
The EETC has recently made some of their training available in online modules as part of its revamped website. As the EETC ventures into the online training market, Sides and his staff are observing how users interact with these modules. There are plans for future expansion if users take advantage of these early modules.
"This is us (EETC) putting our toes in the water," says Sides. "It was very costly to generate because it is a very intuitive and user-friendly online training system that requires users to interact with the content as they are learning it. It's not just a PowerPoint presentation. It has a mixture of things like dragging and clicking that require interaction. Also, our electrical module contains an interactive multi-meter with electrical schematics that require the user to troubleshoot the circuit to find the fault."
Depending on how the first two modules perform, the EETC would like to expand its online training modules to cover each category they offer. Those categories include:
Two-cycle engines
Four-cycle engines
Electrical
Hydraulics
Generators
Compact diesel
Components plus
Reel technology
Taking training online
Sides says online training is taking hold in the power equipment industry. An increasing number of manufacturers are offering online alternatives to in-person training—and dealers are taking advantage. Technology has helped streamline the training and testing process for many technicians.
"Manufacturers are coming out with online, distance training," says Sides. "A lot are looking for ways to push content out by webinar, video conferencing and e-learning. I think you will see more and more companies doing that because they are able to reach the masses and do it cost-effectively—not only for them, but their dealers."
One such manufacturer is Briggs & Stratton. The engine and equipment manufacturer offers several forms of training to meet dealer and technician needs. For example, Briggs offers its annual training and update seminars on DVD, live-streamed, pay-per-view, and live in-person training (available every other year).
"We want to reach audiences at varying levels of participation," says Billigen. "We recognize that not everybody is going to be able to peel away from the shop for four hours out of their day for a live, in-person update and training seminar."
Billigen says the live-streaming was the most popular option in 2014. Briggs offers live-streaming of the 2015 Training and Update Seminar at different time slots for the convenience of technicians. Scheduled live-stream training is hosted two to three times a week with two sessions for each (four hours of information broken into two 2-hour sessions). Those watching the training can submit questions at designated periods during the training.
"The live-streaming is getting pretty good feedback on our surveys," Billigen shares. "We can see all the stats behind the scenes, and we are hovering anywhere between 220-250 participants at any time within those two-hour blocks."
While many of the online options offered by Briggs & Stratton are popular among dealers and technicians, a large part of their training (50-75%) is still conducted in-person. Billigen says their shift to online training has been gradual over the last three years, and the offering will continue to grow with an online component available for every aspect of training. Billigen and Sides agree, however, that there is still a need for hands-on training where some areas are concerned.
"We do see firsthand the benefits of the live, in-person training. You get to see it 'click' with technicians and the light bulb turn on," says Billigen. "The testing can only go so far because someone who is good at taking tests may not be good at using their hands. Most technicians out there are at their best performance levels with their hands actually working on the product. With the hands-on element, you have proved to someone that you can take the information you have learned and been tested on, and actually apply it to a product."
The learning curve
As power equipment features more electrical components and training makes a shift to online, there may be some training challenges ahead. An aging workforce of talented technicians is being tested in new ways with increasing amounts of technology present in their daily routine.
"You are dealing with a large crowd that was raised in a different generation," says Sides. "Some of the older crowd of technicians who are 50 and older see technology as a challenge. Even on chainsaws and backpack blowers, manufacturers have equipment that can be hooked up to a laptop for diagnostics, troubleshooting and software updates."
There are things dealers can do to help technicians excel in the digital age. Sides suggests making basic computer courses a part of technician training to help acclimate them to the increasingly prevalent technology.
"It doesn't matter your age or demographic, everyone seems to enjoy the live, hands-on training," Billigen agrees. "Mostly the older folks are a little resistant to technology because it is not in their normal routine. They like to come to the live events because it suits best how they learn. Plus, they enjoy the socialization and like being able to ask questions and get immediate feedback.
"We are on the cusp of a change more toward technology—with electronic fuel injection and other complex starting and safety systems—and we need to start embracing it," Billigen continues. "Eventually everyone will gain a comfort level with this change after some good experience with it."
Companies in this article