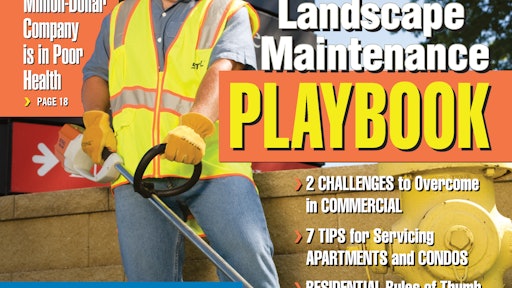 Articles in this volume include:
2 Challenges the Commercial Maintenance Business Still Faces
How To Get It Right in Multi-Family Maintenance
How To Dominate in Residential Maintenance
7 Keys to Prosperity in the Residential Maintenance Business
Grow Sales By Selling Solutions
6 Signs Your Million-Dollar Company Isn't Healthy
Do You Really Understand Your Financials?
Take Control of Your Company's Finances
Staying on top of key performance measures will make your monthly financial numbers look a whole lot better.
How Important Is 'Culture' in a Smaller Company?
A Better Plan for Plant Procurement
CREW SUCCESS GUIDE
Problem Solving Requires Total Team Approach
When OSHA Comes Knocking - Preparing for an OSHA site visit
Confident in Your Safety Program? - OSHA's Voluntary Protection Programs allow companies to showcase their proactive commitment to safety, but are they out of reach for most landscaping companies?