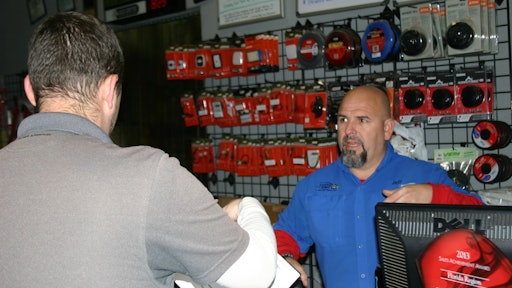 Roy Hobbs was meant to play baseball. The Kardashians were meant to annoy people. Jeff Foxworthy was meant to make people laugh. And Jeff Worthy was meant to be a commercial power equipment dealer.
"I've been doing this since I was a teenager, because I just wouldn't take 'no' for an answer," Worthy says while reflecting on how he got his start nearly 20 years ago. As a kid, he was primarily interested in fixing small engine-powered equipment. As an adult and the owner of Cutting Edge Lawn Equipment in Lakeland, FL, he's now primarily interested in fixing his customers' problems in general.
"We don't consider ourselves to be in the business of simply selling equipment," Worthy says. "We're really in the business of making our customers' lives easier." Quick service turnaround is naturally a huge part of that. But there's more to it. It's all about understanding what each individual customer needs—and then delivering. "Our business has been built for the commercial contractor," Worthy adds.
Relentless pursuit of power equipment
As a high schooler, Worthy had intended to become a marine mechanic and even started the necessary schooling. But he just couldn't shake his curiosity about the lawn equipment business. So, while working at a rental center doing odds and ends, Worthy set his sights on Lakeland's premier power equipment dealership.
"I kept calling the manager, asking him to ask his boss (the owner) if he would hire me," Worthy tells. Unfortunately, the dealership wasn't hiring at that time. That didn't stop Worthy, though. After school he'd go to the dealership and offer to help out in the shop for free. Eventually he did get hired and started his official career as an outdoor power equipment service technician.
Worthy worked at that dealership for a while before accepting a job offer from another, and then another. He was building quite a reputation as a reliable small engine technician among the growing commercial cutter community around Lakeland. At the same time, he was starting to venture out from the service shop to the parts counter and sales floor on occasion. "It took some time to get comfortable, but I think my technical background really gave me an inside track when it came to selling equipment," Worthy says.
This was also when Worthy started to develop an affinity for Dixie Chopper mowers. So, when his employer had a falling out with Chopper and decided to no longer sell the brand, Worthy saw an opportunity.
"I was itching to start my own business," Worthy says. "I talked to the Dixie Chopper rep about getting set up as a dealer now that there was an opening in the area. It wasn't easy, but it eventually happened."
Tough times, terrific partners
To say it wasn't easy is putting it mildly. Worthy was a recently married 21-year-old with a new baby girl. Due to some health issues she was having, the young family was facing well over $800,000 in hospital bills. Filing bankruptcy was the only option, which then made starting a new business virtually impossible. Fortunately, a friend was able to step in and provide some assistance.
"I had a friend who was a Mac Tool distributor," Worthy tells. "He'd been looking to start another business so we became partners. We started in 2003 with Dixie Chopper and Scag mowers, and Echo and RedMax handheld equipment."
The business took off, outgrowing its facility in its first year. However, the tight margins characteristic of the lawn equipment business were more than Worthy's partner could stomach. He wanted out, but was willing to sell his share of the business for a palatable price that allowed him to simply recoup his initial investment. Worthy could handle that—and he did.
He wasn't out of the woods yet, however. Due to his damaged personal credit rating, he was unable to obtain floorplanning, which allows dealers to bring in inventory but pay for it later in the year after they've had time to sell it. Thankfully, Dixie Chopper and another key supplier, Florida Outdoor Equipment (Worthy's regional distributor for Scag and Echo), were willing to set Worthy up and get him going.
"Now that's a partnership, a real marriage," Worthy relates. Sales grew 40-50% a year for the next several years. Soon Cutting Edge outgrew its second facility and moved into a third, where it is operating today. "I finally got started with floorplanning in 2011," Worthy adds. "Today we have a million-dollar line of floorplan credit. We sold 291 commercial zero-turn mowers last year."
Not all mowing is the same
After several tough, somewhat uncertain years, things were definitely changing for the better. One very visible change had to do with the dealership's mower offering. Cutting Edge stopped carrying Scag but picked up Exmark and Gravely. Some dealers have trended toward selling fewer brands of the same product type. Worthy, on the other hand, believes that a little variety is a good thing.
"The best mower I carry is the one I sell at that moment," Worthy says. Some contractors are simply brand-loyal. But more often than not, they simply have different needs.
"Dixie Chopper is the best at cutting the tough Bahia grass you often find down here," Worthy says. So contractors with a lot of accounts characterized by wide-open areas planted with Bahia can benefit from the rugged, fast Dixie Chopper.
"Exmark is the best at mulching," Worthy goes onto say. "About 80% of the lawns down here are St. Augustine, and a lot of contractors want to mulch them. Mulching is a growing trend.
"Gravely, then, fits in there with some good price points and warranty coverage for those contractors who are a little more budget-conscious," Worthy concludes.
Regardless of which mower Cutting Edge ultimately sells, Worthy says they always do a demo first. "We let the customer try the mower out for eight hours or so," he points out. "We want our customers to be happy with their selection, so we think this is really important. We have a fleet of 14 demo mowers; pretty much every key model of each of our three brands has a designated demo unit."
With commercial cutters in mind
The demo units double as loaners, which sometimes come in handy to help Cutting Edge honor its 24-hour service guarantee. A robust parts inventory and top-notch technicians are also necessary. So are good work processes.
"We've implemented a 30-minute bay in our service department," Worthy says. "If a customer just needs an oil or belt change, for example, we have a technician who'll take care of him right away. In between those types of work orders, that technician can assist the other three techs in our shop, or help with cleaning and setting up equipment. So far it's working out very well."
There are several other services, products and programs that Cutting Edge Lawn Equipment offers with the commercial cutter in mind.
Loyalty rewards. If you buy three commercial mowers, you are designated as a fleet customer. That gets you 10% off everything you buy for the year—be it equipment, parts, oil, whatever. "It's kind of like a loyalty rewards program, but is a heck of a lot easier to track on our end," Worthy says.
Service notifications. Contractors can receive text messages when their equipment is repaired or parts are in. The messages are sent via Cutting Edge's business management software, Ideal Computer Systems.
Ethanol-free gas. Cutting Edge became an ethanol-free fuel supplier a year or so ago. "We don't sell a lot, maybe 500 gallons a week," Worthy points out. "And it's not too profitable. But we really think it will grow. More than anything, it's a valuable service we offer our customers because ethanol-related fuel issues have really been on the rise."
Utility vehicles. The dealership has begun selling utility vehicles. Gravely came out with its Atlas UTV this past fall. It's capable of pulling an outfitted trailer and really being put to work by landscape contractors. Cutting Edge has also become a dealer for Polaris UTVs and GEM street-legal UTVs.
Fishing trip raffle. Every contractor who spends at least $100 at a single time is entered into a year-long raffle. Four winners are selected to accompany Worthy on a fishing trip.
Annual open house. Cutting Edge has hosted an open house sale every spring since its first year in business. Customers who attend the one-day event in late-February get fleet pricing on commercial mowers, 20% off commercial handheld equipment, and 25% off parts. There's also a BBQ lunch offered, along with a zero-turn mower challenge for a little fun. A UTV challenge was also implemented this year.
"This has always been a really good sales day, but that's not why we do it," Worthy points out. "It's about getting the growing season off to a good start and getting everybody excited. And it's really about making our commercial customers feel like VIPs for a day."
Truthfully, Worthy and the staff at Cutting Edge Lawn Equipment—which includes four technicians, three parts counter staff, a delivery person and now an outside salesperson—want to make customers feel like VIPs every day, all year long.
"It doesn't matter how big a landscape company you are," Worthy says. "Whether you have one crew or 25, we want to treat you special. That's what you have to do in this business."