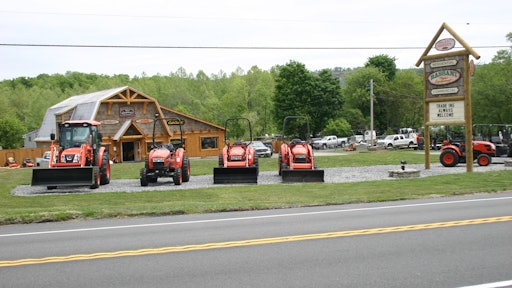 Gregg Wartgow
Just because they're a good hour from the hustle and bustle of the more populous Newark area does not mean the staff of Bassani Power Equipment is unaccustomed to hustling and bustling. Simply sit back and observe them on a weekday afternoon in the middle of May and you'll see what I mean.
"Some people think we probably have an easier time up here because it's a more rural area and there aren't as many dealers around," says owner Don Bassani. "But look at our situation. There's a John Deere dealer just 14 miles away who's been in business for 50 years. There's a Toro dealer a mile away. I compete against a tool house that sells handheld equipment cheap. I have Tractor Supply, Lowe's and Home Depot. The fact is, I've been doing this my whole life and have become a pretty good salesman. I work hard, and every single one of my employees is really good at what they do and works just as hard."
Bassani Power Equipment is located in Hamburg, NJ, a few-thousand-resident borough in Sussex County—New Jersey's northernmost county. There are definitely advantages to doing business in this type of environment. For example, the larger properties owned by many of Bassani's customers require larger equipment. "I can make more money selling one compact tractor than if I'd spent a lot more time selling a whole bunch of push mowers or string trimmers," Bassani relates.
But there are also disadvantages. "I sure don't get any fleet customers," Bassani says in reference to large landscape companies that buy large volumes of parts and equipment every year. "I have a lot of loyal landscape customers, but no national accounts such as Brickman (now called BrightView) or TruGreen because they don't have branches up here."
Motorhead starts a business
Bassani first began building up his business, which now generates more than $3 million in annual sales, back in 1986 at age 19. "I was always a motorhead, fixing dirt bikes and things like that," Bassani tells. His interest in small engines eventually grew to include lawnmowers. "And then I realized, there are a lot more lawnmowers out there that need fixing than dirt bikes. So I started a repair-only business in my dad's garage. Before long I was selling Bolens tractors and Green Machine handheld equipment to homeowners."
The business grew over the next several years. By 1995 Bassani was ready to take his next step. He purchased an old cow barn on a major highway and started laying the groundwork to begin selling more high-end, commercial-grade equipment. He forged a relationship with a nearby equipment distributor, KPM Exceptional LLC in Kenvil. KPM introduced Bassani to the Scag line of commercial mowers, which has become one of Bassani's best-selling. Bassani Power Equipment also sells Exmark commercial mowers, Kioti tractors, Cub Cadet and Husqvarna consumer mowers, and Husqvarna and Stihl handheld equipment, along with a few other brands. "Now this area is full of my metal," Bassani says with respect to the equipment brands you typically see being worked on properties in and around Hamburg.
Rolling the dice
But as the old saying goes, things always happen for a reason. Over the past 20 years, things have definitely happened for Bassani Power Equipment, in a good way.
"A big key to our success is our ability to roll the dice," Bassani points out. Take snowthrowers, for example. "I remember another dealer once telling me how he'd order 12 units, sell them all, take a deep breath, and just move on. We, on the other hand, order hundreds. We've earned the reputation as the place that always has quality snowthrowers—especially late in the season when you get that one last snowstorm.
"At that tail end of winter, when other dealers are exhaling, I'm looking for deals to buy more inventory," Bassani continues. "It's the same thing with generators. When Hurricane Sandy hit a few years ago, people were coming from all over the place to buy generators. My wife, Tanya, is a huge help and is very diligent at ordering and tracking shipments to ensure that the inventory is delivered on time. Together we come up with an aggressive, yet intelligent plan. I know it's a bit of a risk, but we're at the point as a business where we can take some risks once in a while."
For most dealers, including Bassani, it takes a lot of time, patience and hard work to get to the point where this type of approach is possible. Most dealers don't have the cash reserves to buy inventory outright like this; most need to utilize a line of credit with a floorplan company to bring inventory in, sell it, and pay for it later.
Bassani says his dealership finally got to this point about five years ago. A significant portion of the dealership's debt had been retired, freeing up cash to invest directly in inventory. "Buying inventory with cash is a big game-changer for a dealer," Bassani says. That's mostly what he does now, only putting a small amount of his equipment inventory on floorplan.
Mountain of a dealership
Bassani does invest in things other than inventory, of course. For instance, the dealership got a new storefront facade back in January, turning that old cow barn into a unique, eye-catching Hamburg landmark.
"I've always liked the Adirondack Mountains look," Bassani says with respect to the unique mountain formation in northern New York. "It was actually Tanya's idea to give the storefront a facelift. We hired a local log-home builder to install it. It took a couple months for him to complete."
Once inside the store, the upscale presentation continues. Even before the new storefront, Bassani says the two-room showroom itself has long looked the way it does now—with clean floors, substantial lighting, and sleek merchandising displays. The Bassani brand is projected alongside the equipment brands the dealership sells and services.
As is the case in most dealerships, the handheld equipment brands make their presence felt with their expansive wall displays. But at Bassani's, one side of the showroom features a Cub Cadet Parts & Service merchandising system. The other room features the dealership's two handheld lines, Stihl and Husqvarna—although Bassani had to get a little creative here.
"With the Husqvarna display, we were limited as to how many chainsaws we could put out," Bassani tells. "So I built something similar to the Stihl display and hung the Husqvarna sign on it. Now we can display twice as many Husqvarna chainsaws."
Bigger is always better at Bassani Power Equipment ... well, most of the time. Bassani would like a bigger showroom, but the increase in property taxes would be oppressive. So for now, he and his wife and their eight employees will keep on doing what they're doing—because it appears to be working quite well.
"Another thing I'll say about Tanya is how amazing she is behind the scenes," Bassani says. "She doesn't miss a thing in the office, not a thing. I hear about some dealers that forget to file paperwork to take advantage of rebates and warranty reimbursements, and things like that. We don't."
It's that attention to detail—in combination with an A+ presentation and work ethic—that has allowed Bassani Power Equipment to become a power equipment leader in New Jersey.