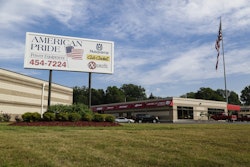 American Pride Power Equipment
Before transitioning into the dealership side of business, Ryan Dodson was operating his own lawn care company in 1990. He started Ryan Dodson Lawn Care in Zanesville, OH, the year he graduated high school. His lawn service began to grow and by 1993, Dodson had entered college and his lawn service consisted of five crews and a business partner. Ryan Dodson Lawn Care became American Pride Lawn Service, Inc. and Dodson starting looking for ways to continue the growth.
"One of the challenges the lawn service faced in our small market was finding a good commercial brand of mowers to purchase. Our only choice at the time was John Deere, and we owned nine of their stamped-deck, gear-drive walk-behinds, which were not particularly durable—nor did they produce a high quality of cut," explains Dodson. "A couple of different dealers would bring in demo models of Scag, Exmark and others, but I could not convince any of them to commit to a solid commercial brand."
That's when Dodson decided to take the leap and open a retail store. So in the fall of 1997, American Pride Power Equipment, Inc. was born. They sold Scag, Ferris, Ariens, and RedMax out of a car detailing shop that also served as the location for his lawn service. After sales increased, they moved to a property off a busy commercial street near Interstate 70 in 1999.
Due to conflicting busy seasons, Dodson made the decision to focus solely on his dealership and sold his lawn care company. He added Exmark, Simplicity, Carter, Shindaiwa, Kawasaki generators and Toro snow equipment. He saw that his sales revenue "more than doubled".
Rising costs
But running the dealership wasn't easy in those first couple years. Even though Dodson was raking in more revenue, his expenses had also skyrocketed.
"I knew nothing about running a retail store and made every mistake an inexperienced business person can," Dodson explains. "We had too many lines, too many employees, paid too much floor plan interest and too much in rent. I quickly ran up a bunch of credit card debt to keep the business afloat and had nothing to show for it in assets."
Dodson's age, inexperience and poor balance sheet made applying for a loan from the banks unrealistic. A consultant advised him, "don't pay another bill for 90 days, hoard cash, and file bankruptcy".
"I considered selling the store and even had a potential buyer, but the offer amount was only a fraction of the credit card debt and wouldn't begin to touch what I owed suppliers," Dodson says.
Dodson turned to his dad for help.
"He used some land and equipment as collateral for a bank loan to re-finance the credit card debt and all of my suppliers who worked with me on extended terms to pay down past due amounts to them. My team dug in and started the long process to dig out of the giant hole I put us in," says Dodson.
Dodson and his team overcame those obstacles, working for the next eight years to pay debts, restructure business practices and build revenue. He turned to advertising on billboards, the radio and purchasing print ads, although Dodson feels the best form of advertising is word of mouth and his dealership has been an active part of the community.
Ideal location
In 2010 Dodson faced another battle. He had purchased a new property, where American Pride Power Equipment is currently located today, but they faced zoning issues.
"Despite the property being surrounded by interstate ramps and businesses, it was not properly zoned for commercial use. We had no idea what we were in for when we took it to city council to get re-zoned," says Dodson. That sparked interest from other parties who wanted the property.
"Not all of these people and groups were necessarily anti-American Pride Power Equipment, but the cumulative effect resulted in city council denying the re-zone by a 6-3 vote."
Dodson was forced to ride out the one-year waiting period before he could go back in front of the city council again. The difference this time was that he had vocal support from local businesses and the community. They won the two-year battle and were able to move into the store in February 2012.
Customers and suppliers alike enjoy the American Pride Power Equipment dealership today. You can spot the dealership from the huge American flag flying high out front.
"Luckily, I had consumed a couple of adult beverages when the contractor building our store called to ask what size flag we wanted to purchase, to which my reply was—'put the largest flag on the tallest pole you can find!' We ended up with a truly amazing 30-by-60 foot flag that flies 140-feet in the air," says Dodson.
Good business policies
Dodson pays his employees well above the industry average, he says. He likens it to purchasing a mower; if you buy the cheap one, it's not going to last long, but if you invest in a higher-priced one you'll have it around for a while. His employees also have more invested in the business. They take care of customers.
"I've always subscribed to the theory that the best-paid employees won't leave. I've got a service manager, a parts manager and a sales manager. Everyone's busy, so anyone of them can take over and run that department."
He also has a "no downtime policy" in place; any mower that has a pre-tax value of $3,999 or higher qualifies.
"If we can't fix a customer's mower within a day, we offer them a loaner to use while their mower is getting fixed. This helps create a comfort level for the customer during the sales process and also gives them another reason to step up from less-expensive and lower-quality models."
Dodson also uses financing to up-sell products. The example he gives is a $2,999 zero-turn mower with 0% for 36 months, which comes out to $83 a month. The next model up is $3,999 with 0% for 48 months, which also comes out to $83 a month. Dodson says that in 2015 they've sold 10 of the $2,999 models and 80 of the $3,999 models.
"The customer has to pay one more year, but they have the same monthly payment, a better mower, better ride, better durability and longer life."
All of their price tags look the same as well, since they don't use the ones from the manufacturers. Instead, they have the American Pride logo, model, price, monthly payment using the best financing option and the monthly payment cost for accessories and services.
Dodson says, "If you are not selling winter tune-ups at the point of sale, you are missing the opportunity for additional up-front profits and the opportunity to lock your customer into your service department for life."