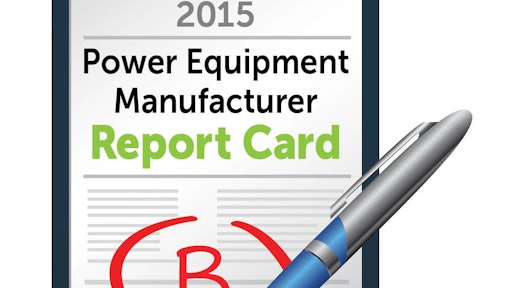 Outdoor power equipment dealers subscribed to Green Industry Pros magazine recently graded their top manufacturers on a variety of criteria encompassing finished product, parts, service, training, marketing, margins, and overall efforts to support independent dealers.
Through an online survey, dealers were asked to grade up to seven equipment and/or engine manufacturers. A rating scale of 1 (unsatisfactory), 2 (somewhat unsatisfactory), 3 (average), 4 (satisfactory) and 5 (awesome) was used for each criterion, which included:
Product Availability, Quality, Margin
Parts Fulfillment, Quality, Margin, Return Policies
Warranty Policies, Procedures, Reimbursements
Training
Co-op Advertising
Brand Awareness
Supports Dealer Independence
Grants Adequate Territory
Listens to Dealer Needs
Dealers were also asked to provide an Overall Rating for up to seven of their primary manufacturers.
A total of 35 leading outdoor power equipment manufacturers were included on the survey for dealers to choose from.
The 10 most popular receiving the most, but not necessarily the best, ratings were:
Stihl
Kohler
Echo
Kawasaki
Toro
Honda
Exmark
See the "sneak peek" subhead below for a look at the top-rated manufacturers.
Tough crowd
According to the survey results, dealers say their manufacturer partners are doing an overall "average to satisfactory" job, which is about as flattering a nod as you'll get from the typical battle-hardened dealer. Just two companies—a couple of family-owned lawnmower manufacturers—creep into the "satisfactory to awesome" range with an average rating greater than 4 on the scale of 1-5.
Most manufacturers score pretty decently when it comes to the product they provide to dealers. In fact, 12 out of 35 companies score in the "satisfactory to awesome" range with respect to product quality, while just five companies score in the "somewhat unsatisfactory to average" range. Similarly, with respect to parts quality, 10 companies score well, while just three score poorly.
As you delve into the rest of the survey responses, you can start to see where the average dealer's battle-hardened posture comes from. For instance, with respect to product margins, no companies score above "satisfactory" while 10 score poorly. None score above satisfactory with respect to parts margins while 13 score poorly. And with respect to parts return policies, none score above satisfactory while 20 score poorly.
Here are some other notable statistics from the survey:
Warranty Reimbursements – 15 companies score poorly, none above satisfactory
Dealer Training – 17 score poorly, one above satisfactory
Co-op Advertising – 23 score poorly, none above satisfactory
Brand Awareness – 19 score poorly, two above satisfactory
Granting Dealer Adequate Territory – 16 score poorly, one above satisfactory
Listens to Dealer Needs – 20 score poorly, one above satisfactory
Sneak peek at top-rated manufacturers
The complete results from this survey will be presented in the November/December issue of Green Industry Pros. In the meantime, here's a look at who the top-rated manufacturers are.
Overall Rating
Walker 4.33
Grasshopper 4.25
Scag 4.00
Shindaiwa 4.00
Gravely 4.00
Kubota 4.00
Country Clipper 4.00
Stihl 3.89
Ferris 3.87
Exmark 3.86
Product Availability
Stihl 4.43
Echo 4.35

Shindaiwa

4.32
Scag 4.21
Walker 4.20
Honda 4.19
BOB-CAT 4.07
Grasshopper 4.00
Exmark 3.90
Kohler 3.87
Product Quality
Walker 4.61
Kubota 4.42
Stihl 4.42
Echo 4.31
Grasshopper 4.30
Honda 4.29
BOB-CAT 4.22

Shindaiwa

4.22
Kohler 4.17
Exmark 4.07
Product Margin
Gravely

3.92
Walker 3.86
Grasshopper 3.56
Land Pride 3.50
Stihl 3.49
Dolmar 3.41
Kubota 3.38
Kohler 3.32

Shindaiwa

3.31
Worldlawn 3.30
Parts Fulfillment
Stihl 4.40
John Deere 4.27
Toro 4.17
Echo 4.14
Scag 4.13
Exmark 4.12
Grasshopper 4.00
Kohler 4.00
Walker 4.00

Briggs & Stratton

3.96
Parts Quality
Gravely

4.27
Stihl 4.26
Toro 4.24
Walker 4.20
Scag 4.19

Ferris

4.17
Honda 4.16

Shindaiwa

4.15
Echo 4.14
Kohler 4.13
Parts Margin
Gravely

3.64

John Deere

3.64
Stihl 3.56
Toro 3.49

Cub Cadet

3.44
Kohler 3.43
Dolmar 3.40
Grasshopper 3.40

Husqvarna

3.30
Honda 3.29
Parts Return Policies
John Deere

3.82
Walker 3.50
Grasshopper 3.45
Scag 3.29
Stihl 3.28
Exmark 3.18

Shindaiwa

3.17
Honda 3.15
Wright 3.13
RedMax 3.10
Warranty Policies
Gravely

4.33
Walker 4.18

John Deere

3.92
Stihl 3.82
Toro 3.76

Ferris

3.73

Shindaiwa

3.69
Exmark 3.67
Grasshopper 3.60
Kohler 3.60
Warranty Procedures
John Deere

4.00
Exmark 3.82
Walker 3.67
Grasshopper 3.63
Kubota 3.63
Stihl 3.63

Ferris

3.50
Snapper Pro 3.50
Toro 3.49
Scag 3.47
Warranty Reimbursements
Gravely

3.78
Exmark 3.61
Scag 3.57
Toro 3.55
Walker 3.53
Grasshopper 3.50

John Deere

3.50
Stihl 3.41

Snapper Pro

3.38
Kohler 3.33
Training
John Deere

4.30
Stihl 4.09
Exmark 3.90
Walker 3.71
Echo 3.67

Shindaiwa

3.64
Scag 3.62
Grasshopper 3.60
Kubota 3.60

Country Clipper

3.57
Co-op Advertising
Exmark 3.45
Kubota 3.44

Country Clipper

3.33

Gravely

3.33
Grasshopper 3.25
Stihl 3.18

John Deere

3.09
Scag 3.08
Walker 3.07
Toro 3.03
Brand Awareness
John Deere

4.73
Stihl 4.20
Bad Boy 4.00
Kubota 4.00
Exmark 3.86
Toro 3.81

Cub Cadet

3.76
Honda 3.56
Dixie Chopper 3.50
Grasshopper 3.44
Honors Dealer Independence
Country Clipper

4.00
Exmark 4.00
Grasshopper 4.00

Land Pride

4.00
Scag 4.00
Walker 4.00

Gravely

3.80

Shindaiwa

3.54

Ferris

3.53
Kubota 3.50
Grants Dealer Adequate Territory
Walker 4.91

Country Clipper

4.00
Grasshopper 4.00

Gravely

3.67
Exmark 3.52

Dixie Chopper

3.50

Land Pride

3.50

Ferris

3.33

John Deere

3.33
BigDog 3.29
Listens to Dealer Needs
Walker 4.07
Exmark 3.76

Land Pride

3.67
Grasshopper 3.63
Kubota 3.63

Country Clipper

3.60
Scag 3.43
Encore 3.33
Stihl 3.27
Jonsered 3.14