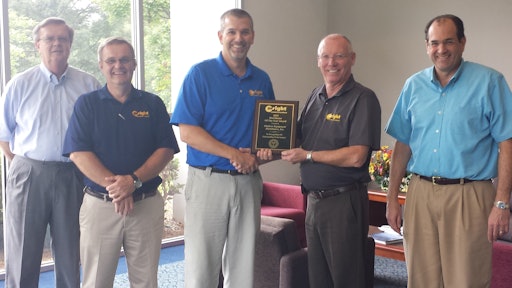 Wright Manufacturing
Outdoor Equipment Distributors, Inc. (OED) has been named 2015 Distributor of the Year by Wright Manufacturing. The award recognizes OED's outstanding performance as a distributor of Wright's full line of commercial lawn mowers and accessories.
Established in 1931 as Raleigh Auto Supply, OED is in its third-generation of family-ownership. It became Outdoor Equipment Distributors in 1969 and has distributed Wright products for 20 years. The distributorship serves more than 500 independent dealers in seven states – North Carolina, South Carolina, Tennessee, Virginia, West Virginia, Maryland, Delaware and the District of Columbia.
Hal White, Wright vice president of sales, recently visited OED headquarters in Raleigh, NC and presented the award to OED president Rob Zucker.
Wright Manufacturing invented the stand-on mower in 1997 and now has expanded the line to also include commercial walk behinds and mid-mount zero turn mowers. The name of a local dealer can be obtained by visiting www.wrightmfg.com or calling 301.360.9810. Wright Manufacturing is headquartered at 4600X Wedgewood Blvd, Frederick, MD 21703.
Companies in this article