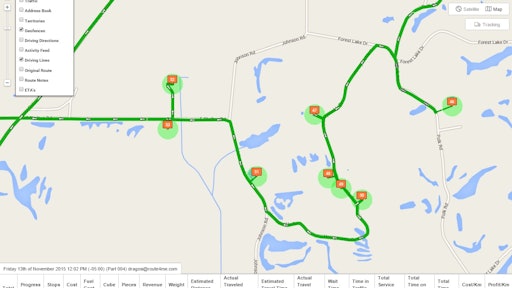 The following is a guest blog from Bjorn Orvar, director of marketing at Route4Me Inc.
There is nothing simple about running a landscaping crew. Your crew needs the right equipment, the skills needed to complete the job professionally and you need to do the job quickly so the company actually makes a few dollars off of the work. When you are working with a tight margin, every little detail counts. The more you can cut or automate the better.
Which brings us to a story about Phil and his California landscaping company (not his real name for privacy reasons).
Despite the long summers of sunny California, the drought hit the landscaping industry hard. Competition for jobs was higher than ever before. Phil needed to cut costs and button down the hatches, but still be careful about maintaining his high quality standards. Never shying away from innovation Phil had this crazy idea; he wanted his crew chiefs to do zero paperwork on location.
He estimated that each job required around three minutes of paperwork before the crew could leave and head off towards the next job. The problem was, most of his crew chiefs did the paperwork in the truck before leaving often with the entire crew sitting in the back. Which was a massive expense when he multiplied the number of trucks he had with the average number of stops per day. At three minutes x 10-12 lawns each day, we're talking about at least half an hour of wasted time for his entire crew each day.
He decided to use a new feature that was just released on his route planning software an auto login/logout feature. Every time his trucks showed up to a location, they would be automatically logged in and time-stamped. The same thing would happen when they left, everything was tracked. Phil could see exactly how long it took his crew to finish off a project and whether he actually made any money off of it. He eliminated a significant time waster and gathered up important information, which was perfect when bidding on future projects of similar size.
So what is this magical technology that makes paperwork disappear?
In the route planning industry it's called Geofencing. It works by creating a bubble around a location. When a tracked vehicle enters that bubble, the system will automatically log in the driver as being on location. The same happens when the vehicle exits the bubble. A message is sent via WiFi to the route planning software of the vehicle leaving.
Now you have the exact number of hours you paid your crew for that job (without worrying about padded hours). Everything is logged and easy to visualize and interpret through the system's reporting functions. You don't have to rely on estimates anymore. You will have hard numbers on how long a particular project took down to the minute, which will come in handy when bidding on similar sized projects. All you need to do is look through your data reports and find the one that closely relates to the new project, and then use the actual cost as your starting point for calculating the new bid.
Use every tool at your disposal
Even if you have a great formula for calculating your estimates are you sure it is accurate? Have you done the research needed to confirm you aren't leaving any money on the table or losing money because of a miscalculation? What about during seasonal changes?
The point I am trying to make is that there are great deals of variables that come into play when estimating your actual costs.
Do you have a system for tracking costs down to the dollar?
Do you really know if a certain project size is worth your time and resources?
Or, should you just leave those projects to others and focus on your sweet spot?
Do you know for sure which projects you profit the most from?
The reality is that every business must make positive changes to the way they are operated. Otherwise, you might end up one day being constantly outmaneuvered by your competition. Don't waste time doing low value tasks that are easily automated. Focus on billable work, not paperwork.
Bjorn Orvar is a seasoned writer with particular experience in business optimization, routing and operations research. He is Director of Marketing at Route4Me Inc. Route4Me route planning software is used by thousands of businesses around the world, and has been featured in Trulia, ActiveRain, and the Wall Street Journal.