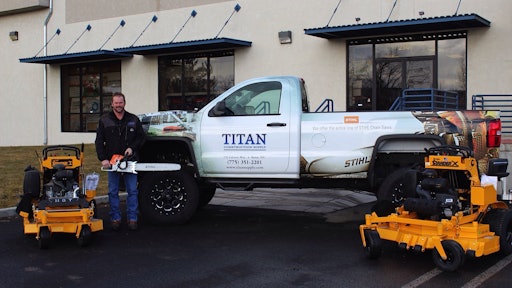 The aptly named Titan Construction Supply Inc. in Reno, NV, boasts a huge inventory. The construction giant opened doors in 1999, but took a change of direction in 2012. Fred Mathis, sales manager, noticed there was cause to expand into offering equipment for a different industry.
"When the construction industry slowed down two or three years ago, I saw the opportunity to add lawn and landscaping equipment. The owner, Mike Harmon, and I spoke about it. He said that if I see it, go after it," explains Mathis.
Part of what spurred Mathis to add lawn and landscaping equipment were inquiries from local green industry contractors.
"We had a few come in, because we had the Stihl line that we were supplying to construction workers. Some lawn guys, who also were coming in for that stuff, started asking me about mowers," says Mathis. "So I looked into it, and here we are today."
Titan spends a limited amount of money on advertising. Even when the dealership expanded into offering lawn and landscaping equipment, a loyal customer base continued to be its most effective tool.
"A lot of it was because the news got around by word of mouth and that type of thing. That's really how our business is run; we don't do a lot of advertising. We have one guy and he told a guy and so on and so on. It just kind of grew from there," says Mathis.
Keeping great service on the forefront
Mathis credits Titan's great customer service as one of the reasons it draws so much business.
"That's pretty much what customers want. They want great service and for their equipment to turn around quickly—and that's what we provide," says Mathis.
Titan's service center works on both construction and lawn equipment. As of late, the majority of servicing work they do has shifted to lawn equipment, but they are one of the only spots in the area to even offer construction equipment service.
"We get homeowners, commercial guys—we get everybody. We have four mechanics so we get through both homeowners and commercial customers fairly quickly. We do give the commercial guys priority because they're using their equipment every day, so we try to get them out as soon as possible," Mathis says. He adds that it doesn't mean that homeowners are faced with weeks without their equipment because the service center completes their equipment service quickly as well.
Helping to keep the Titan crew running efficiently are extensive training and opportunities to always continue gaining knowledge.
"We constantly have product knowledge meetings. Every time we bring in new products, we send guys to training," says Mathis. "We're big on that. Whenever classes are available from the manufacturers, we send people to them."
If one of Titan's employees needs a refresher course, they can also turn to online training. Mathis says that, depending on the manufacturer, employees can read and learn about new products or even update their knowledge on products they've serviced or sold before. Mathis also discovered GIE+EXPO this year. He wasn't able to go because he found out about it a week before, but says that he hopes to go next year. GIE is attractive to Mathis not only because of the chance to scope out equipment, but he'd also like to sit in on some of the classes.
Mathis says that employee knowledge is key to keeping Titan running like a well-oiled machine. "They can find things faster and identify what's going on with the product a little quicker as well."
Mathis says that Titan is also planning to put together end of the year customer appreciation events and raffles. They currently offer live demos. All contractors need to do is ask and Titan arranges to have the equipment reps come and help with the demos.
Offering a large inventory
When you look at Titan's website, one thing is very clear—the dealership has a ton of parts and products. A unique aspect of the website is how many products are listed. Contractors can scroll through before they even enter the dealership to determine if Titan has what they're looking for. Even if they don't see it online, there's a good chance Titan still has it or can order it.
Highlighting online and keeping the expansive offering of parts has been a draw for business. "Because we have a large selection that we keep on hand, contractors don't have to wait on the product. Every now and again there might be something; maybe we didn't have that particular part number," says Mathis. "But for the most part—like on Stihl—we have pretty much every piece of equipment they make and we keep it on hand at all times."
Titan also offers rental equipment, but this is still an area that is dominated by construction contractors. They typically rent out tools and hardware for the construction industry.
Looking into the future
Titan Construction Supply isn't done growing. They've decided to open a second location in neighboring Carson City, NV. Mathis says they're still looking for the perfect spot to take over, but they're looking for something a little smaller than the dealership in Reno.
"We've had some inquires from guys who were asking about it. We're already down in that area delivering three times a week, so we figured that it would be easier for customers if we could find a location," explains Mathis.
Right now Mathis says they're just focused on finding the best spot. "Once we find it, we'll send out information to our customers. We also have a few outside salesmen who will go to contractors in the area and let them know once we get it figured out."