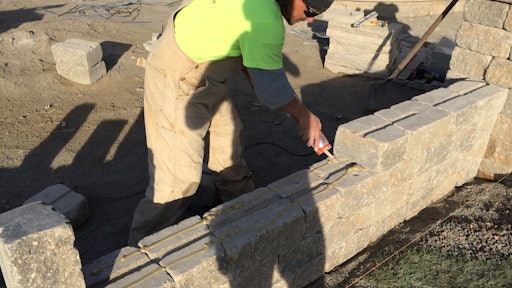 For many green industry small businesses, finding employees has gone from being a non-issue five years ago to far and away the biggest issue this year. There are some reasons why, and it's not just because more people are spending more money on landscaping-related equipment, products and services.
"There have been some really interesting employment trends going on," says small business expert Tony Bass. "One is that the average work week in America is now just 34.5 hours. Second, about one-third of working people today have a second job. Third, while the unemployment rate has fallen to around 5%, the participation rate is at just 62%. When we were at peak employment levels in 2007, that rate was around 67%. That 5% drop represents literally millions of people who are sitting on the sidelines—but would probably like to find a good job."
The questions are: Who are these people, where are they, and how do we attract them to jobs in this industry? According to Bass, five common hiring mistakes are making it harder for many green industry small businesses to find the answers to those important questions.
Mistake #1 – Requiring experience
Employers would always love to be able to hire experienced workers. But that's probably not going to happen all of the time. So when you advertise your open positions and say that experience is required, a couple of unintended things can happen.
First, you put yourself into a bidding-war situation with your competitors—because they are also hoping to recruit experienced people. Second, you announce the fact that your company has a poor training program—because you are expecting new hires to come to your company ready to hit the ground running. "This raises your cost of employees immediately," Bass says. "Also, you ruin your company culture because your demand for experience says that you're not very interested in promoting from within."
Bass says good companies follow the McDonald's model, which puts the focus on good operating systems and training, which allows low-skilled, entry-level employees to perform at a high level and achieve upward mobility in a company.
Mistake #2 – Hiring friends and family
It's hard to resist the urge to hire friends and family. After all, you know them and feel like you can trust them. "Virtually everyone has made this mistake, and I'm no exception," Bass relates. "But I'd learned from it."
It's not that you shouldn't hire friends and family. It's just that you need an escape plan should things not work out. This is where a clear, written company policy comes into play. "Your policy might be 'three strikes and you're out', or maybe it is two strikes," Bass says. "Whatever your policy is, you have to stick to it. It applies to all employees, including friends and family."
Mistake #3 – Failure to build an avatar
What the heck is an avatar? "It's a physical description of the person who is going to work in the exact position you're hiring for," Bass explains.
Age is one component. Yes, it's a slippery slope to talk about age in job postings, etc., and should be avoided. But you still need to be thinking about the general age of the person you'd like to hire, because that will influence when and where you advertise the open position. For instance, if you're looking for a 20-something to hit it hard on a construction crew, running an ad in the weekly local newspaper might not generate the applications you're looking for.
Zip code is another important demographic. "It's a proven fact that people who live within five miles of their employer tend to stay in a job five times longer," Bass points out.
Other things to consider are gender, education and psychographic profile. "Thanks to social media, you can learn a lot about people today," Bass says. "You can learn about where people went to school and what they studied, and what their interests are. Various social media groups present a great way to reach out to people you know are interested in the outdoors and the type of work you do."
Mistake #4 – Don't view recruiting for what it is
Employee recruiting is a function of both marketing and purchasing. "When you realize that finding good employees requires you to market your business as a healthy place to work, everything can change," Bass says. A healthy company is one that is financially sound, does good work and works for good clients, provides good training and education, and allows for career advancement.
"The industry as a whole can do a better job of telling its story," Bass says. Once a given company masters the telling of its own story, it will likely begin attracting better applicants. Then it should introduce money much earlier in the conversation. "It's one of the first five questions you should ask an applicant during the interview process," Bass says. "Don't be dancing around this topic. If a person wants $40,000 and the job pays $30,000, end the conversation. Don't waste anybody's time."
Mistake #5 – Ignoring non-traditional employees
The typical green industry small business owner doesn't do a very good job of thinking outside the box when it comes to employees. Bass points to part-time workers as a prime example of something many business owners fail to consider. Also, there's a tendency to not think about non-traditional workers in general, such as retiring baby boomers who are looking for supplemental income.
"These folks might not go out there and run a string trimmer all day long, but they can be very helpful to a company in a lot of ways, whether it is quality control, customer service, sales, equipment maintenance, or certain kinds of field work," Bass says. "Baby boomers generally have a great work ethic, so they are definitely worth considering."
Women is another often overlooked demographic. For example, there are many stay-at-home moms who are looking for part-time employment. But in general, women can make great part-time and/or full-time additions to a team, as more landscape companies and equipment dealerships are finding out. According to the Bureau of Labor Statistics, roughly 8% of landscaping workers and 29% of lawn and garden store workers are women.
In conclusion, it's essential to recognize that employee recruitment is an important management function and requires a lot of effort. It requires strategic thinking and good systems—from how you advertise open positions to how you tell your company story to how you interview candidates and ultimately hire new talent. For more from Tony Bass on this topic, visit findemployees50.com.
Tony Bass is a featured speaker and business consultant. He is the founder, inventor and president of Super Lawn Technologies in Fort Valley, GA. You can reach Tony at 478-822-9706 or [email protected].