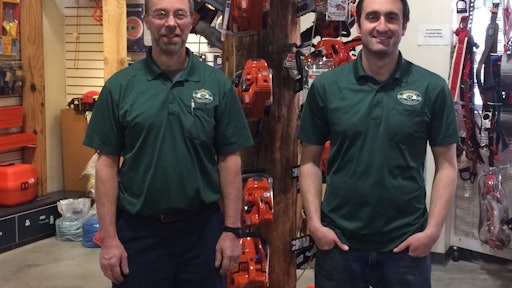 Morrison's Power Equipment in Plymouth, MA, has been in business since 1979. For many years it operated as a division of Morrison's Home & Garden, a nursery and garden center founded seven years earlier by brothers Scott and Walter Morrison III. The power equipment business eventually moved into its own facility in 2006, and was formally spun off as its own company six years ago.
That "separation" has proved to be a good move for both businesses. Scott owns and operates the power equipment dealership, while Walter has the garden center. To many customers, the separation has been merely something of a legal nature. You see, the power equipment business sits right next door to the garden center. To customers, Morrison's is still Morrison's—there's just considerably more room to walk around and peruse the high-quality, cutting-edge products that the businesses offer.
"People say my brother has the green thumb and I have the grease thumb," Scott tells with a chuckle. "Walter is seven years older than me, so he's going to end up retiring before I do. That's really why we thought we should split the business apart. When I took over the power equipment side and built the new facility in 2006, Walter was able to take over my space at the garden center—and that has been a big plus for him."
It has been a really big plus for Scott and the power equipment crew. They went from an 800-square-foot showroom to 3,500. The service shop is 2,800 square feet. Additionally, thanks to a 2,000-square-foot warehouse, they're able to store wholegoods inventory indoors, along with the numerous mowers and other pieces of equipment that are in for service. "We have an 8,000-square-foot mezzanine for additional storage," Scott adds. "We're putting in pallet racking for this season so we'll be able to forklift new mowers up there."
The Morrison's Power Equipment crew has also been able to cut its equipment staging time in half. "We have a porch that extends almost the entire length of our 100-foot storefront," Scott explains. "So we can park a lot of machines there and not worry about them getting rained on. We also put in a patio down by the street, which happens to be a very busy highway, where we can display five or six pieces of equipment. Basically, three employees can get everything staged in the morning in about 10 or 15 minutes, and then put away at night. It used to take us a good half-hour. That's a lot of unbillable time we don't have to absorb anymore."
That's also more time in which staff can repair equipment and take care of customers. That has been the dealership's trademark, even as it has grown larger and larger. Now employing roughly 15 full-time employees (including Scott) and three part-time or seasonal employees, Morrison's Power Equipment is large enough to take care of an increasingly sizable customer base, but small enough that the family's presence in the dealership continues to be felt by customers each and every day. Scott runs the show and bounces around where needed. His son, Cody, has a similar role.
"It's true what they say: You're only as good as your employees," Scott is quick to point out. "I've been very lucky to have some really good people here. Two of my employees, my senior technician and my parts manager, have been with me for 30 years. One of my part-timers, who used to be full-time but is now semi-retired, has been here for 18 years. Others have been here 11 years, seven years ... I could go on and on. We have some new hires, too, who've been great. I've just been very fortunate."
One-stop-shop shop
Morrison's customers have been fortunate too. The dealership stocks over 10,000 part numbers from 50-plus manufacturers. It provides one of the best service departments in the nation, having earned the labels of Kohler Expert Dealer and Scag Pro-Gold Dealer. Morrison's Power Equipment is also a Briggs & Stratton Diamond Dealer, which places it in the top 5% of Briggs & Stratton's 12,000-plus dealers throughout North America. Finally, the dealership was recently honored by Kawasaki Engines as one of its top 180 dealers in 2015, earning a trip to Hawaii as part of the recognition.
Aside from the obvious small engine work, Morrison's Power Equipment also offers several unique in-house services, including tire repair and replacement, welding, plasma cutting, metal fabrication, milling, bead blasting and trailer hitch installation.
"Something we see a fair amount of with landscapers is a mower deck where the baffle wears through," Morrison relates. "We can handle this in-house and don't have to send it out to a welding shop. We've also invested in a roller shear set. This allows us to repair turbine housings on baggers because we can shear metal and roll it. Sometimes Cody and I just like the challenge of coming up with fixes for our customers. We have other technicians who also do basic welding and fabrication. It's not a huge part of our business, but it's an important part. We try to be a one-stop shop, and we'll work on just about anything."
One thing Morrison's does not work on is Stihl equipment. "We are not a Stihl dealer (the dealership sells Echo and Shindaiwa), so it can be hard to get parts," Morrison points out. "Besides, two-cycle can get pretty tricky if you're not familiar with it."
That's not the case with the bigger four-cycle engines, of which there are just a few prevalent brands that power countless brands of mowers, tractors and other types of equipment. That's why Morrison's has been able to pick up a good amount of John Deere business over the past several years.
"We are not a John Deere dealer, but a nearby dealer happened to go out of business a few years ago," Morrison tells. "John Deere never replaced him. He'd been in business quite a while, so there is a lot of John Deere equipment out in the marketplace. We promote the fact that we can work on it. I don't want to have to lay anybody off in the off-season, so extra work like this is more than welcome at our dealership."
Reputation supersedes perception
Morrison and his loyal staff have worked hard over the past 30-plus years to solidify its reputation. Honesty and transparency have been the key.
"One thing we've noticed after all of these years is that many consumers are leery about service departments," Morrison shares. "We want to be as transparent as possible. For example, we show a customer the old part we had to take off and replace. It's a stereotype we're constantly trying to overcome, and being honest and trustworthy is how we do it."
Morrison's Power Equipment also warranties its repairs for 90 days. "It's something we've always done, and sometimes we go even longer," Morrison says. "You spend so much time and money getting a customer to walk through your doors. You have to do whatever you can to keep them from leaving and never coming back."
Morrison says he and his staff are not perfect, and have unfortunately found themselves on the bad end of a Yelp review. "It takes a tremendous amount of time to deal with something like that," Morrison relates. "You have to track the customer down so you can talk it out. You have to post rebuttals on Yelp. You want to get a hold of the BBB. It's really a lot. We would much rather just make right by the customer than go through all of this. You have to listen to the customer's concerns. Does he have a valid point? Should we eat a little crow and help him out? We keep detailed notes on each customer and in our business software, c-Systems Infinity. That way, if the customer comes back a few months later with the same problem, we can go over what we did last time to determine if we did the repair correctly, or if perhaps it is user error. Again, it comes down to transparency and communication."
That is especially true when it comes to the dealership's landscape contractor customers. "About 90% of our landscapers have just a couple of crews," Morrison says. "They don't normally have backup equipment, so we'll often provide loaners when they break down unexpectedly. We'll also try to jump on their smaller repairs, such as a flat tire or broken belt, and fix those while they wait.
"For the larger contractors, many have their own mechanics on staff," Morrison continues. "They don't need us for basic maintenance and service. So I just try to offer myself up as a resource when they run into problems or have questions. Some dealers are pretty guarded about this, saying that they don't want to provide too much information because then the contractor won't come to them for service. But the way I look at it, these contractors aren't going to come to me for service anyway, so I need to figure out how to still provide value and earn their equipment and parts business."
Earning business—customer by customer—is what the Morrison's Power Equipment staff has been doing for more than 30 years. Scott's 28-year-old son, Cody, who'd earned a college degree in computer graphics, is now working in the dealership full-time. When asked if he thinks Cody will want to carry on the Morrison family tradition and take over the dealership someday, Scotts shrugs and says, "I'm not entirely sure. My hunch is that he will. But if he decides he wants to do something else, that's OK. I'm not one of these guys who is hung up on his legacy."
Regardless, Scott doesn't plan on retiring anytime soon. So it will be business as usual at Morrison's Power Equipment for the foreseeable future—and business has been pretty darn good.