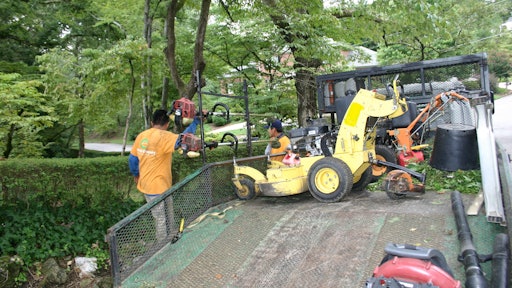 Do you own a lot of equipment? Is it covered under your commercial insurance policy? Are you sure?
In most states General Liability and Workers' Compensation is required by law to be in business. But if this is the only coverage you carry, most of your equipment is not fully covered.
A perfect example of this is represented by a commercial auto policy. This policy will cover your vehicles, but not most trailers. It will not cover equipment being transported by those trailers either.
The type of coverage that would cover these pieces of equipment is called inland marine coverage. This is also known as 'floaters' or 'equipment' coverage. The term floaters come from the fact that the equipment is typically meant to be in transit. The term equipment coverage comes from the fact that the item being insured is not an automobile and not a piece of property. The coverage is typically included in a Business Owners Package (BOP). When it comes to making sure all of your equipment is covered, it is usually best to have a BOP that is designed specifically for the landscaping industry and your classification code within the industry.
In order to make sure your landscaping business is completely covered, there are a few important things to keep in mind when purchasing commercial insurance.
Work with an agent who can quote coverage from many different carriers. Most agents work with only one carrier or a select few carriers. This prevents them from being able to create more carriers to compete for your business. If you partner with an agent who also partners with several carriers, they can more aggressively shop for deeper discounts and larger credits for your business. You can always shop with a couple of carriers, but partnering with an agent who already works with several carriers can save some of your valuable time.
Make sure your business is classified properly. Tell the agent exactly what your business does and does not do on a daily basis. Insurance agents are in the business of risk management. If you do not tell them about your risks, they are going to assume your business to be as risky as possible. This is in the best interest of their business and it can cost your landscaping business dramatically in premium.
For instance, if you are a landscaping company who simply cuts and maintains existing lawns, you are in class code 9102 for workers' compensation purposes. If your business designs and installs lawns or beds, you are in class code 0042. This class code takes on more risk—and that risk is reflected in the amount you pay in premium. Also, if your business partakes in any tree trimming, you will be placed in classification code 0106. This class code is deemed to be taking on even more risk and is reflected with even higher premium.
Misclassification mistakes usually get fixed at the end of the policy term when there is an audit, but this audit may find that you owe far more or far less in premium at the end. This can be a surprise some businesses cannot afford.
Keep an inventory of all the equipment your business owns. All of your equipment needs to be inventoried, and this list needs to be on file with your carrier. This helps ensure that everything is covered.
Taking pictures of your equipment is a good idea. Pictures can prove what the equipment exactly is, including model numbers. Make sure those things are visible in the picture.
If you purchase equipment mid-year, make sure you update the list and notify your agent immediately. Additionally, if you decide to rent or lease any equipment, it is good to notify your carrier because many times they can include coverage in a business owners package (BOP) cheaper than the company you are renting or leasing the equipment from. Because you are already purchasing several other coverages from the carrier, they are more likely to discount your coverage if they know they are covering several of your policies.
Have a strong relationship with your insurance agent. First and foremost, this is important because agents interact with business owners attempting to protect their businesses on a daily basis. They interact with business owners when they are purchasing and renewing insurance, but also when business owners have to file a claim when something goes wrong. They should be able to anticipate problems that you may not foresee. They can let you know what risks they encounter with other business owners within your industry, and they may be able to recommend which coverages you definitely need and which you may be able to do without. In the end the choice is yours; only you know how much risk you are willing to take. The agent should be there to help you make the most informed decision possible.
Remember that the agent is there to help you interact with your insurance carrier. They are not just a middle man trying to get a commission for your policy. This is especially important when you are determining what class code your business is, and when a claim occurs. If a claim occurs and you are misclassified, it can create a huge headache for your business and may cause your claim to not be covered. So when the agent seems to be playing 20 questions with you during the quoting process, they are not prying into your personal life. They are attempting to properly insure your business on the front end. A good agent will do this because they know the stress it can cause a business owner if they are not classified correctly.