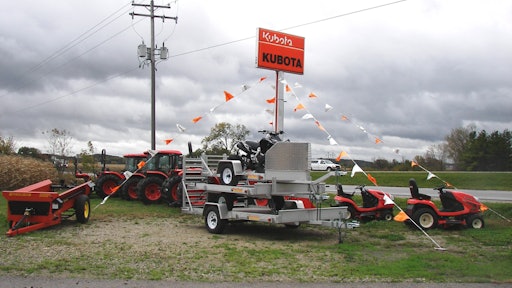 Retail storefronts fall into one of three categories: free-standing store, strip mall store and shopping mall store. Each of these formats has its own advantages and disadvantages. The free-standing store, as most outdoor power equipment dealers operate, may not face the same nearby competition as a mall-based business. However, that is also why the free-standing retail business must create a draw.
Tom Shay is a fourth-generation business owner and retail expert. He points to four key areas that can help free-standing stores make a great first impression with new customers.
1. NIGHT VISION. It's likely that the majority—if not all—of your business happens during the day. Even so, a potential customer might make his or her first contact with your store when coincidentally driving by at night. Your exterior signage should have all bulbs or neon fully functional to act as a magnet. Remember that parking area fixtures provide only a minimum of light. Your store must pull the customer into it.
2. WINDOW SHOPPING. As customers approach the storefront, the next draw should be the front display windows. They should be a "teaser" to show people some of what you sell, yet elicit enough curiosity so the customer will want to walk in and shop further.
A current trend in window designs is see-through window displays. For many years, windows had a solid backdrop, which did not allow the customer to see inside the store. Today, stores are doing a better job of lighting the inside of their stores. By allowing the light to shine out through your windows, the customer is attracted to come and see what is there.
Window displays that stop at the 5- or 6-foot level, or even backdrops made of latticework, will provide the necessary depth to your display. In building displays, each should stand out and demonstrate your own creativity.
3. LIGHT IT UP. Once at the entrance of the business, lighting plays a crucial part in getting the customer to come in. Looking into the store, in addition to having sufficient lighting throughout the sales floor, make sure the upper walls and corners of your business are very well-lit. These are the usual downfall areas of stores, and you want to take advantage of every situation possible.
4. WELCOME LOBBY. This front lobby area should be free of displays, allowing the customer the chance to step in and "absorb" the atmosphere of your business. Too often, the front of stores is a clutter of displays with little room for customers to pass one another. At the edge of the lobby area, you can begin to invite customers to further investigate your store with displays.
As a last point, walk through your store from the back to the front. Is the store just as appealing as when you walked in the front door, or are you seeing just the backside of every display and counter? This is the last impression you will make on customers—so make sure it is just as pleasant as when they walked in.
Tom Shay, a retail and small business management expert, created Profits Plus based upon his years of experience in family-owned businesses, the last of which was a dealership for Toro, Lawn-Boy, Echo, Poulan and other lines. Tom is also an author of 11 books and a college textbook, a columnist for over 70 trade magazines, business coach and small business keynote speaker. Visit profitsplus.org for more information.