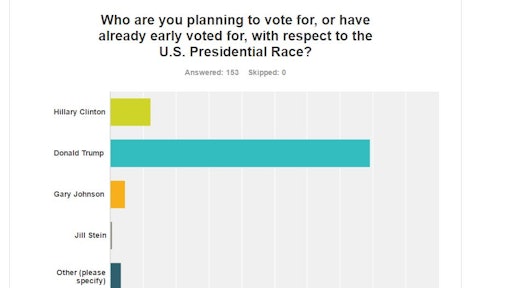 NOVEMBER 7 - The presidential election results are in. This poll is by no means scientific, but it does show how some Green Industry Pros readers are planning to vote on November 8.
It's Donald Trump in a landslide.
Donald Trump --- 79%
Hillary Clinton --- 12%
Gary Johnson --- 5%
Jill Stein --- 1%
Other --- 3% (split evenly between "Evan McMullin" and "nobody")
The SurveyMonkey poll was distributed to subscribers of Green Industry Pros' e-newsletter, The Pro Report, on October 28, November 1 and November 4. The poll was also sent to Green Industry Pros' followers on Twitter. Each voter was granted one anonymous vote. 153 total votes were submitted.
---
OCTOBER 26 - Take our quick one-question poll to see how the Green Industry plans to vote in the November 8 presidential election.
You are allowed one anonymous response.