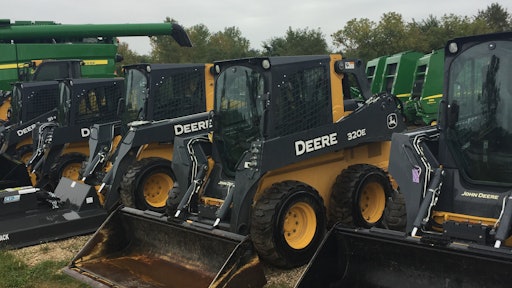 What techniques have you used to discover what your customers want in a landscape equipment dealership? Have you tried social media, surveys or email blasts? Would it be surprising to learn that not all landscape contractors pay much attention to social media, in fact, some may not even look up landscape equipment dealerships on Google?
Jordan Fennigkoh in West Salem, Wisconsin, is just starting out on his own under the name JD Lawn Care and Maintenance LLC. He notes that his previous years of experience provided him with an understanding of what to look for in an equipment dealer. "I don't spend a lot of time researching it. I know through past experience what brands are better than the others," Fennigkoh says.
Occasionally, Fennigkoh Googles a piece of equipment, or he "calls the dealership and asks what its prices are, have it email me a quote, read over the quote and, if it's something I'm interested in, I'll drive over and look at it." However, when purchasing equipment, he relies heavily on word of mouth and brands he's used before.
Quality versus Pricing
Brand names aren't as important as the quality of the product, though. Fennigkoh prides himself on his workmanship, emphasizing, "What makes me stand out is that I'm fully insured, I stand behind my work and I have a one-year warranty on plant materials. Under special circumstances, I replace plants if there are proven bad genetics of the plant."
Similarly, Fennigkoh expects a dealership to offer a similar guarantee of its equipment. "A dealership must back its products with warranties … and stand behind them," he says. "Quality and the warranties that come with the equipment are the big things I consider."
While Fennigkoh notes that warranties play a role in determining his equipment purchases, he's not about to miss out on a deal either.
"Pricing is a huge factor. You don't want to be paying $1,000 more at one dealership when the next place down the road can save you $1,000."
And though Fennigkoh is happy to save some green when purchasing big equipment, he's learned to value the quality of his equipment just as much. "If you're going to buy the cheapest thing out there, you're going to get the cheap quality of work. If you buy cheap, that's what you get," he declares.
Fennigkoh isn't in the market to buy cheap, as evidenced by his latest purchase of a compact tractor. "I can mow things faster. I can drive over turf without leaving marks on the customers' yards. It also helps to level and rake out yards, and brush hog stuff down to maintain the work I've done."
His next big equipment purchase is going to be a track machine, which he thinks is going to "haul material faster and lift more material. A track machine, for example, can pick up a full pallet of retaining wall material when the compact tractor can't.
"Additionally, track machines help prevent tearing up the customer's yard. With tracks in muddy areas, it's not making big ruts, it kind of floats on top of the dirt and mud." Fennigkoh's preferred brand in considering a track machine is Kubota or Bobcat. "Kubota has a bigger and roomier cab," he says. Fennigkoh also notes the powerful engine of a Kubota makes it hard to pass up.
Parts and Service Are Priority
On the other side of sales, Lance Smith, small ag and turf sales, and marketing manager at Tractor Central LLC, finds the parts and service department is one of the biggest draws for customers. "We always have the best parts available. If a machine goes down, I may already have it in store or I can have it in the store within two days," he points out.
Tractor Central sells and services John Deere equipment, and John Deere offers three different parts programs for commercial mowing equipment. According to www.deere.com, "With our Parts OnSite program, you'll have those essential parts right where you need them—in your shop, at the ready. It's simple—work with your dealer to determine the best inventory of parts for your operation … and your dealer will continue working with you to ensure your inventory is stocked."
However, while preparedness is essential, there are moments a landscaper can't plan for. "When landscapers are at peak season and they have to go to work, they can't be broke down … we are able to get them the best parts available," Smith reassures.
This option is known on www.deere.com as the Same-Day Parts Guarantee, which states, "With our Same-Day Parts Guarantee, you get select replacement parts for your commercial mowing equipment the same day you order them—or they're free!"
Finally, the Next-Day Parts Guarantee is described on www.deere.com as the "Next-Day Parts Guarantee is our promise to you that you'll have the part you need by the next day or it's free! With the most extensive parts distribution network and the industry's highest fill rate, we'll make sure you get the parts you need when you need them."
Smith notes that, in addition to John Deere supplying a parts guarantee, Tractor Central parts employees learn from factory-trained parts technicians as well, in order to understand customer needs and provide the best service.
Likewise, the sales team goes through training. "Sales personnel receive custom one-on-one training through John Deere and in-the-field training. In the winter, four to six employees are trained in operating equipment and brushing up on skills in Florida," Smith says.
Smith acknowledges the role social media outlets, such as Facebook, play in equipment sales, but he believes what makes Tractor Central successful is its pride in maintaining the best customer service.
Another important piece of Tractor Central's customer service is a financial plan through Deere Financial. "Tractor Central offers a popular no-payment, no-interest program. Landscape customers have one full operating season (summer, for example) of no interest and no payments, and then are able to pay it off at the end of the season. This deal is almost always going on," Smith says.
Much like Fennigkoh's preference to choose a dealership by word of mouth, Tractor Central's sales personnel stay successful through footwork. "The sales staff are going out and finding our customers, talking to them one on one and finding out what their needs are going to be," Smith says.
"We like to be proactive in helping to make sure our customers are selecting the right piece of equipment." According to Smith, "The most popular pieces of equipment landscape contractors purchase are zero-turn mowers and compact utility trailers."
Smith notes that, oftentimes, Tractor Central sales employees see landscape contractors advertising their businesses on equipment, such as trucks or trailers, and find their customers at a job site.
Perhaps contrary to popular belief, not every successful landscape equipment dealership runs on Facebook giveaways and online specials. As gathered from both the customer and the sales team, going out to meet the landscapers on the job and establishing good relationships with contractors is one part of a successful model.
Angie Mellor teaches communications and writing classes at Western Technical College in La Crosse, Wisconsin, and does freelance writing and editing work as well. She lives on a farm in the La Crosse area with her dogs and cat.