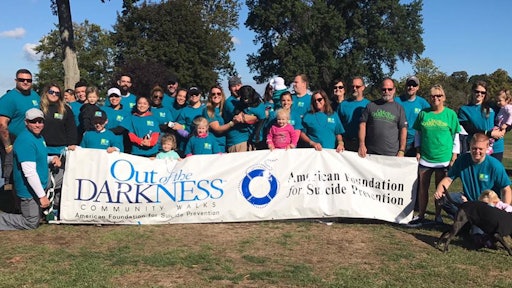 Danvers, Massachusetts-based JC Grounds Management was last featured in the January/February 2017 issue of Green Industry Pros.
In the issue, company owner Jonathan Crandall discussed his support for community service. His flexibility with hours gave employees time to give back to the community, like when general manager Brad Chase worked with a local Girl Scout troop to plant 600 spring-blooming bulbs or when the company partnered with a local foundation to fundraise for suicide prevention efforts. Green Industry Pros recently caught up with Crandall, officially the chief visionary of JC Grounds Management, to see how its core values continue to help the commercial landscaping and snow removal management company remain successful, even after 20 years in business.
Crandall began as a motivated entrepreneur, establishing his business about 21 years ago when he was still attending high school and mowing neighborhood lawns. As he learned more about the business, the company evolved out of the neighborhoods and into commercial services. Based on the company's level of community involvement, it's easy to see that the organization was built on a strong foundation of core values that are still alive and thriving today. According to Crandall, some core values include promoting positivity, being passionate and determined, pursuing growth, learning and always doing what's best for the team. He also stresses the importance of taking ownership and following through to deliver exemplary service that helps build open and honest relationships through good communication.
Ongoing education is important to Crandall, who became involved with groups like the Entrepreneurs' Organization (EO), a peer-to-peer network of leading entrepreneurs—in fact, Crandall served as the Boston chapter president from 2011 to 2012. He is also active within the Snow & Ice Management Association (SIMA), as well as the Accredited Snow Contractors Association (ASCA), because he recognized the importance of furthering his understanding of snow industry science as a way to improve efficiency, incorporate new technology and learn how to scale processes to suit larger organizations.
Company Growth
JC Grounds Management recently finished a new $1 million brine facility and Crandall says it was done with his employees in mind. Of course, the facility was first and foremost opened because of the environmental impact of salt. According to Crandall, the company is looking to lessen its impact without sacrificing service. However, the facility also offers new amenities to allow employees to burn off a little stress or relax. For example, a new employee lounge offers workers a place to congregate and unwind, and a fitness center offers an opportunity to relieve stress and stay healthy.
The company takes pride in taking care of its employees because, as Crandall says, "If you take care of your employees, they will take care of your customers." Some of JC Grounds Management's benefits include a favorable pay method, so each employee receives time-and-a-half compensation after 10 hours of snow-related work. The company also guarantees that full-time employees, who are at least in their second year with the company, will work a minimum of 32 hours every week in the winter—with a few weeks actually falling below 40 hours.
"This creates a time of year and season our field staff looks forward to," says Crandall. "It is a time of year they know they will dramatically increase take-home pay. Our clients win because our staff is positively engaged, excited for the storms to hit and quick to respond to the calls. The company wins because our clients receive great service and are ecstatic with the follow-through."
The company also offers a  401(k) match, health and dental insurance, paid time off and a unique onboarding strategy. According to Crandall, it "seems crazy" that many companies celebrate the loss of an employee, but not the start of a new one. The company sends significant others of new management team members a plant or floral arrangement before the new hire even starts. The company also trys to have new business cards printed and ready to go, the workstation set up, and offer the new hire a lunch on his or her first day. Perhaps most importantly, the company found success by having new hires start on a Tuesday instead of a Monday. Tuesdays are typically less hectic and a little more organized around the office.
"This is a far better experience than throwing someone into a new situation unorganized, and worse, using business cards with [a former employee's] name scratched out," says Crandall. "Yes, I have actually seen this from salespeople who have walked into to our office."
Focus on Maintenance
While JC Grounds Management offers expertise in all levels of landscape (installation, lawn care, irrigation, etc.), the company focuses on maintenance, offering its host of services as enhancements to current client landscapes. This way, JC's crews are not on the jobsite for weeks at a time, but rather spend a few days at a time to enhance the client's property.
"This keeps us always focusing on our maintenance clients and keeping their interests as our top priority," says Crandall. "You should choose to do what you are best at and what is making you money. By focusing on just a few lines of service, rather than trying to do everything, you will sharpen your skills and differentiators will emerge that set you apart from your competitors."
According to Crandall, JC Grounds Management's most popular service is snow removal because of the company's speed and agility when faced with a host of severe weather challenges. Crandall says that clients stick with the company because it is responsive and can always come up with a solution. "We also own any mistake and will do whatever it takes to make sure the client is satisfied with the solution to whatever the problem was if one occurs," he adds.
Keeping organized, and creating systems and redundancy is key to the company's success. For example, any large project is divided up to make it more manageable. The method does present some of the company's biggest challenges, especially when it comes to communication and making sure that everyone is on the same page—it's likely why Crandall considers his phone to be his most critical piece of equipment throughout his entire business.
Preparing for the Future
The company remains committed to serving the community and Crandall's passion for community service appears as strong as ever. JC Grounds Management also remains committed to the company's viability with a measurement it refers to as "acres under management."
In 2017, the company plans to have 302 acres under management. By 2024, Crandall hopes to have more than 1,000 acres under management on the snow removal side of the business alone. Now, while this will likely mean additional subcontractors, field technicians, managers and quite a bit of new equipment, with a man like Crandall at the helm, it is certainly well within the company's grasp.