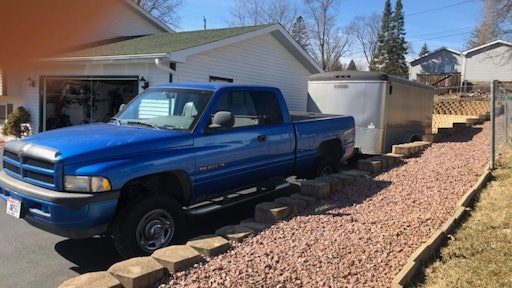 Company Name: Dennis LaPlant Lawncare
Owner: Dennis LaPlant
Location: Paddock Lake, Wisconsin
Years in Business: 35 years
Geographical Coverage: Far southeastern Wisconsin, including the Paddock Lake, Camp Lake, Trevor, Center Lake, Bristol and Silver Lake areas
Type of Clients: Primarily residential
Services Rendered: Lawn maintenance and painting
Dennis LaPlant owns Dennis LaPlant Lawncare in Paddock Lake, Wisconsin, and predominantly focuses his efforts on the far southeastern part of the state. In fact, for approximately 35 years, he has proudly and primarily served the residential market in a beautiful and expanding territory surrounding Lake Michigan. While his lawn maintenance and mowing services always come with a friendly face, business still takes more than a smile to last this long in the business.
It also takes planning and plenty of lawn maintenance equipment.
Currently, a John Deere 54-inch walk-behind mower, two John Deere 345 tractors, a John Deere M653 zero-turn tractor and a Toro GrandStand stand-on/walk-behind are all waiting in LaPlant's trailers to spring into action this spring. With the Bucks basketball team and the prevalence of deer hunting in Wisconsin, it's no surprise when LaPlant hints that he runs with the John Deere crowd.
Of his equipment, however, the Toro and the John Deere zero-turn are LaPlant's favorite because they "save me the most time and give me the best cut," he says. With landscaping services holding pretty competitive in the market, any edge he can get over the competition is a good one.
Wisconsin weather is ever-changing and unpredictable, even if you don't live in the Frozen Tundra, so you have to take advantage of every time you can get out to customers' properties to get a mow or some other lawn maintenance in. In that regard, LaPlant often turns to his Toro GrandStand mower to get the job done, especially when the grass is soaked after a storm. Because it works so well in wet conditions, there is less downtime for him to worry about and more properties for him to service.
Another way LaPlant avoids unnecessary downtime is by not only buying quality lawn maintenance equipment in the first place, but also by adding the convenience of being close to a trusted outdoor power equipment dealership to have quick access to parts and repairs for equipment breakdowns.