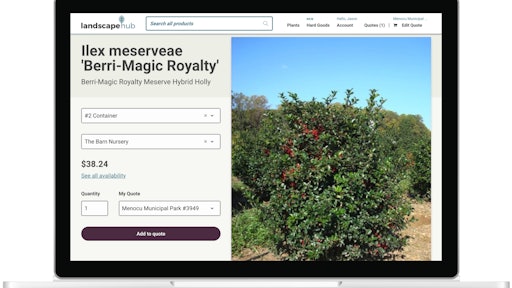 Shopping for materials is one of those tasks that can be classified as non-value-added. It has to be done, but the customer isn't willing to pay more for extra time spent doing it. It stands to reason, then, that time-strapped, profit-conscious landscape contractors would seek to streamline this part of their business.
That is exactly what LandscapeHub is banking on and investors are beginning to line up in agreement. The Chicago-based tech startup recently secured $4.4 million in seed funding led by Chicago Ventures, along with an additional $1 million in venture debt from Silicon Valley Bank. LandscapeHub plans to use the fresh capital infusion to continue building out its technology platform, and to support marketing, sales and logistics initiatives.
LandscapeHub is an online marketplace and its model is fairly straightforward. Material suppliers upload their inventory details for landscape contractors to shop from. Then all transactions run through LandscapeHub, allowing both the contractor and supplier to streamline their ordering, invoicing and billing activities, as well as logistics.
Equal Parts Technology and Horticulture
With an online tool like LandscapeHub, there is naturally a lot of emphasis on technology. That said, there is just as much emphasis on horticulture. In fact, the company's three cofounders have the perfect blend of experience to leverage both to their maximum potential.
"I've always been passionate about providing solutions for people, even going back to when I was a landscape contractor in Indianapolis for 30 years," says Ed Rockhill, LandscapeHub cofounder and vice president of sales. "I know how difficult the procurement process is—because I've lived it."
On the other hand, one of Rockhill's partners, CEO Lisa Fiore, understands the supply side very intimately. She grew up in a family nursery business, Fiore Nursery & Landscape Supply in Chicago. The pair knew each other for years and Rockhill actually ended up working at the nursery for a while. That's when the idea for LandscapeHub started to germinate.
Rockhill and Fiore then connected with Chad Cooper, LandscapeHub's chief technology officer, to explore whether or not their idea could fully blossom. Cooper had a proven tech track record from his involvement with Apartments.com, Cars.com and Grubhub. He saw tremendous potential in the concept of LandscapeHub, spurring Fiore and Rockhill to leave the nursery and dedicate their time to this new venture. LandscapeHub was officially founded in 2017.
Streamlining the Procurement Process
LandscapeHub currently showcases more than 6 million plants from more than 85 suppliers in a dozen states. Future plans call for a much broader offering.
"We started with plant material because, logistically, it's the most difficult thing to move," Rockhill says. "We have a firm hold here and feel good about where we're going. We're now bringing on some hardscaping products. We'll eventually become a full product supply platform, offering plants, hardscaping, soils, mulches, ice melt, irrigation and drainage supplies, lighting and even tools. We want to help contractors find everything they need for a project, purchase it through one consolidated platform, and then allow us to manage how and when to get the product to them."
Suppliers are vetted by LandscapeHub. The founders' background is helpful here, too. "We started with suppliers we worked with for decades," Rockhill says. "We know they can deliver. We're not looking to open this up to anybody and everybody who is growing plants. We're interested in supplier partners who provide value, maintain good horticultural practices in how they grow material and have a reliable supply chain."
Suppliers provide LandscapeHub with a list of products they want to make available on the platform. They provide price and availability, and both the botanical and common name.
One unique feature of the online marketplace is that it builds commonality into the plant nomenclature. "Different suppliers sometimes refer to the same plant a bit differently," Rockhill says. "We make sure it's all classified the same way on our platform. When a contractor places an order, our system then talks back to the supplier using the plant name it is accustomed to. So building orders is standardized and simple on both ends of the transaction. We vetted the nomenclature on thousands of plants and continue to add more."
The company also continues to vet its buyer users. LandscapeHub is designed to be a business-to-business (B2B) platform for professionals in the green industry, not a retail outlet for weekend warriors and do-it-yourselfers (DIYers). "When buyers request to join, it's helpful if they have a website so we can validate them pretty quickly," Rockhill says. "Beyond that, we do ask for a federal employer identification number."
Once granted access, the landscape contractor can enjoy several key benefits of procuring materials through LandscapeHub, according to Rockhill, as opposed to procuring materials the traditional way.
Using the traditional method of procurement, you would send several suppliers your plants/materials list for a project, then wait several days to get pricing back. Then you would sort it all out or put it in a spreadsheet to analyze, create an estimate, and send the estimate to the client. Then, if you get the job, you would go back to the suppliers to start placing orders and arranging deliveries. Then you would pay several supplier invoices later.
Using the LandscapeHub approach to procurement, in contrast, you would search pricing and availability from several suppliers all on one screen. Then you would create an estimate and send it to the client. If you get the job, you would go back on LandscapeHub to place a single order, regardless of how many suppliers are on that order. You would pay one invoice.
"We stress that it's important to look at more than just unit pricing," Rockhill adds. "You want to look at the total acquisition cost, including logistics. Our platform allows you to do that quite easily."
Logistics and Efficiency
Speaking of logistics, LandscapeHub helps with that, too. Some suppliers have their own delivery fleets, while others do not. The company partners with various fleet providers to make sure there are no gaps.
Another important benefit to suppliers is improved cash flow. Rather than having to chase invoices sent to several landscape companies, suppliers are paid promptly by LandscapeHub. The online marketplace works out a simple transaction fee with its suppliers. There are currently no subscription fees on either side of the transaction.
One more advantage of using the platform is order consistency. Orders come in the same way every time, allowing suppliers to gain additional administrative efficiencies. "Now the supplier gets a focused group of buyers all coming through one funnel in LandscapeHub," Rockhill explains. "That saves a lot of time."
Saving time is indeed the primary benefit of using a platform like LandscapeHub. Nobody knows that better than Rockhill and Fiore, each of whom grew up in the green industry. Add a tech guru like Cooper to the mix and you have what looks to be a recipe for streamlining success.
"We're confident that LandscapeHub is the first end-to-end solution for the green industry and that's pretty exciting," Rockhill says. "We're dedicated to streamlining this procurement process on both sides of the transaction. It gives people an opportunity to focus on other aspects of their business, whether that be growth or operations or whatever. We are looking forward to helping them realize those opportunities."