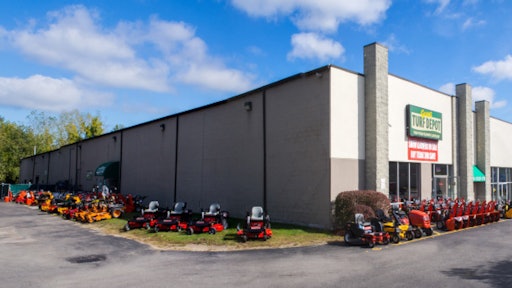 Joe Chevalier and Bruce Yennaco, partners and co-owners of Turf Depot, don't credit just one business strategy to their longstanding success. They cite a multi-pronged approach of service to their customers, employees and vendors.
In the Beginning, There Were Two
Turf Depot of New Hampshire is the result of combining Chevalier and Yennaco's family-owned businesses, Still's Power Equipment and Granz Power Equipment. Both companies can date their ownership back to the 1930s and attest to many changes over the years. "My wife's grandfather founded Still's Power Equipment in the 1930s. I took over in 1975. In the beginning, Still's was a nursery that sold plants, trees and all related nursery supplies. Over the years, we started to sell and service power equipment," Chevalier says.
Similarly, Yennaco's grandfather founded Granz Power Equipment and carried items ranging from gas to hardware. In the late 1950s, Yennaco's father took over, then in 1990, the third-generation Yennaco began operating the business. Through the years, Granz Power Equipment sold outboard motors, boats, snowmobiles and power equipment before merging with Still's in 2007 to become Turf Depot.
Turf Depot added new locations in Portsmouth and Londonderry, New Hampshire, while also operating Still's and Granz from their original two locations in Manchester and Salem, New Hampshire, respectively. "While we still use the Granz and Still's names at the original stores, Turf Depot is our four-store name. We still use Granz and Still's in our ads, along with Turf Depot, because the history of the names," Chevalier explains.
A Variety of Products for a Variety of Customers
Regardless of the business merger, both Chevalier and Yennaco's primary goals remain the same, one of which is the importance of their customers. Turf Depot is careful not to target just one consumer group, rather it caters to homeowners, commercial operators and municipal customers. Chevalier credits this approach with keeping customers happy: "We feel that our success comes from providing a wide variety of products to several customer groups. We sell 28 different brands of products to several types of customers."
Some brands Turf Depot carries include Toro, Exmark, Scag, Walker, Wright, Snapper Pro, STIHL, ECHO, Cub Cadet, Ariens, Gravely, RedMax, Honda and Simplicity, to name a few. "We carry these brands because our customers requested them over the years," Chevalier notes.
Furthermore, Turf Depot understands the needs of its customers. "Landscapers need to keep their equipment running to make money," Chevalier states. "We make sure they can keep working by stocking the parts they need when they need them, offering one-stop-shop service in our service departments and having rental units available if necessary."
With 50 percent of its customers working in the landscaping industry, Turf Depot takes pride in not just working to see things from its customers' perspectives, but also in striving to be a reliable solution for any equipment problems. "We understand they need to keep mowing lawns to make money. We understand that's what makes landscapers profitable and we work to make sure we can be part of their success," confirms Chevalier.
ProParts Direct
Turf Depot prioritizes this type of service to its customers by keeping over $1 million of replacement parts in stock. "If we do not have a part in stock, we order that part the same day to ensure our customers receive the part they need as quickly as possible. Parts ordered by 3 p.m. are shipped the same day from our warehouse," Chevalier mentions.
Providing a wide array of parts options for all customers is a specialty of Turf Depot. Not only does the company serve locally in New Hampshire, but Turf Depot also owns and operates ProParts Direct, a national business supplying parts to consumers all over the country.
According to Chevalier, "ProParts Direct started in 1993 as a parts catalog business selling commercial parts and accessories to commercial cutters in New England. Over the years, ProParts expanded in geography to cover most of the U.S."
With the rise of technology and Internet orders, ProParts Direct expanded again by making the parts catalog available online. "About 10 years ago, we started selling parts online through www.propartsdirect.net," Chevalier says. "Today, ProParts is a major part of our business. We have a staff of people who work in our call center answering calls and updating our website."
Good Help Is Key
Finding, training and retaining a good staff is a large part of keeping customers satisfied. For Chevalier and Yennaco, quality staff is key in providing good customer service. "We hire employees through several sources, but the most successful has been through current employees," Chevalier claims. "We have a referral program that works well."
Chevalier credits the referral program and a positive work environment to the success and longevity of his employees. "We have several employees that have worked for Turf Depot for 10, 20 and 25 years," he says. "We try to create a culture that encourages employees to make good decisions and feel like part of our team."
Additionally, Chevalier and Yennaco invest heavily in training employees. "We have an orientation process in which we spend time explaining our history, expectations, direction, etc.," Chevalier notes. Potential Turf Depot employees are trained one on one instead of in large orientation groups. Trainees also shadow veteran employees for several weeks to learn the tips and tricks of the trade.
Above all, employee training focuses on forming bonds and helping customers achieve success. "Our philosophy is to service customers based on their needs," Chevalier explains. "Our team has to understand our customers' goals. Once we understand the goals of the customers, we can better meet their needs."
Meeting Customer Needs via Equipment and Innovation
The needs of Turf Depot customers range far and wide, partially due to the multiple locations the business offers. Though having several Turf Depot locations is convenient to customers, it doesn't come without its growing pains. The unpredictable New England weather is just one logistical challenge Chevalier and Yennaco face. "We build all of our equipment in our Salem, New Hampshire location and move products to the other locations every day," Chevalier states. "This can be a challenge when a store needs product in the middle of a snowstorm or in the peak of the season." Despite the distance between store locations, a high demand for equipment, especially in the middle of a nor'easter, is evidence of Turf Depot's success.
As a result of a larger customer base, Chevalier and Yennaco are also able to cultivate closer relationships with vendors. "The additional volume helps us with vendor programs and year-end rebates," Chevalier says. "Our vendors do a great job supporting our needs, and we, in turn, try to support their programs and promotions. We always take advantage of pre-season parts programs and our vendors help us with things like inventory returns."
Vendors also contribute to keeping Turf Depot on the cutting edge of equipment by supporting its biannual open house events. "We have a spring and fall commercial open house each year, and the attendance is excellent," says Chevalier. "We usually have 300 to 400 landscape and municipal customers attend."
Chevalier also emphasizes the importance of staying up to date with equipment innovation. For example, one of his preferred products is the Toro Dingo because it's "a great piece of equipment with more than 50 attachments that can make a commercial operator's job much easier and more profitable."
Turf Depot's commitment to helping customers succeed includes a focus on equipment technology. In an age of artificial intelligence-based tools, there are new and improved products on the market every day. "We need to be up to speed on electronic fuel injection, and propane and battery-powered products. We now have a full line of STIHL and Makita battery-powered products in all of our stores," Chevalier says.
Communication Is Another Key
Technology doesn't just impact the equipment Turf Depot carries, it also changes its communication with customers. Whether promoting battery power, open houses or a plethora of parts, Chevalier and Yennaco rely on a variety of methods to reach their audience. "We now communicate by text and social media when, years ago, it was a phone call. We send flyers and email blasts as well as [using] Facebook and Twitter," Chevalier admits. Regardless of the medium used, both owners know the value of quality communication with their customers.
Demonstrated by a nationwide online parts service, four store locations housing customer-requested equipment lines and an awareness of current technology trends, Chevalier and Yennaco listen to their customers' feedback and work hard to meet their needs. "We pride ourselves on the relationships we have with our customers, vendors and employees. We feel all three are important to our success," Chevalier concludes. "Most importantly, we have a great team at Turf Depot who work very hard to make sure our customers are treated like family."
Angie Mellor teaches communications and writing classes at Western Technical College in La Crosse, Wisconsin, while freelance writing and editing.