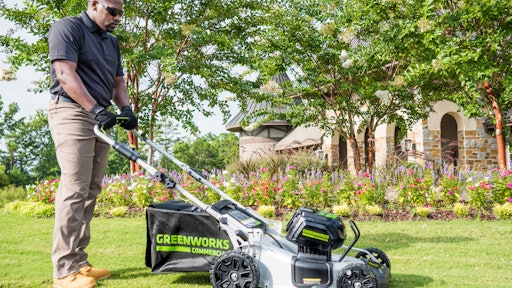 Going green in the green industry can mean many things, whether it's organic lawn care and weed control, or more efficient and effective irrigation systems. But until the Green Industry & Equipment Expo (GIE+EXPO) of 2016, it didn't include battery-operated commercial lawn equipment.
Then, this year, Greenworks Tools introduced its Lithium Z zero-turn ride- and stand-on commercial mowers, with a zero-turn radius, zero gas and zero emissions, at select equipment dealerships. Liffco Power Equipment is one such dealership to feature the full lineup of Greenworks' Lithium Z machinery.
A fourth-generation family-owned business, Liffco likes to stay aware of changing trends. The company was founded in 1919 as a seed and fertilizer distributor, but according to its owner, Darryl Murray, after World War II, the demographic of Long Island shifted from farmland to residential properties, and as such, Liffco began distributing and selling mowers to returning war veterans.
"As the landscape of Long Island changed, so did our business and the machines we sold," Murray says. "Now we have a large base of commercial landscapers, municipalities, private organizations and hundreds of homeowners that we deal with on a yearly basis."
Since its incorporation in 1946, Liffco has boasted exceptional customer service. "What I like to tell customers," Murray says, "is 'give us a chance to earn your business.' Not every dealership operates like that. We want to welcome people into our store to see, feel and touch all of the equipment. Our showroom is extensive, with at least one of every model on display."
One way Liffco earns the business of its customers is by prioritizing the needs of each individual client. "What we offer over another dealership or box store is a personalized experience for every customer," Murray mentions.
Furthermore, Liffco stakes its reputation on reliability. "We pride ourselves on being there for our clients," Murray states. "We want our customers to know that they can rely on us when they are in a jam to get their unit repaired and back to them in a fast and economical manner."
Whether servicing a commercial operation or an individual homeowner, Liffco doesn't discriminate. According to Murray, "Part of what we do is offer complete service, from the smallest landscaper to the largest landscaper, from the novice homeowner to the guy who has owned his home for 40 years."
Prioritizing Customer Education and Customer Service
Liffco employees are familiar with the equipment they sell, and can advise customers how to maintain their equipment and prevent problems before more extensive services are needed. The company's customer education also extends to finding ways to help patrons become more profitable by informing them of deals and discounts, and products that can best serve their businesses.
For example, mulching tools are a big seller since approximately 75 percent of the equipment sold includes a mulching kit. Murray highlights the benefits for customers by saying: "The average landscaper in our market spends thousands on dumping fees every month. With mulching, a customer can return the organic material back into the lawn and avoid taking away garbage that costs them to dispose of. Bang—instant profit."
Murray believes that customer education and good customer service is essential to sustain and grow a business, and therefore, he makes every effort to accommodate customers in a variety of ways. For example, one of his most utilized services is pickup and delivery, a practice in which Liffco drivers go directly to a jobsite to deliver a piece of new or repaired equipment, or pick up equipment needing service.
According to Murray, this service is appealing to customers who might not have time between jobs or not be able to get into the shop during regular business hours. "It's great because it keeps our drivers busy and gets the unit in as soon as possible, so our techs get the unit repaired and back on the road again," he says. "If our customers are profitable, then we are profitable because, without our customers, we are nothing."
Liffco also makes every effort to provide equipment lines that best serve its customers. Murray says Toro offers some of his favorite commercial equipment, including walk-behind and ride-on mowers, and turf renovation and snow removal equipment. The company carries STIHL, ECHO and RedMax as well.
Unleashing the Power of Battery
Being so in touch with customer preferences allows Murray to stay on trend with environmentally friendly changes in equipment lines. He notes, "In our area, which is densely populated and on the outskirts of New York City, we have seen a push toward battery-operated equipment for some time. Our towns and counties try to follow the mandates for New York City."
For example, Murray's area is attempting to ban gas blowers and, though he is on a committee that is fighting this law and hoping for only a summer ban for three months, he also acknowledges the changing climate and is prepared to adapt. "This has opened the door for a company like Greenworks to fill the need for equipment during these months. Our customers are working on such tight time constraints and tight margins that to have a worker push a broom [in place of a gas blower] would just not be cost-effective."
Greenworks currently offers three models of battery-powered blowers, each of which allows customers to select the battery capacity and thus the runtime. Murray feels that adding the Greenworks line to Liffco was a no-brainer. "It was easy to align ourselves with Greenworks because the company offers a full line of equipment—not just handheld, but also ride-on products. Ride-on mowers are efficiency incarnate in this industry, and with our customers, it is all about efficiency."
While the initial cost of battery-operated ride-on mowers is not feasible for some landscape contractors, they require less maintenance and downtime. For example, battery-powered equipment doesn't require engine tune-ups, belts, pulleys or fuel. Murray adds that the savings on fuel is a great motivator. "According to Greenworks, the fuel spent on this equipment over three years would equal the cost of buying one of these units. Some customers see the value in that," he says.
Some customers who see that value are municipalities and private residential developments where green equipment use is mandated. "For example, we have a housing complex in New York City where the residents mandated to the management company that the maintenance workers can no longer use gas blowers, weed whackers or hedge trimmers," Murray relays. "It's really coming down to the property owners that are telling us what they want in these situations."
And what property owners and residents want are gas-alternative options. Tony Marchese, the director of independent retail for Greenworks North America, recalls introducing the eagerly awaited battery-operated prototypes at GIE+EXPO 2017. "Attendees saw and experienced models that were late-stage prototypes, and every moment since then, our efforts have been spent on tweaking and perfecting these machines. We have field-tested them with some of the biggest pro landscaping companies in the country this spring and, without exception, they have received rave reviews as true gas alternatives."
The Greenworks Commercial 82-volt GZ 60R ride-on mower has a 60-inch steel deck, electronic height adjustment, 13-inch front tires and 23-inch rear tires for stability on rough terrain, and 4.5 to 5 hours of cutting time per charge. In contrast, the Greenworks 82-volt GZ 488 stand-on mower features blade speeds from 2,800 to 3,600 RPMs, a 48-inch steel deck, 6 hours of cutting time per charge and 18 different cutting height positions. Marchese also notes, "Each model delivers long-lasting power, commercial-grade durability and maximum safety features, as well electromagnetic parking brakes for added safety, a 90-day blade warranty, two-year or 500-hour frame warranty, and three-year battery and motor warranty."
While these Greenworks mowers have a variety of features to admire, Murray says he can't pick just one. "My favorite feature of the Greenworks equipment is the entire lineup. It truly is a complete line that offers multiple SKUs in different categories. The 82-volt line has great power and is able to accommodate a number of different pieces of equipment."
Murray previously mentioned that Liffco was nothing without its customers and, true to that statement, the company continues to raise the bar on customer education for new offerings such as Greenworks by informing customers about how many lithium batteries they may need to get their crew through an entire day with little downtime.
Murray believes that arming his clients with the knowledge and equipment to meet the changing demands of residential and commercial property owners is the first step to educate his audience, some of whom may be reluctant to change. "Many people are set in the same ways from 20 to 30 years ago," he says. "Our biggest problem in the market has and always will be educating clients on how they can improve their profits or become more efficient." But with the Greenworks battery-powered line to lift its profits, LIFFCO continues to carry on its mission of quality customer service and education. 
Angie Mellor teaches communications and writing classes at Western Technical College in La Crosse, Wisconsin, while freelance writing and editing.