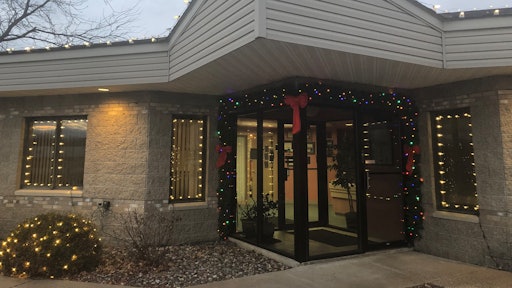 How does a landscaping business not only stay profitable, but also earn new business once the cold weather arrives? If you're the founder and CEO of Lawn Care Specialists of La Crosse, Wisconsin, Joe Bilskemper, you do it with Christmas Decor, quality employee training, environmentally friendly practices and the highest level of commitment to serving clients.
Green Industry in the Blood
These insights and practices are the culmination of Bilskemper's 38 years of experience in the green industry. After completing a double major in sociology and religious studies at Viterbo University, it wasn't long before Bilskemper started his own business.
"I worked one year as a greenskeeper," Bilskemper remembers. "I noticed that people in Madison and Milwaukee were doing lawn care, so the next year, I said, 'I'll start a lawn care business.'" Bilskemper was no stranger to the green industry. In addition to his college education, he also gained valuable knowledge and experience by spending his childhood working with his father. "My dad was a landscaper, so I was rolling sod when I was 10 years old," he explains.
Armed with his work background and fresh from his studies, Bilskemper started the first full-time lawn care service in La Crosse, Wisconsin, in 1978. "I bought the spray truck, went to some seminars, talked to people, and started with a commercial mower and a small mower. I eventually sold off my mowing interests to a competitor, then just got down to fertilization, weed control and insecticides," he says.
Seasonal Specialties
Lawn Care Specialists offers those traditional lawn care services, but once the regular season wraps up, the technicians stay busy by helping area homeowners prepare for the holidays. The company is a franchisee of Christmas Decor, a firm that specializes in the design consultation, complete installation, proactive maintenance, and timely removal of holiday lights and displays. Lawn Care Specialists provides Christmas Decor services to the cities of Sparta and Tomah, and the counties of La Crosse and Winona, with Winona County residing just over the border in Minnesota.
This year, the company hung its first lights on October 21. "We stop spraying lawns one day and, the next day, we're hanging Christmas lights," Bilskemper declares. "We do all the tough jobs first—the ones with two stories you have to hang lights on. We want to get those high roofs done before the snow flies and the ice comes." Most recently, the company lit up trees, hung lit garland and big red bows, and displayed meteor lights for the Lights over North La Crosse opening ceremony at Copeland Park.
Christmas Decor customers have their own boxes of decorations stored at Lawn Care Specialists and each box is fully inspected prior to use. Technicians test the lights and replace any bulbs if necessary before going to hang them. "It's an important part of our business now and it's a good break for the guys," Bilskemper says. "They get to do something different."
Not only does Christmas Decor give employees a change of pace, but it also provides new business for the busy season. "We have customers who are lawn care customers who have never heard of Christmas Decor or have been thinking about it, or we get somebody who is a Christmas Decor customer who may also choose to use our lawn care services," Bilskemper notes. As an additional incentive for using both services, customers who use Christmas Decor and sign up for a year of lawn service get their first lawn treatment free.
Training Technicians to Serve
In addition to keeping busy during the off season, Bilskemper credits quality technician training and education as one aspect of Lawn Care Specialists' success. The company boasts eight full-time licensed technicians, some of which Bilskemper has personally coached through the state licensing test. "With my teaching background and what I've learned over time, I do open-book tests with the techs, so when they get in that room, the knowledge just comes to them and they pass."
Bilskemper believes that, once the technicians pass the exam, their education really begins. "After they pass, we send them out with our lead manager, Tim Jones. He spends a week with them." According to Bilskemper, "Tim goes over everything—from how to hang an invoice on the door to how to pull the hose out to how to spray a lawn, where to start, where to end and how to put your flags out."
Technicians are also trained to hold a high standard of service through communication with customers. When a customer calls, Bilskemper instructs his employees to return the call before leaving for the night or, at the very least, within 24 hours. Moreover, he encourages them to strike up conversations as they work. "We tell techs: If the customer comes out and is watching you, take the time to say hi and get to know them. If they have a complaint, we'll provide a free treatment. We want to keep our customers not for one season, not for one treatment—we want to keep them forever," he says.
Less Pesticide Use, More Sustainable Practices
Along with training his employees properly, Bilskemper believes that part of his commitment to customer service is in the green equipment and procedures he uses. For instance, Lawn Care Specialists uses the Gregson-Clark Eco-505 injection system to spray lawns.
This system consists of a spray gun with two separate tanks and hoses, one of which is attached to the fertilizer, while a much smaller hose is attached to the weed-killer tank. This allows the technician to spray weed killer in small amounts only where weeds are already present. "In the old days, that technology was not available, so we used to just blanket every lawn with weed killer. But this system has reduced our use of pesticide by 50 percent," Bilskemper says.
Lawn Care Specialists also invested in reusing and recycling water from the tanks by installing a catch basin. "When the techs wash their trucks at the end of the day, the water that comes off the truck can contain trace amounts of pesticides. The water hits the floor, goes through the drainage system, travels down into an underground tank and gets pumped out into a separate tank. It doesn't go into the city sewer," Bilskemper clarifies. "After the water has been pumped, and cut with fresh water and a rinse aid, we use it to fill the trucks the next day, so it's always being recycled and reused."
A Commitment to Customer Care
While employee training and sustainable practices contribute to keeping customers satisfied, Bilskemper also hosts a customer appreciation day and the Lawn Care Specialists' Cup, a golf tournament in the La Crosse area community to treat and educate his customers instead of spending money on advertising. This year marked the 25th golf tournament, which Bilskemper started to connect with the local golfing community and promote the benefits of turf grass. "Turf grass does a lot of good things for the environment that people don't really realize. It cools the earth, takes in carbon dioxide, gives off oxygen, traps dust and pollutants in the air, beautifies the landscape and acts as a fire retardant," he notes.
In addition to providing food, drink and fun, Bilskemper uses these events as an opportunity to hear from and connect with his customers. "We get people to come [to our events] and they tell their neighbors, then a neighbor tells a neighbor. We don't spend any money on advertising today. Not a cent," he claims. "In this industry, the battle is won on the ground. You need boots on the ground going out and completing the work. You have to be committed to stick with this."
As CEO and owner of Lawn Care Specialists, Bilskemper takes pride in the company and reputation he's built. "People recognize me. They know I'm going to answer the phone and call them back, and that's very important to me," he says. After all these years in the industry, Bilskemper isn't quitting any time soon either. "When you first start out, you struggle, but I've been at it for 38 years and I have no intention of retiring."
Angie Mellor teaches communications and writing classes at Western Technical College in La Crosse, Wisconsin, while freelance writing and editing.
*This article was originally published in 2018 and republished in 2019.