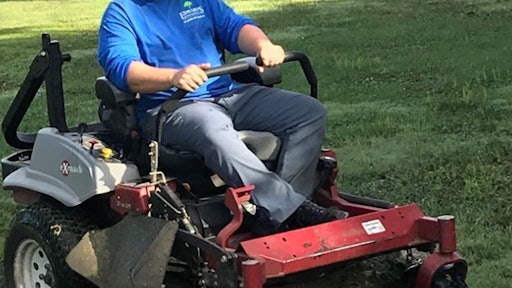 Any business can pay lip service to the importance of customer service, but not every business will reestablish and revise their founding principles to put their customers first. However, that's exactly what Edwards Lawn and Home LLC has done in the past year to demonstrate their commitment to customers.
The process began with the motto, "do the next right thing."
Director of Operations Art Ditzel said fulfilling this motto is only the beginning of a three-pronged approach to keeping clients satisfied.
"If we just all do the next right thing at the end of the day, our customers are happy and we're happy," he said.
In order to do "the next right thing," Edwards Lawn and Home LLC recently revised its core values to provide the best possible experience for each customer. The set of three core values, TEAM, CARE, and GROW serve as acronyms that represent the driving forces behind the business.
Read next: Core Values Provide an Accurate Roadmap
TEAM
Teach: Consistently coach and train
Encourage: Build up one another
Accountability: Hold others and ourselves to the highest standards
Motivate: Push each other to motivate and grow
CARE
Communicate: Communicate effectively to share thoughts and ideas
Attitude: Keep a positive attitude in all situations
Respect: Respect clients' properties as if they were our own
Empathy: View situations from others' perspective.
GROW
Goals: Live a vision of the company daily
Reinvest: Resources put back into our community through equipment and property
Opportunity: Provide tools and resources for continued development
Win: Successfully live out all core values and become leaders in our industry at every level
The core values listed above are the foundation for all the services Edwards Lawn and Home LLC offers. As a full service lawn and landscaping company serving the Baltimore metropolitan area, they specialize in residential and commercial lawn maintenance and landscaping.
"We do a lot of patios, ponds, walkways, the majority of our work is beds, clean ups, mulchings, tree removal, installs and plantings," Ditzel said.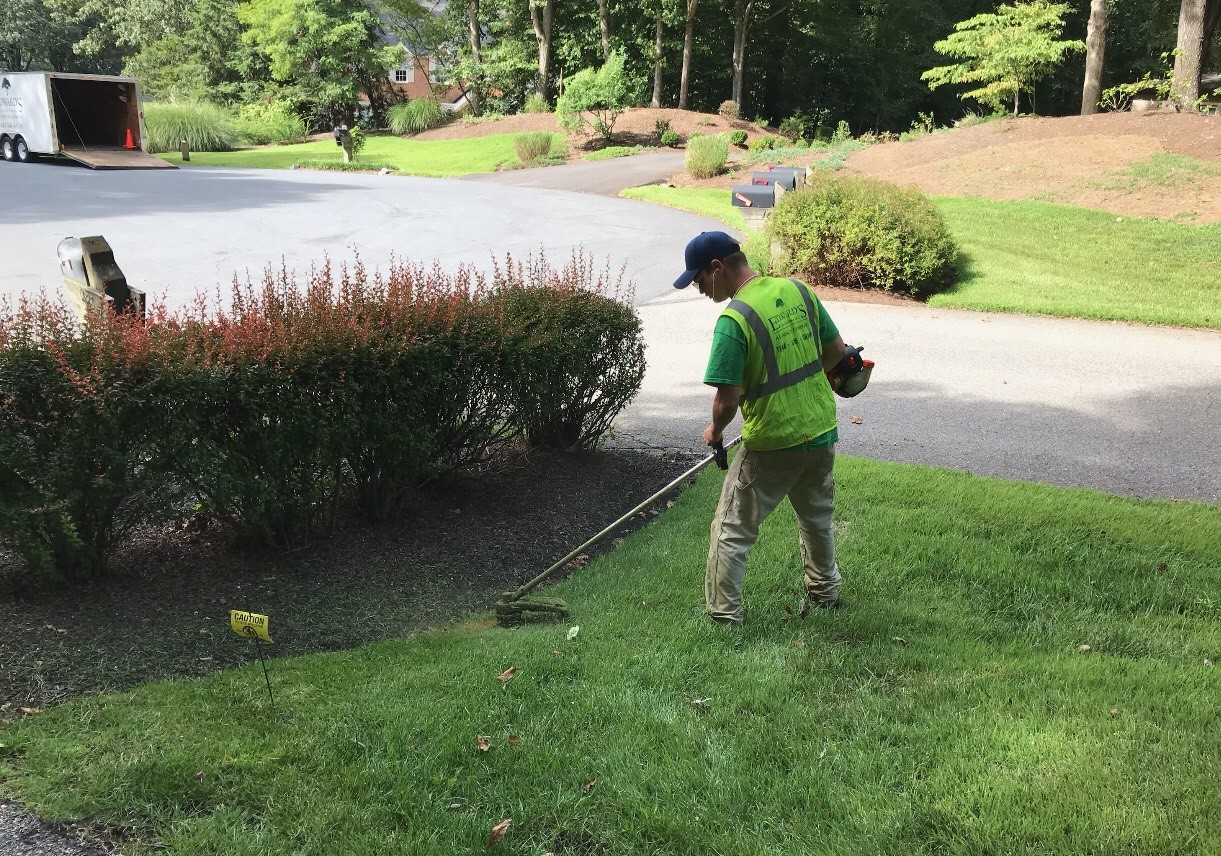 Greg Hemler doing some edging on one of the various properties Edwards Lawn and Home LLC services.While the current most popular service is general maintenance which includes lawn cutting, fertilization, weed control, spring clean up, mulching, pruning, and leaf removal, Ditzel has also noted a rise in the need for drainage services.
"On the enhancement side, a solid 30 percent of our work has been drainage and drainage solutions," he said. Attributing this to a change of environment, Ditzel added that the metropolitan Baltimore area was receiving more rain due to a change in environment. "Over the last two years it's gone from an occasional drainage job to one on the books almost every week."
Commitment to Communication
When booking jobs, whether for lawn care maintenance or enhancement, Ditzel noted that some of these values that customers appreciated most were communication and transparency.
"In customer service the main complaint everyone has when switching to Edward's Lawn and Home LLC is communication. For example, a customer may say 'I can't get a call back, I can't reach anyone or my emails aren't returned,'" he stated.
Ditzel believes the importance of communication starts with the first call a customer makes.
"It ends with us asking for repeat business, reviews, and recommendations. For us, if we can't get to that point, we don't consider the job a success," he said.
The importance of communication with customers played such a large role in the re-envisioning of the company's core values, Edwards Lawn and Home LLC added an employee to demonstrate their commitment to customer satisfaction.
"We spend so much time focusing on that [customer service] we've brought in a customer service specialist whose entire job is to monitor and reach out to customers, make sure everything is completed and done to their liking and satisfaction," Ditzel added.
Another aspect of the importance of communication is transparency for the customer. He emphasized that photos and clarity of language in a contract contribute to a successful customer interaction.
"We really pride ourselves on doing what we say we're going to do," Ditzel said. "We send a lot of photos with our proposals so the customers know exactly what they're getting, and we work really hard on our wording and our terms for a super clear understanding of what we're going to do, when we're going to do it and how we're going to do it."
Thorough Employee Training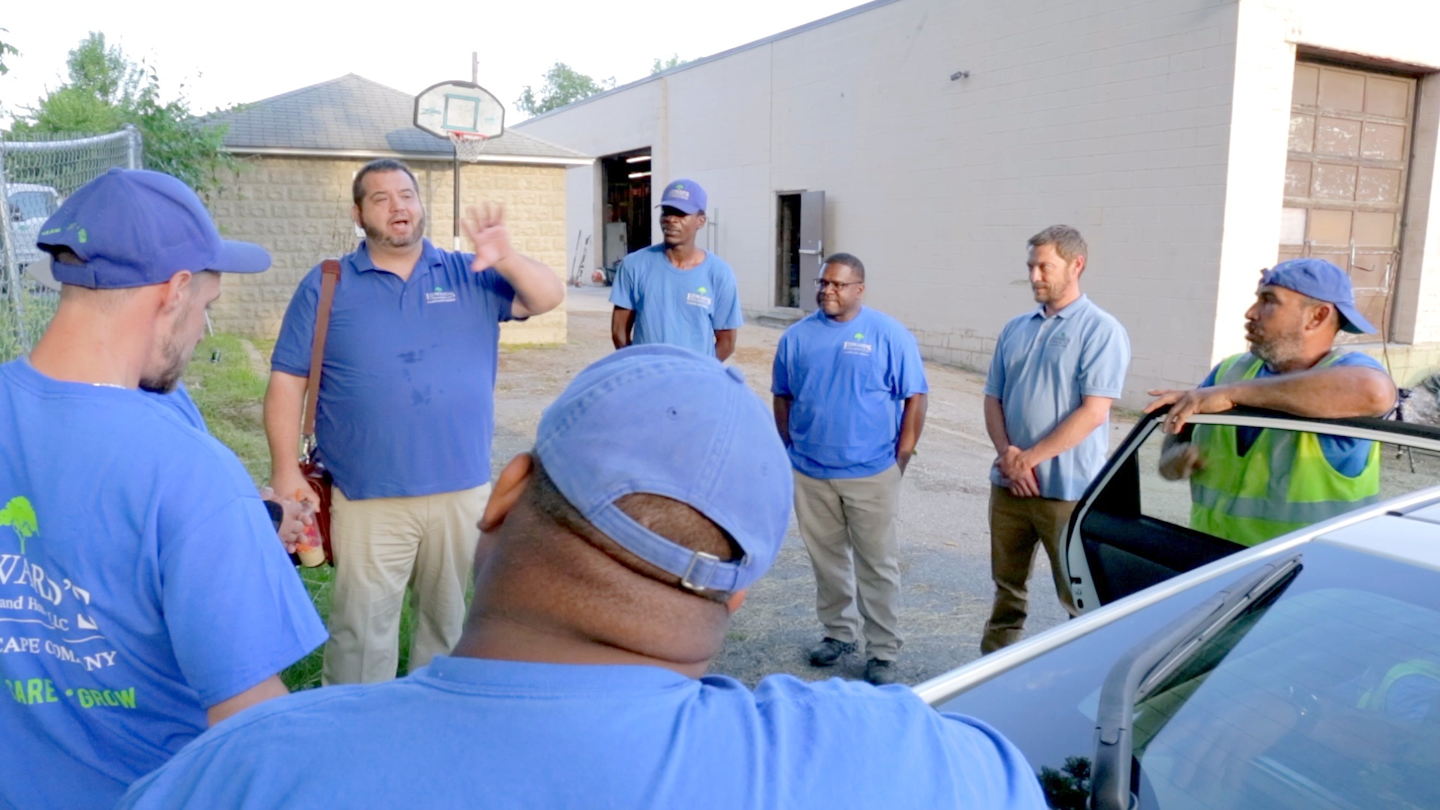 Art Ditzel, director of operations with the production staff. He provides employee training on a weekly basis on policy, hands-on operations and support.Each week, Ditzel provides foreman trainings in policy, practical (hands-on training) and support.
"Every week we go over something from our handbook, focus on upcoming trainings such as turf rejuvenation, reseeding lawns, aeration, weeding and complete a safety module," he said.
Not only do these weekly trainings help the customers feel confident in the crews working on their properties, they also help promote safety on the job. One week may focus on proper footwear, personal protective equipment or even employee health.
For example, Ditzel noted, "We spent a lot of time in training showing guys what heat stroke looks like, and a foreman was able to recognize the symptoms in a crew member as a direct result of that training."
The unification of the team through trainings has also helped the foremen take pride in a job well done by opening LinkedIn accounts featuring past jobs.
"They post their work, they're proud of what they do and they're proud of the company they work for," Ditzel said.
Spreading the Word
 In addition to LinkedIn, Edwards Lawn and Home LLC makes use of social media and marketing via services such as True U videos that play before YouTube videos, Facebook, Instagram, and email marketing.
With the recent revision of core values and commitment to customer service, Ditzel finds that Google reviews and old-fashioned "word of mouth" have helped them gain a stream of new business.
"We send a survey out with an invoice and get a lot of feedback that way," he said. "We try really hard to stay in constant communication with customers. We don't want our sales to be linear, we want them to be circular so they just repeat and repeat."
In addition to surveys and reviews, Ditzel knows that evolving technology and convenience play a large part in customer satisfaction.
"What people want evolves and what they expect evolves," he said. "For example, we're starting to find that the best way to reach customers is text message. We used to send emails but nobody picks up the phone and talks anymore. We just have to change with the times and customer service."
With a revamped and customer service focused system of core values, Ditzel sees a bright future for Edwards Lawn and Home LLC.
"The customers are such an important part to us," he said. "For the future, we will be fleshing out our core values and making our company one that everyone in the area is dying to work for. If we have the best guys, the work will follow."